This simple tutorial shows you how to make beautifully scented beeswax ornaments. A great natural way to decorate your holiday tree.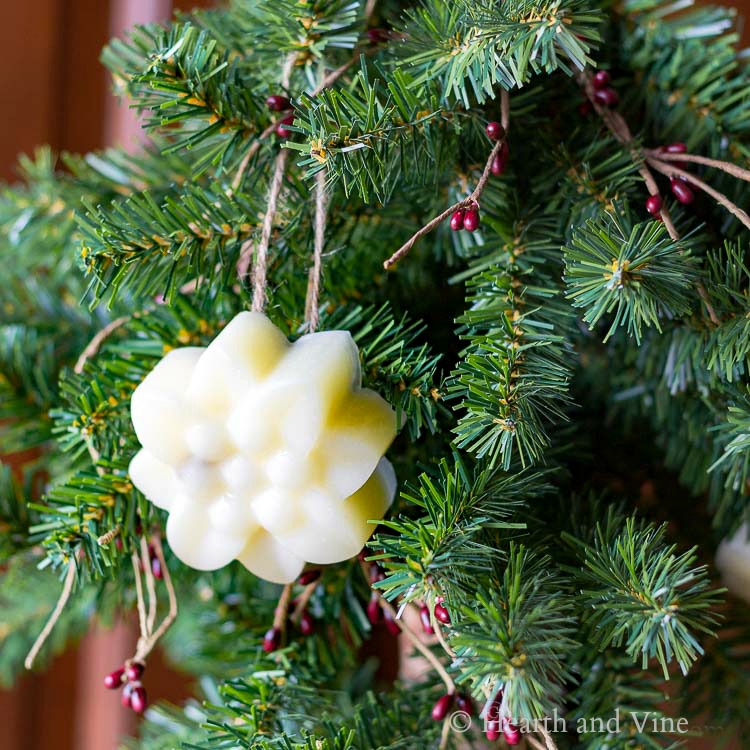 Here's another throwback from my herbal gift shop days. In addition to the many items we sold as a retailer, we also made some of our own products, such as wreaths, and aromatherapy products.
One that I remember making, were these sweet angel beeswax ornaments, with cinnamon essential oil, for a nice scent.
Actually, beeswax smells really lovely on its own, so you could leave the oil out of this recipe, but cinnamon is also a really nice homey scent.
This post contains some affiliate links (that means if you make a purchase after clicking a link, there's no additional cost to you, but I will earn a very small commission. ) i.e. as an Amazon Associate, I earn from qualifying purchases. Click here to read my full disclosure policy.
Scented Beeswax Ornaments
Supplies
Flower Cake Molds
1 Pound Beeswax Pellets
Cinnamon Essential Oil - 1-3 tablespoons
Natural Jute Twine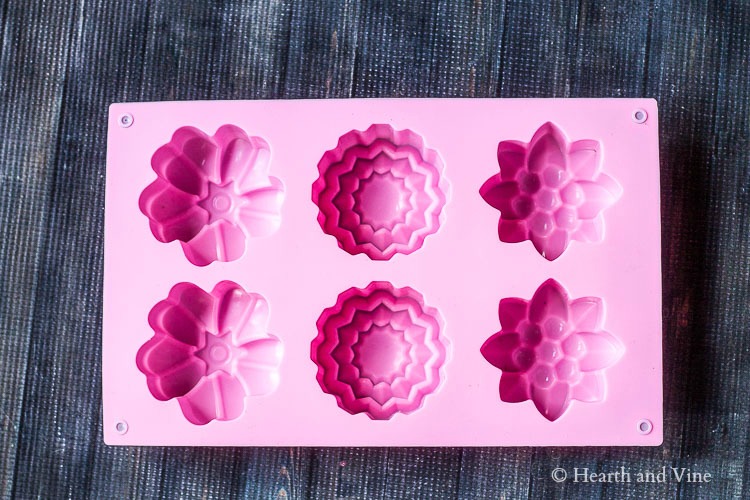 I don't know what happened to the pretty angel molds we had. They were originally sold to make soap. I looked around and found this cute cake molds in the shape of flowers, that ended up working great.
How to Make Beeswax Ornaments
Start by spraying the mold with vegetable spray.
Then place a piece of nature jute twine in the molds, to act as a hanger.
Melt the beeswax on the stove or in the microwave.
Once it is melted, wait a minute and then add in fragrance or essential oils.
Pour the scented wax into the molds.
Keep an eye on the twine, as it may rise up. Simply put it back into place with a wooden skewer or some plastic ware.
Once they have set up within an hour or so, depending on the heat and humidity of your workspace, you can remove them from the mold.
Although I do like the look of the natural jute twine, it did show through a little. You can avoid this by using natural cotton twine, or even a bit of candle wicking.
Beeswax Candle Ornament Options
You can adapt this beeswax candle ornament project in several ways.
I think they turned out beautiful and they smell wonderful too.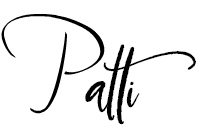 ---
P.S. You may also love these Handmade Dried Fruit Ornaments or these Dried Flower Ornaments. Find them and many more on my DIY Projects Page.