Welcome back!
I'm really starting to get back into the groove again. All my decorations, well almost all, are put away for next year. I've started eating healthier, and am working on some goals for the new year.
Have you heard of people picking a "word of the year?"
Mine is "Positive." More specifically creating lasting positive changes in my life. One way to do this is to look for positive things every day that enter your life.
I know I will find many positive ideas here today so I thank you all for linking up.
Let's get started!
Most Clicked: 
New Tasks for the New Year, Pioneer Woman and Wal-Mart Beauty from Tablescapes by Bev
Favorites:
Lisa's Favorite (Drugstore Divas): Oreo Cookie Dough Pazookie from Pint Sized Baker
Heather's Favorite (Frugal Mom of 8): 52 week Saving Challenge from Drugstore Divas
Jessica's Favorite (My Life by Jessica Wise): Homemade Crescent Rolls from Cooking with Carlie
Krysta's Favorite (Krysta Steen): Pulled Pork Enchiladas from Cooking with Carlie
Heather's Favorite (Stringtown Home): Pistachio Macaroon with Apricot Ganache from A KitchHoor'sAdventures
Gabby's Favorite (Not Too Shabby Gabby): Peanut Butter Pie Smoothie from Melissa Kaylene
Kathleen's Favorite (Fearlessly Creative Mammas): Croque Monsieur Croissant from Caroline's Cooking
Patti's Favorite (Garden Matter): Cinnamon Slime Tea from Gabriela's Healthy Travels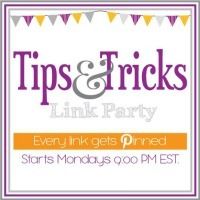 Were you Featured? Show it off! Here is a button!