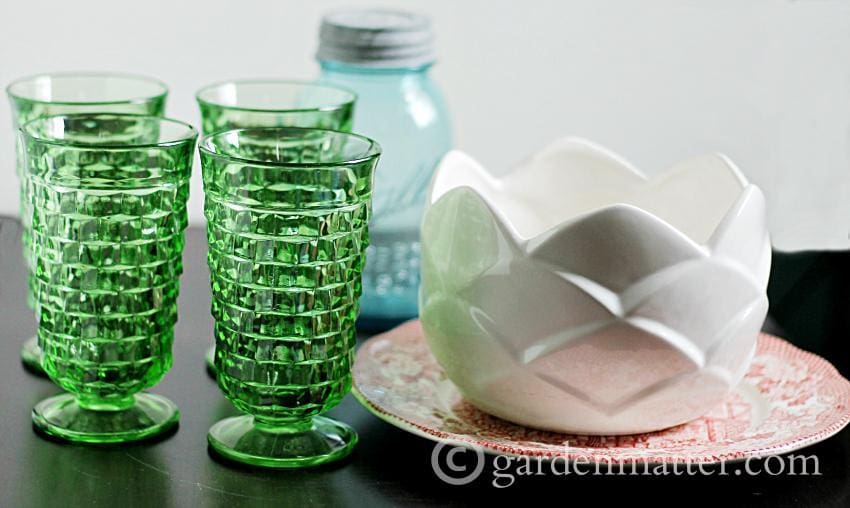 A favorite past-time of my friends and I is shopping at antique malls and local gift shops. Recently we went away for the weekend and spent the good part of the afternoon on the first day shopping. Here are some of the purchases I made in addition to some really good chocolate covered pretzels and potato chips.
I've slowly been collecting red transferware plates. Usually they are quite expensive. This one was not and I'm sure reason for the price was that it is not an antique. The bottom says microwave and dishwasher safe, a sure sign that it is relatively new. Still for only $6 I thought it was a pretty pattern so I bought it. Don't you think a group of these would look great at Christmas dinner or Valentine's Day?
I also picked up this blue quart sized Ball Mason Jar for $5. Again, I'm sure that it is a reproduction but I love the color and I think it would make a great flower vase.
These glasses were marked at $10 each but I was able to purchase them for $8 each. The owner she said she thought they might be Jeannette Depression Glass. I tried looking them up online and it seems like they may be Jeannette glass from their Windsor line. I just really liked their shape and color.
My final treasure was this cream-colored bowl/vase. It was $15 and marked McCoy USA on the bottom. McCoy is a well-known pottery manufacturer from Ohio. This piece does not seem very old and it may be a fake. However, when I did a little digging online I noticed that the additional mark in the middle indicated that it was made after 1974, when the Lancaster Colony Corporation purchased one of the McCoy divisions. I liked it because of the shape. It will be a perfect container for holding lower-sized arrangement our the dining table.
That's all I bought on this trip. I'm already looking forward to the next one.