Crazy winter garden weather. What does it mean for gardeners. See what some experts are saying about the blooming and emergence of plant grow at an unusual time.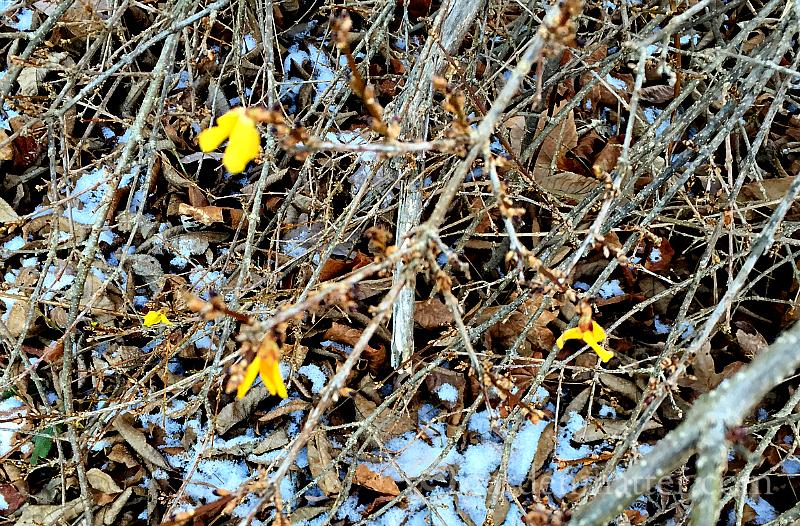 I live in southwestern Pennsylvania. Typically winter starts here in November, and spring starts in late March or April, even though we sometimes still see snow as late as mid-April. This year however, in December, we had near record breaking warm temperatures, and no snow until January. On Christmas Eve, we hosted the family for dinner, and the temperature was 63 degrees. So when I saw a forsythia bush starting to bloom at my work office, I started to wonder. What does this crazy winter garden weather mean?
I took this picture of a blooming forsythia bush last Monday, January 4, 2016. It was the first snowfall of the year. I noticed the blooms the week before but didn't take a pic until later.
The snow did not last, and I wondered what might be blooming in my own yard. Above is a picture of perennial forget-me-not, or Myosotis scorpioides, blooming in January?
This rosemary plant would normally have died back by now.
Here's a dark hellebore getting ready to bloom. They usually do not bloom until the very end of February or early March.
I also noticed the emergence of a couple of other plants, who normally do not show up until the spring, like this columbine.
A hyacinth bulb.
Daylily shoots. Looks like the deer and groundhogs knew there were here.
But what does it all mean?
I did some research and here's what I found.
According to an article in the New York times, one expert, George P. Reis, the landscaping supervisor at New York University, suggests that warmer than normal temperatures and soil is confusing our plants. Not to worry, "This extra-warm weather doesn't by itself kill off healthy plants. So don't worry too much," he said. "You may see some reduced flowering in some plants next year, but they should pull through for the following year."
Locally, noted garden expert, Doug Oster, commented in an article on KDKA TV, "Everything is not going to bloom, just some parts of the plant usually are going to bloom," he commented, "and then once we do get cold, they'll shut down again and we'll wait and in the spring, we'll get our blooms again." When I read this I realized that the forsythia bush I found blooming, only had a few blooms compared to the usual flourish of yellow you'd normally see in the spring. That's a relief.
So I guess there's not much we can do at this point, but sit back and wait to see what happens come springtime. I do love living in a place with four seasons, but I would not complain if our winter was short and mild.