Learn about foundation planting and how to choose the right plants for your home that grow against the house. When the best time to plant and plant care.
My husband was tired of the three large boxwood shrubs, covering part of the front side of my house, and had them torn out last spring. This left a huge gap, so I needed to figure out what we should plant in the space. Typically foundation planting has groups of several insignificant shrubs that stand in the backgroud of the landscape.
may contain some affiliate links for your convenience. Click here to read my full disclosure policy
Foundation Planting Ideas
This is a photo taken in the spring, after the boxwood shrubs were removed.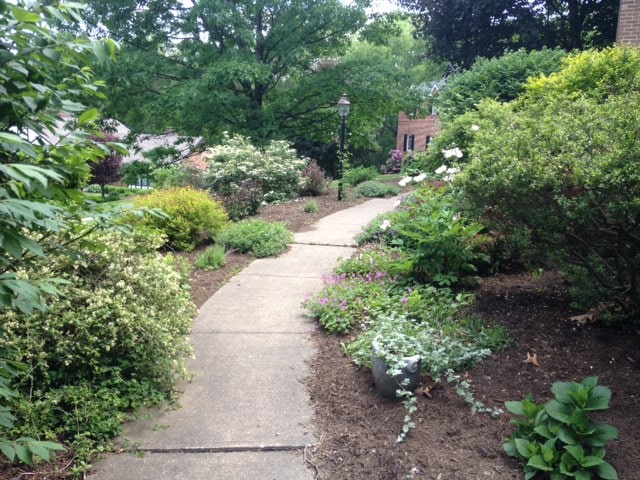 Here you can see one of the old boxwood plants on the right. Boxwood shrubs are often used as a foundation plant. They are very durable, however, we felt that they were getting over grown, and did not really add anything special to our curb appeal.
Now what? I needed to replace the boxwood shrubs with plants that would look good in this space, and would not require too much maintenance. More than that, I wanted to something a little more interesting and cottage-like, to go with the rest of the landscape. Looking at the face of the area, I realized we could use something taller in the middle and something a little smaller on either side.
Things to Consider:
Sun Exposure - How much sun will the plants receive everyday.
Area - How much area do you have to work with, keeping in mind the mature height and width of your plant selections.
Soil Type - What is your soil like? Clay, rocky or sandy. This can make a difference for some plants.
Hardiness or Zone - It's a good idea to know your zone, so that you can make sure the plant you choose will be able to make it through the winter. You can find your zone in the US by clicking here.
Note: Did you know that fall is typically the best time to plant shrubs. Why? Well, because the plant has plenty of time to establish roots without having to put effort into growing new leaves and branches.
Look around and see if you have anything that may need to be moved at this time. We have a Weigela 'Wine and Roses' shrub that cannot compete with the Beauty Bush and Viburnum, so we moved it to the new area on the right closest to the driveway.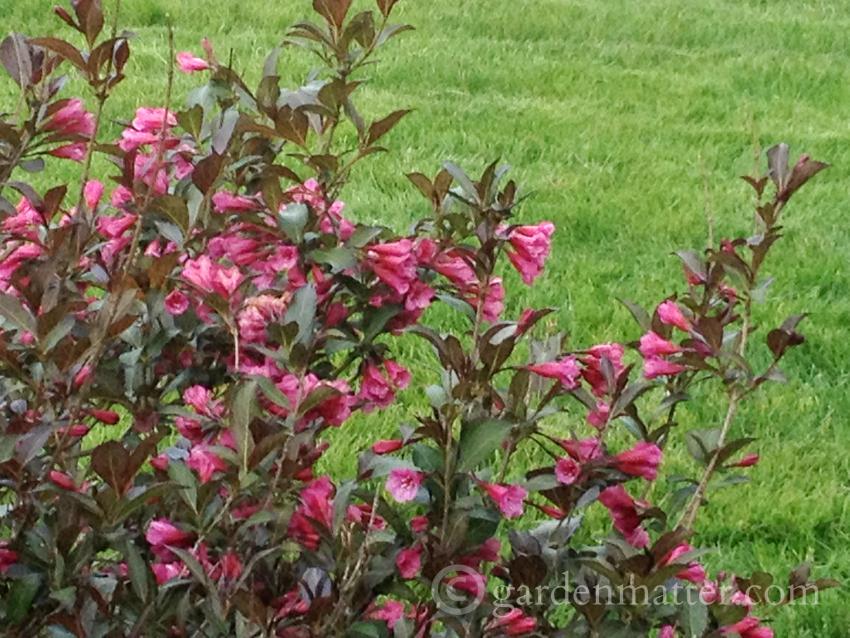 Here's what our Wine & Roses shrub looks like in the summer.
The Weigela has a height of 4 to 5 ft, and spreads 4 to 5 ft wide, making it a good choice for this spot under the window. It didn't cost a dime, and I know it was already growing well nearby, but it will fit in much better here, and will have more room to grow.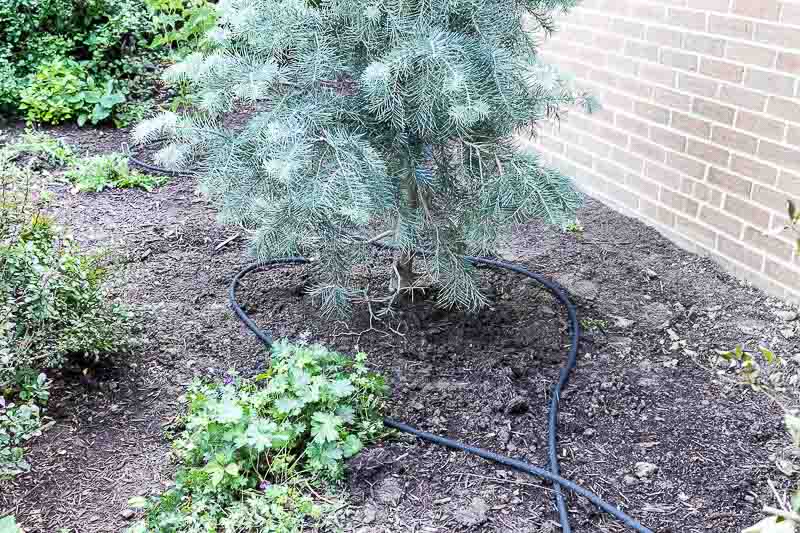 I fell in love with this blue evergreen. It's a White Fir called 'Blue Cloak'. The nursery owner said it will grow 7 -10 feet tall and 3 - 4 feet wide. That is the perfect size to place between the windows. Typically people do not place specimen trees in the back, against the foundation, but I felt that the height and color will allow this one to shine.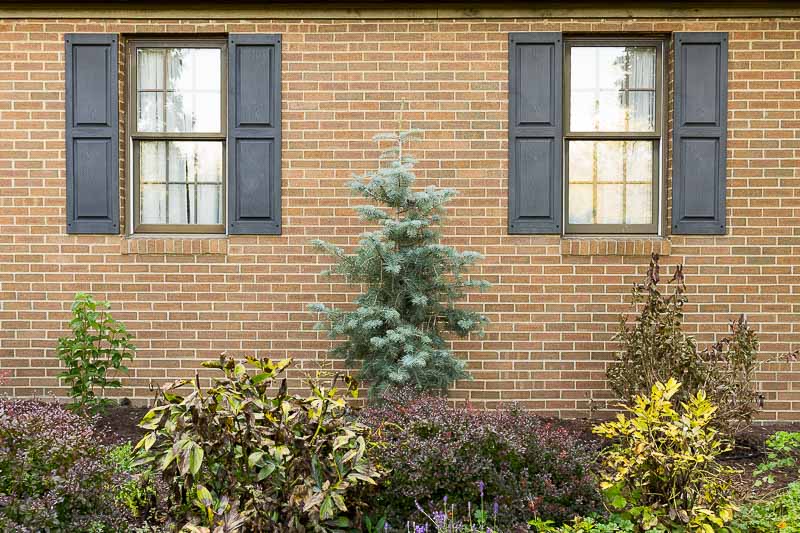 The last plant we choose was a simple Viburnum called 'Blue Muffin.' This little guy will grow 5 to 7 feet tall, and 5 to 7 feet wide, so it should fill the space well. Blue Muffin has the added bonus of producing pretty white flowers in the spring which then turn into lovely dark blue berries in the fall.
So those are my choices. I can't wait to see how they fill in next season. I don't expect the fir to change much, but the viburnum and weigela should fill in nicely without covering the windows.
Final Tips on Foundation Planting
1. Always dig a hole twice the width, and no deeper than the pot it came in.
2. Use the same soil that you just dug up to fill in when planting.
3. Be diligent with watering. Purchase a soaker hose and watering 3 hours a day, twice a week (outside of any rainfall).
Don't be afraid to think outside of the box when choosing plants for your foundation. Foundation planting does not have to be run of the mill builder's landscaping, especially if that does not fit in with the rest of your landscape.
Do your research and come up with something that you'll love for a long time.
You May Also Like: