Learn a little about some of our favorite places and things to do in Peters Township, the place we've called home for more than 15 years.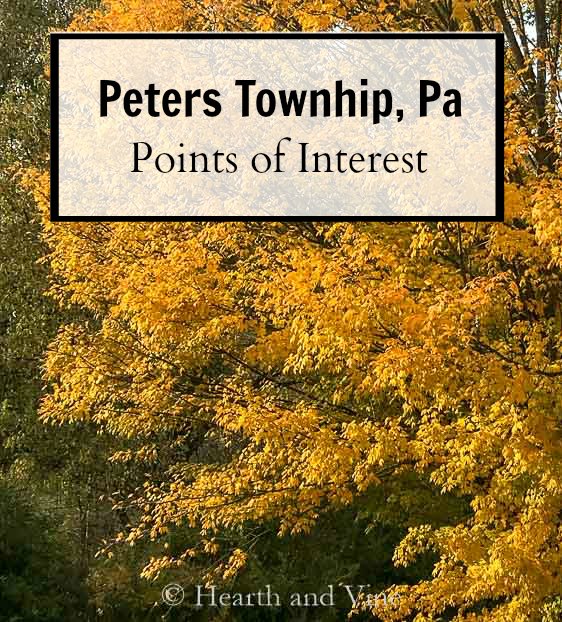 Today I'm changing it up a bit to share with you some of my favorite things about the place I live. I've often mentioned living in Southwestern Pennsylvania, however more specifically I live in McMurray which is part of Peters Township, a thriving suburb just 10 miles south of Pittsburgh.
Recently my friend Jennifer from Town and Country Living invited me to join her and several other blogging friends in a hometown Points of Interest blog hop. I think you will enjoy reading about the other hometowns at the bottom of this post. They are all very interesting and now I have a few new places in mind for future vacation spots.
Origins of Peters Township
Peters Township was incorporated in 1781 as one of the 13 original Townships of Washington County when it became part of Pennsylvania.
It remained a tiny rural community until the 1950s. In 1950 the population was 3,004 and today is roughly 22,000.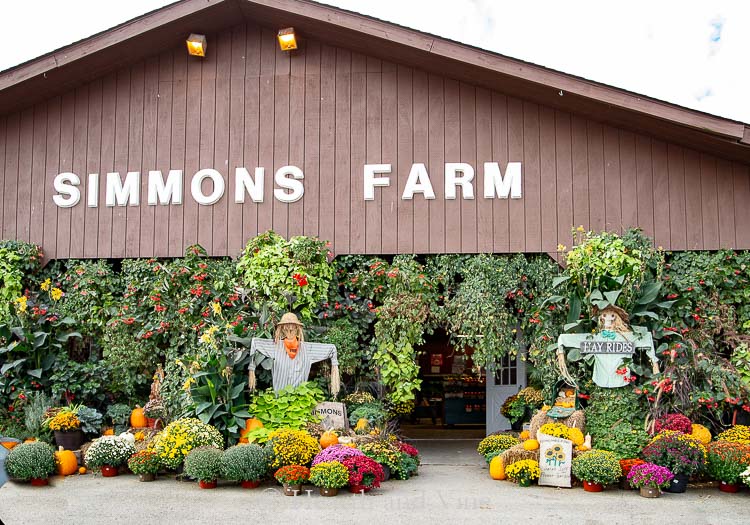 Local Farms
At one time Peters Township was all farmland. Today much of that farmland has been developed but, a few farms still exist.
One of my favorites is Simmons farm. As a gardener, I always enjoy stopping by Simmons in the spring to visit their greenhouse. Throughout the season they offer seasonal produce of fresh daily picked fruits and vegetables at the farm as well as another large market located on Route 19.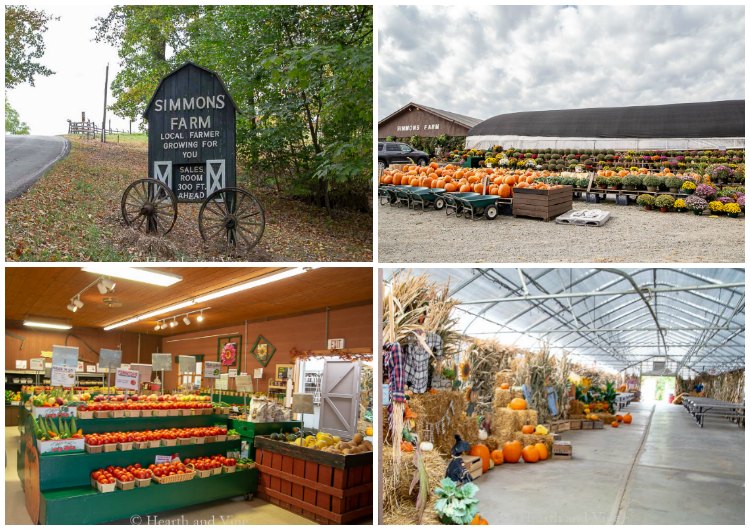 During the fall the farm is filled with end of summer produce and just about any kind of pumpkin or gourd you can think of. In addition, this place is a haven for young families, offering apple and pumpkin picking, corn mazes, hayrides, a petting zoo, and much more.
In fact, you can enjoy "pick your own" services throughout the season with strawberries in the spring, followed by peaches and fresh flowers in the summer.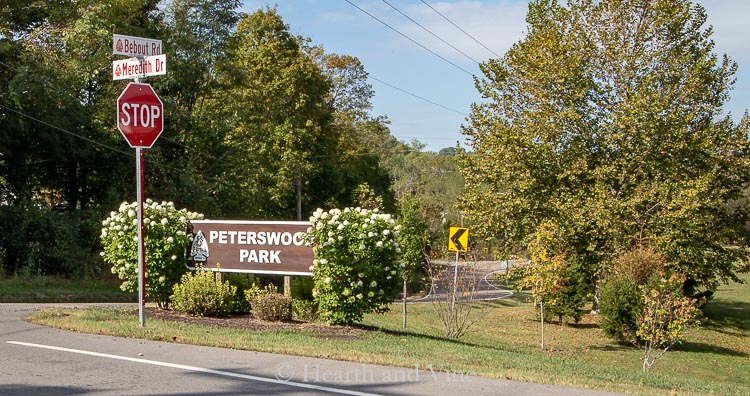 Outdoor Activities
Peters Township is filled with several parks, an amazing Recreational Center and several lakes.
Walking trails around Peters Lake Park is a great way to get in some exercise while enjoying nature.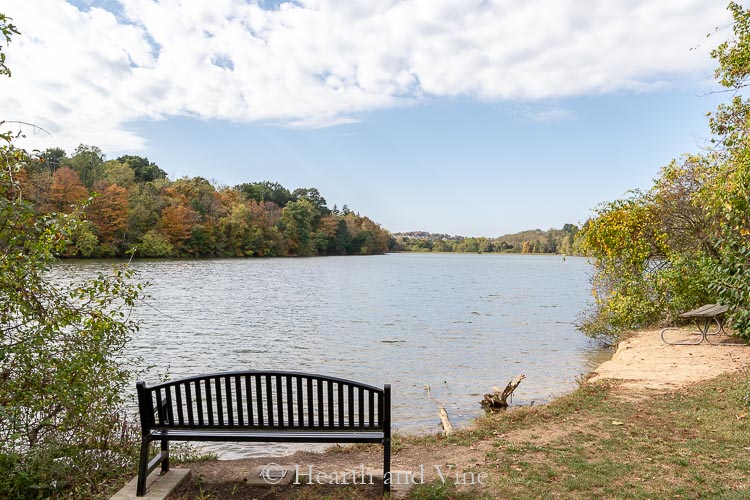 Wildlife is a common sight here. We can sit and watch deer, wild turkey and an occasional fox in our own backyard. Nearby you can even spot Bald Eagles on Canonsburg Lake.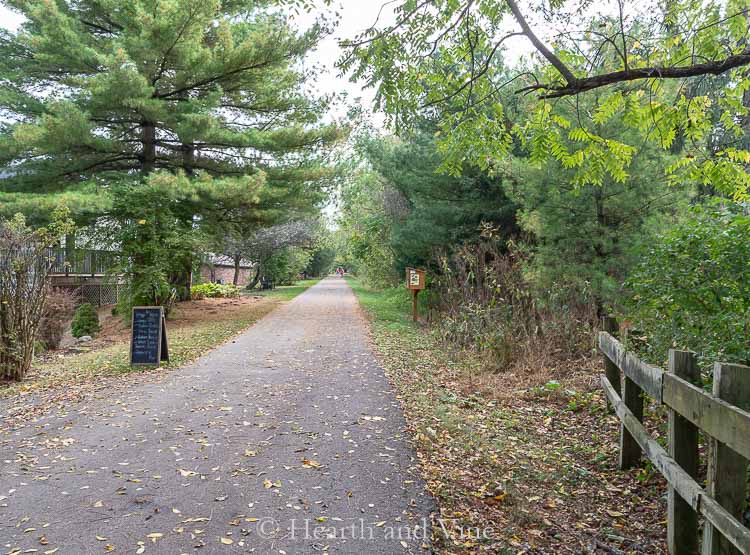 Arrowhead Trail, a portion of the Montour Trail, runs through Peters Township. This is a multi-use, non-motorized recreational pathway for bikers and walkers.
While walking you may want to stop and grab a book or donate one, to this cute free library on the trail.
Dining in Peters Township
There are many places to eat out in Peters Township. A couple of higher-end fine dining Italian favorites are Arlecchinos Ristorante and Franco's Trattoria.
Arlecchinos shown above is housed in a charming 100 plus old one-room schoolhouse. We've had many of our clan birthday dinners here and it always delivers.
Having lived in a few other states, I can honestly say that we have some of the best pizza around next to New York City and Chicago. This is a small pie from Fiori's Pizzeria. There is no delivery and you need to be prepared to wait about an hour to get your order. That's how popular this place is.
It's kind of crazy because there are several other unique pizza shops in the area that serve great pizza in addition to many typical chains. I always wonder how the chains stay in business. I guess there are a lot of pizza eaters in this town.
Here's a view from my sister's house located on Pittsburgh's Mount Washington. This same view was ranked the second most beautiful place in America by USA Weekend's 2003 Annual Travel Report.
Downtown Pittsburgh is only a 30-minute drive from our house. Consistently rated as one of the best places to live, Pittsburgh is known as The City of Bridges and home to champion sports teams. You will often find my family gathering for a Steeler game on Sunday, but we also enjoy the many other cultural amenities the city has to offer.
One of my favorite things to do in Pittsburgh when I'm not visiting my sister is shopping in the strip district. The strip district is filled with many international grocers, boutique shops, fun bars, and restaurants. A great way to spend the day with friends and experiment with unusual fresh produce that you don't find in a typical grocery store.
Four Season Interest
Finally, though we have lived in a few other states as far south as Nashville, Tennessee, somehow we've always come back to Pennslyvania.
Mostly because of family, but I do love the four season climate.
The winters may linger longer than I like. And, sometimes it can also get pretty hot and humid during the summer. However, I think that just makes spring and fall so much sweeter.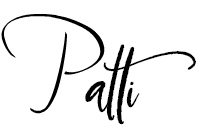 ---
Click Here to Save to Pinterest!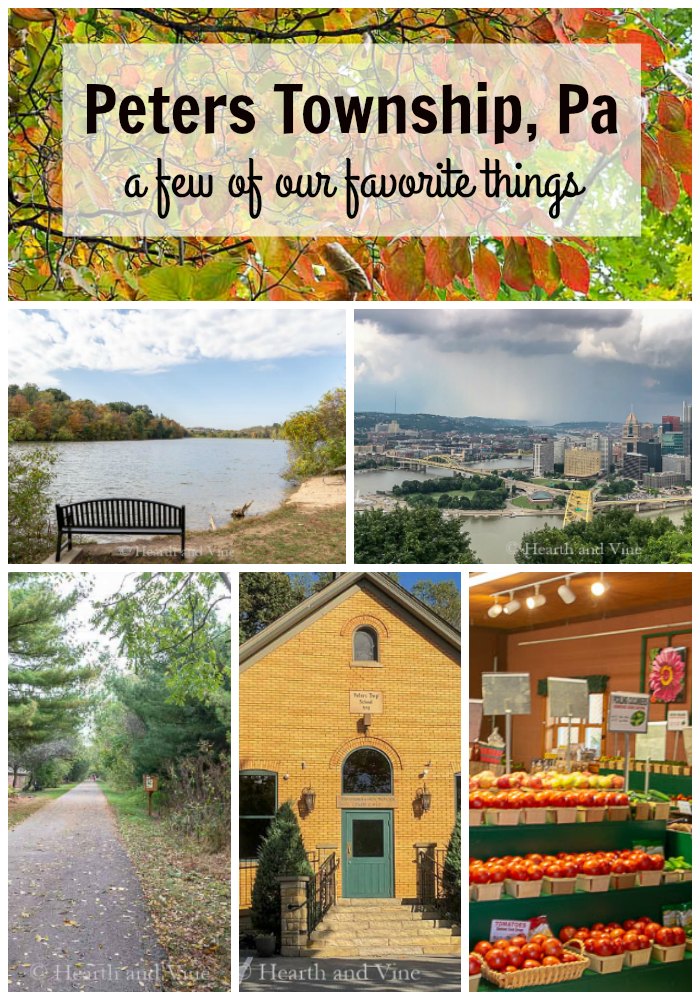 Hometown Points of Interest Blog Hop
WEDNESDAY
Creative Cain Cabin / In My Own Style / Duke Manor Farm / Hearth and Vine
MONDAY
Town and Country Living / Finding Silver Pennies / Southern Hospitality
TUESDAY
My Sweet Savannah / Hymns and Verses / It All Started with Paint / The Happie Housie