Crafting alcohol ink pumpkins is a fun and creative project that's foolproof. Each one is its own little work of art.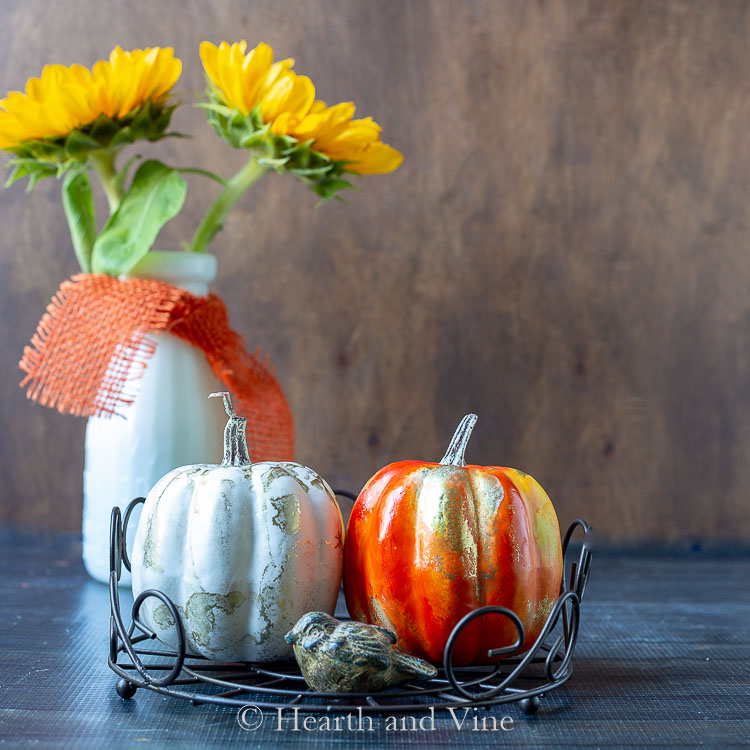 If you've been following me for a while then you won't be surprised that I've used my favorite medium and created alcohol ink pumpkins. Ever since I used alcohol inks to create pretty floral jewelry dishes for Christmas I've been hooked.
This post contains some affiliate links (that means if you make a purchase after clicking a link, there's no additional cost to you, but I will earn a very small commission. ) i.e. as an Amazon Associate, I earn from qualifying purchases. Click here to read my fullisclosure policy.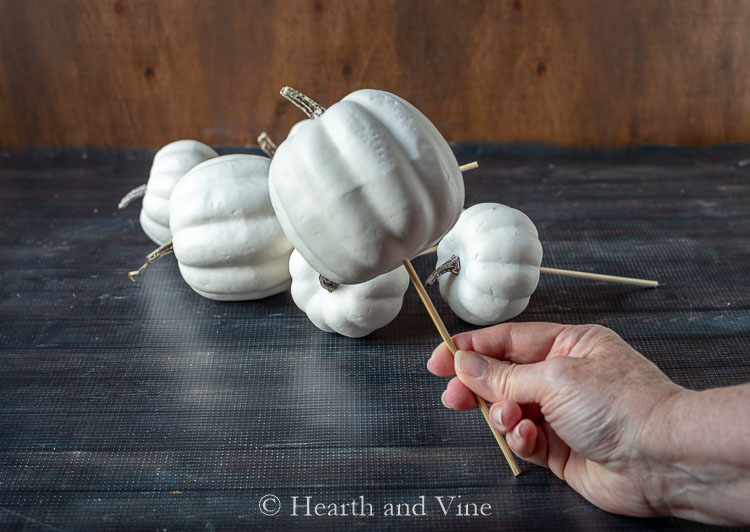 How to Create Alcohol Ink Pumpkins
Supplies
It started with a bag of white faux pumpkins
. By the way, I think you could use real white pumpkins or even regular orange pumpkins that you've painted white.
First, I insert a wooden skewer
into the bottom of the pumpkin. This will give you something to hold onto while you are decorating the pumpkin with ink.
Then you can place the skewer into a piece of styrofoam or other material to allow it to dry.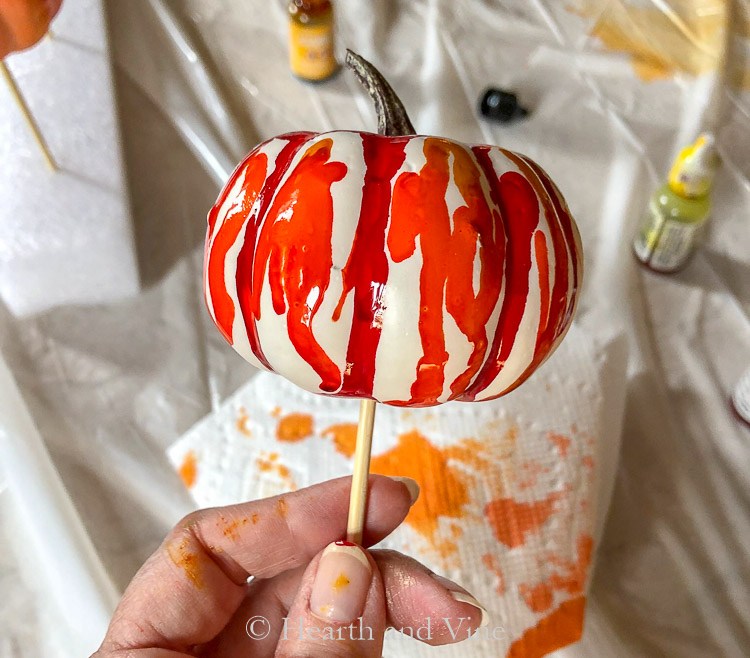 Important Tip: Make sure that you have your surface covered with plastic. These alcohol inks
are very messy.
I usually cut open a trash bag and tape it onto the table and I also place one on the floor underneath just in case.
Next, grab your inks and a small spray bottle of rubbing alcohol
.
Use one or more colors and place a few drops on the top of the pumpkin. They will drip down to the bottom.
Feel free to turn and twirl the skewer to get the ink to move any way you want.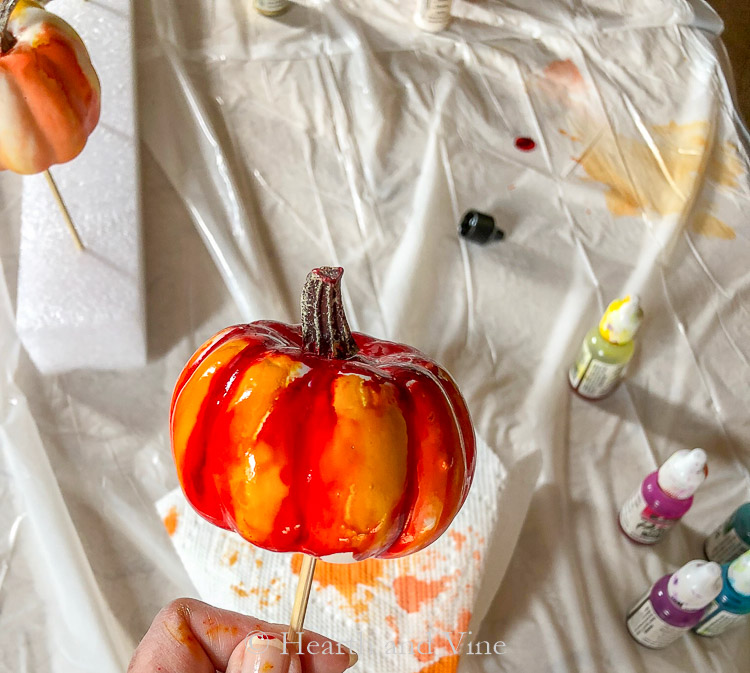 You can then hit it with some rubbing alcohol and watch the colors blend together.
Alternatively, you can spray the pumpkin with some rubbing alcohol and then start dropping some of the alcohol inks on top of each other.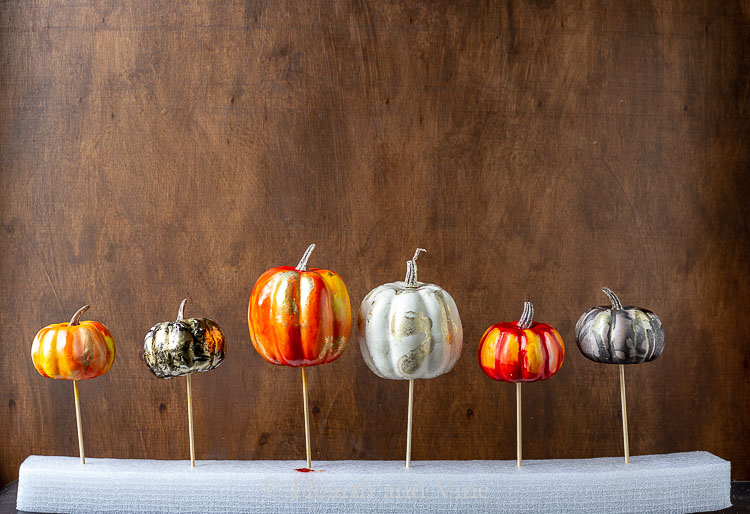 Allow them to dry overnight.
After they have dried you could use a poly spray to protect them but I didn't. They are just for fun in my fall decor so I don't think they really need extra protection.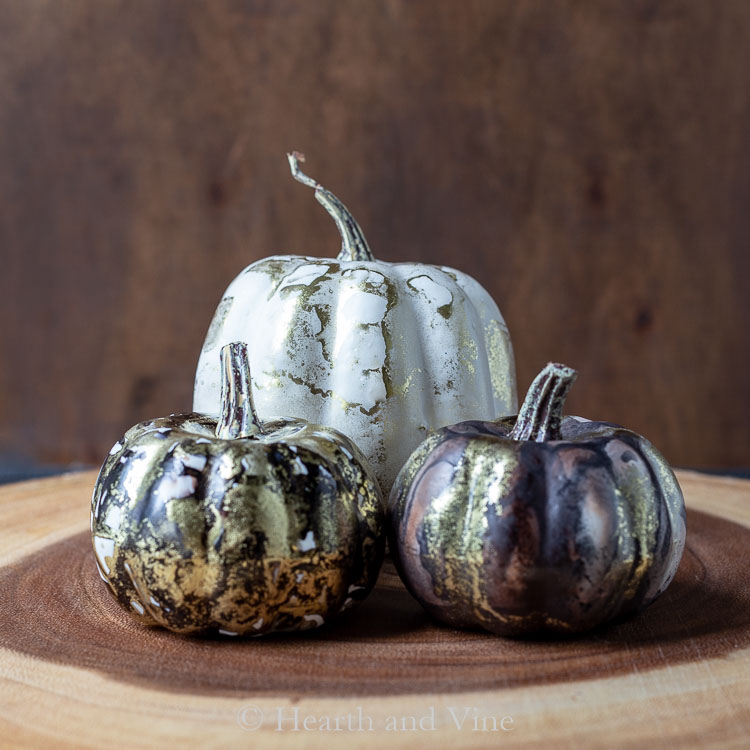 Non-Traditional Fall Colors
If you are not into traditional fall colors you could try black and gold like the ones shown above. They look very elegant to me.
Why not try blue? I've noticed many other decorators using blue in their decor this fall.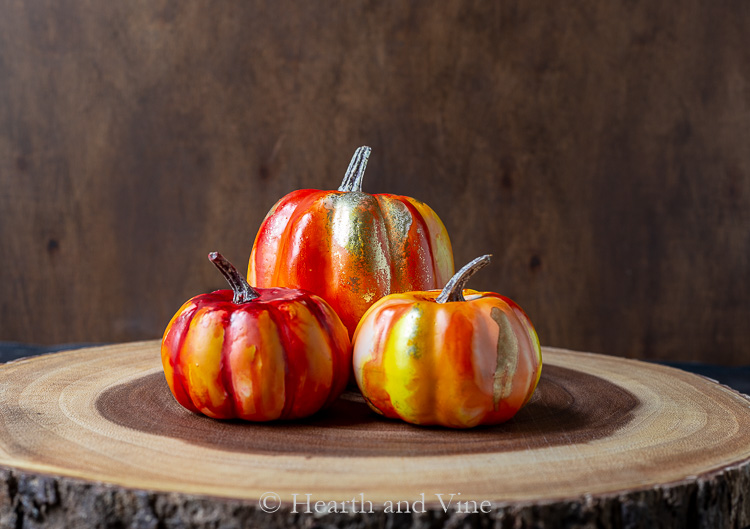 However, I must say that I still like the warm colors of fall.
Really, you can't go wrong with this technique.
And, if you work quickly, you can remove most of the ink with the rubbing alcohol and start creating all over again.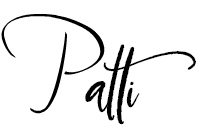 ---
P.S. If you're looking for more ways to play with alcohol inks try this Alcohol Ink Jewelry Dish project or Using Alcohol Inks on Metal Tins. You can find them and many more creative ideas on my DIY Projects page.
Print
Alcohol Ink Pumpkins for Easy Fun Fall Decor
You can easily create stunning pumpkins using alcohol ink. You can make them in a variety of colors to go with your home decor.
Materials
Faux white pumpkins

Wooden skewers

Alcohol Inks

Isopropyl Alcohol
Instructions
Place the skewer into a piece of styrofoam to allow it to dry.

Use one or more colors and place a few drops on the top of the pumpkin.

Turn and twirl the skewer to get the ink to move.

Hit it with some rubbing alcohol and watch the colors blend together.

Let dry overnight.

Use a poly spray to protect them