Learn how to use alcohol inks on metal slider tins to create beautiful handmade gifts for everyone on your list this holiday season.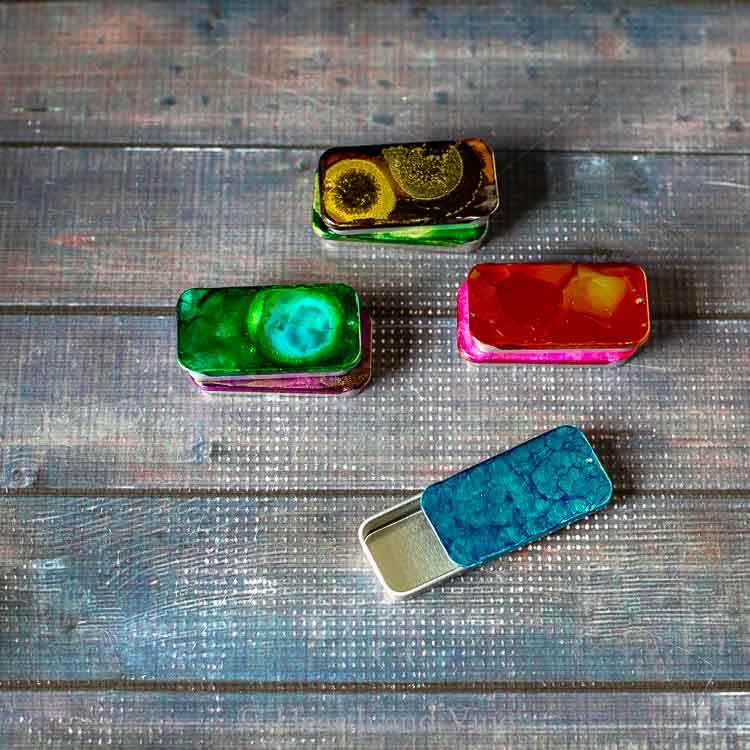 Last year I made Alcohol Ink Jewelry Dishes and then my girlfriends and I made trivets using alcohol inks. They were so popular (and fun to work with) that I decided to create something new using the alcohol inks.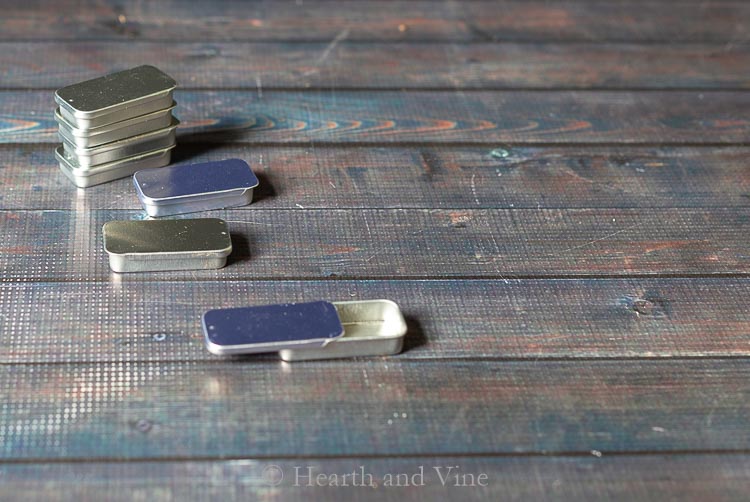 This time I wanted to try them on metal. I noticed that many people have used alcohol inks on metal washers to make pretty necklaces.
Since I already planned to make solid perfume for one of my holiday gifts this year, I thought these metal tins would make good containers.
And, the alcohol inks would be perfect for making them look beautiful.
This post contains some affiliate links (that means if you make a purchase after clicking a link, there's no additional cost to you, but I will earn a very small commission. ) Click here to read my full disclosure policy.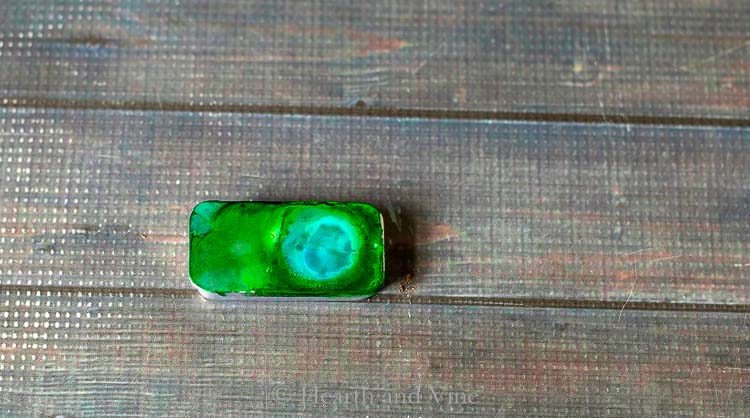 Supplies
Metal Slider Tins

Alcohol Inks

Canned Air

Isopropyl Rubbing Alcohol 91%

Cotton Swabs
Cotton Pads
(optional)

Protective Spray Gloss or Rangers Multi Medium
Using Alcohol Inks on Metal Tins
Start by cleaning the surface and sides of the tins with the Isopropyl alcohol.
Then use just a couple of drops of ink to create stunning effects.
Use some ink on a cotton swab to decorate the edge.
Play around with allowing the inks to spread and meld together.
You can also use cotton swabs with isopropyl alcohol and the inks to obtain different effects.
Once you get a look you like, let the tin dry for 24 hours then protect it with spray gloss or multi-medium.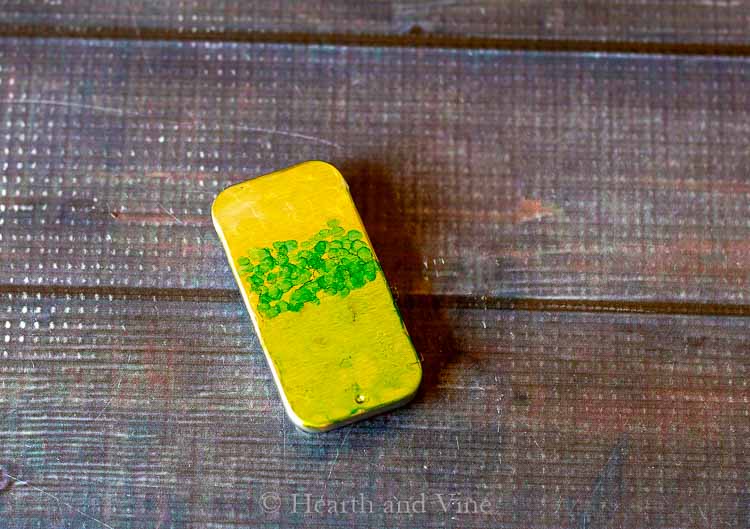 Don't like what you see?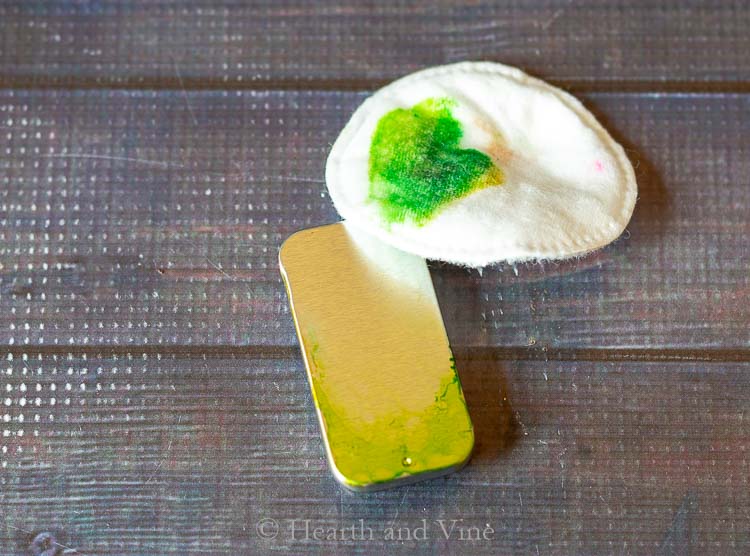 Simply remove it with more isopropyl alcohol and start over.
Caution: This project is messy. Make sure that you cover your work table and the floor. Also, wear old clothes.
PS: I did find that aerosol hairspray helped remove the ink from a sweater.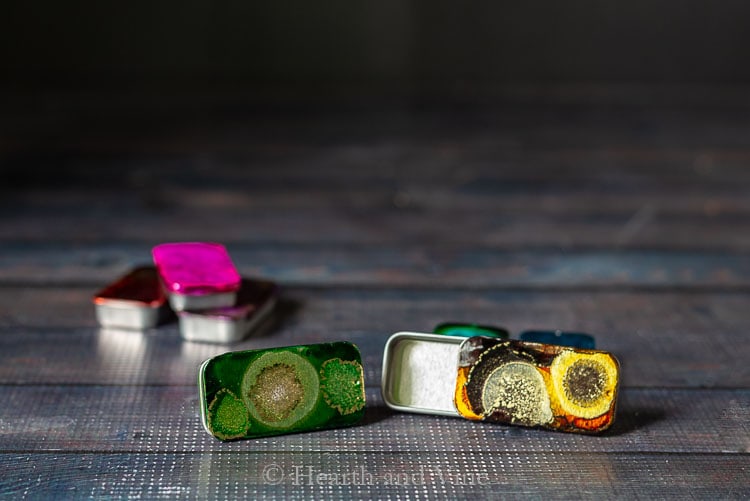 I love the way the gold looks on top of the other colors. It's a little more opaque but spreads beautifully.
You could play all day with these fun alcohol inks. The great thing is you don't need much to create beautiful tins so you won't mind wasting some while you practice.
Other uses for Alcohol Inks on Metal Tins:
storing medication
storing mints
make a mini survival kit
handy storage for paper clips and safety pins
Note: I read that three of these tins fit nicely in an Altoids container for storage within the storage.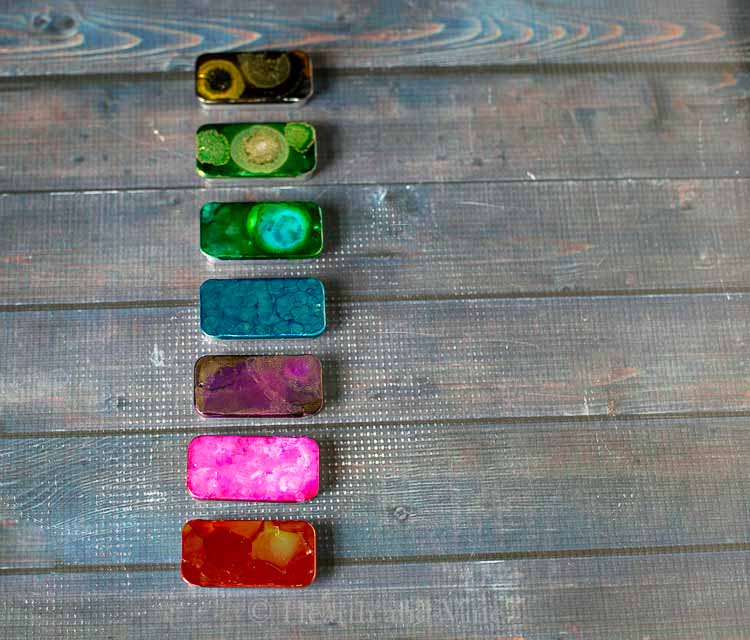 I really love the way the alcohol inks look on these tins.
It took no time at all to create seven beautifully decorated tins.
Time to order more.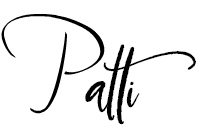 ---
P.S. If you enjoy alcohol inks, check out my Alcohol Ink Ornament project. Or try Distress Spray Inks. I used them on my Rustic Advent Calendar Tree Project this year and I can't wait to use them again. See these and much more on my DIY/Projects Page.