Learn how to make these beautiful alcohol ink ornaments that resemble blown glass but are so easy and cost very little to make.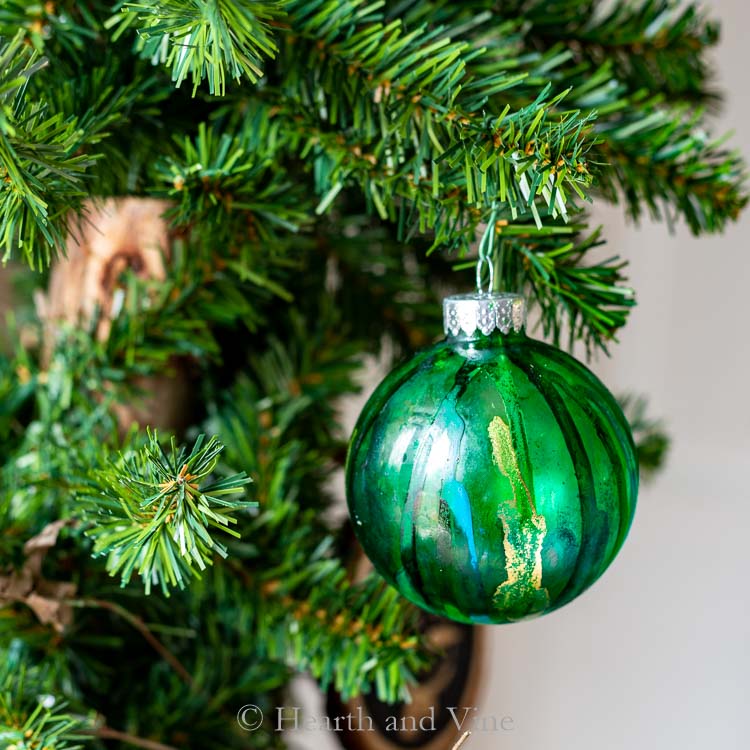 I just couldn't resist playing with alcohol inks to make a few ornaments this season.
If you haven't tried them yet you are in for a treat. Though they are messy the results are always so pretty and it is so effortless to make something beautiful.
I first started working with alcohol inks last year when I made pretty flower jewelry dishes with the inks. That got me hooked. I went on to make some pretty trivets with my girlfriends and then decorated slider tins to house solid perfume earlier this season.
So while I was unpacking my Christmas decorations I noticed a dozen clear Christmas bulbs that were not being used for anything and thought, what a perfect use for alcohol inks.
This post contains some affiliate links (that means if you make a purchase after clicking a link, there's no additional cost to you, but I will earn a very small commission. ) i.e. as an Amazon Associate, I earn from qualifying purchases. Click here to read my full disclosure policy.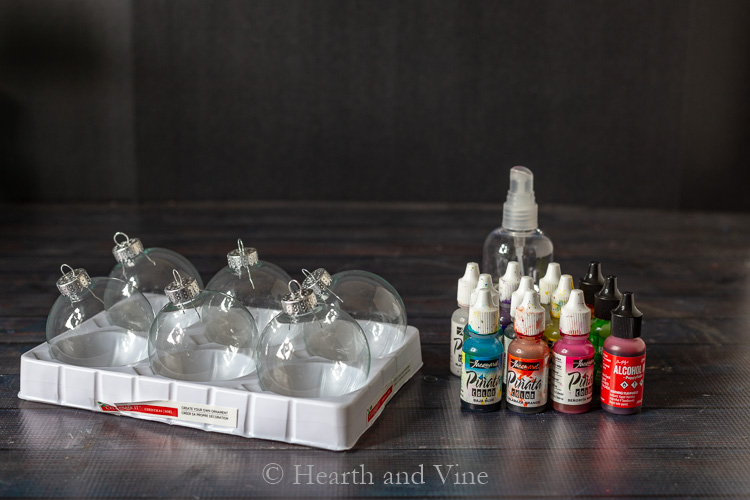 Supplies
Clear plastic ornaments
Alcohol Inks
Isopropyl Rubbing Alcohol 91%
Canned Air
(optional)
Caution: This project is messy. Make sure that you cover your work table and the floor. Also, consider wearing gloves and old clothes. The rubbing alcohol does a good job of fixing mistakes and cleaning your skin as well as creating interesting patterns with the alcohol inks. However, it may permanently stain different fabrics too.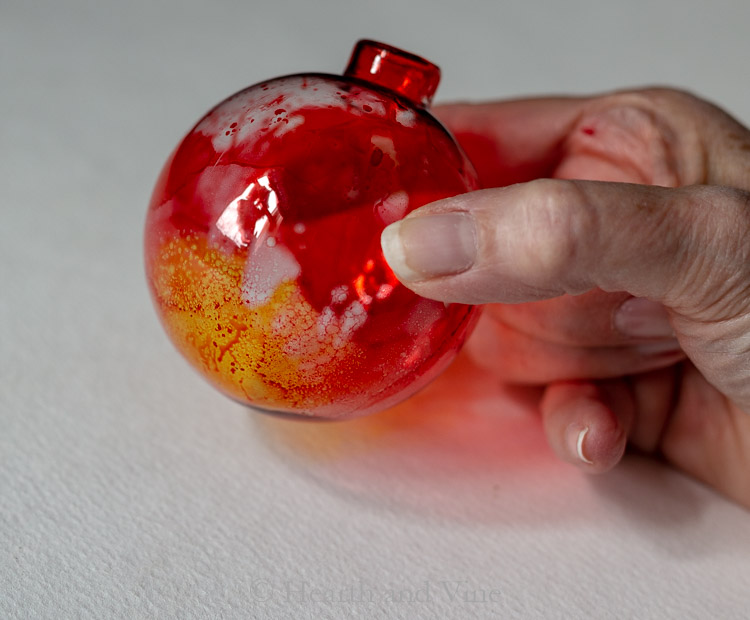 How to Make Alcohol Ink Ornaments
At first, I used the inks on the inside of the balls. Just pour a little bit of the ink inside and swirl it around. Add other colors and see how they mix with each other.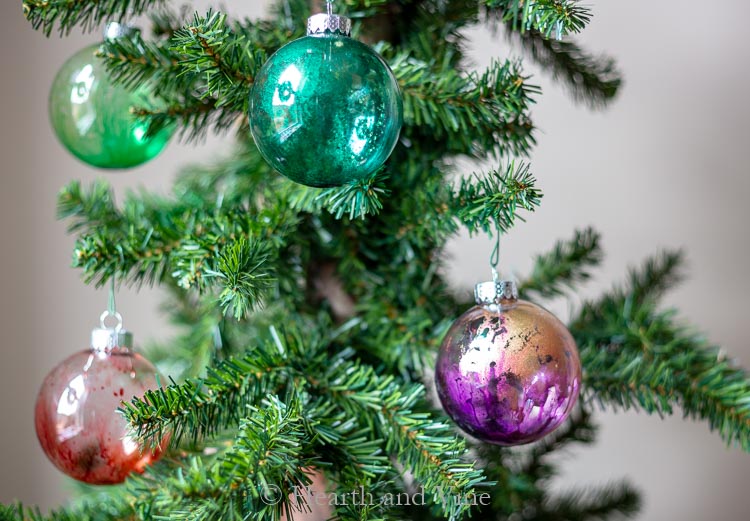 They turned out great, especially those with the gold ink because it's a little opaque and seemed to stay in place better. However, as you can see, (look at the red one on the left) the ink tended to gather at the bottom after a while leaving open spots.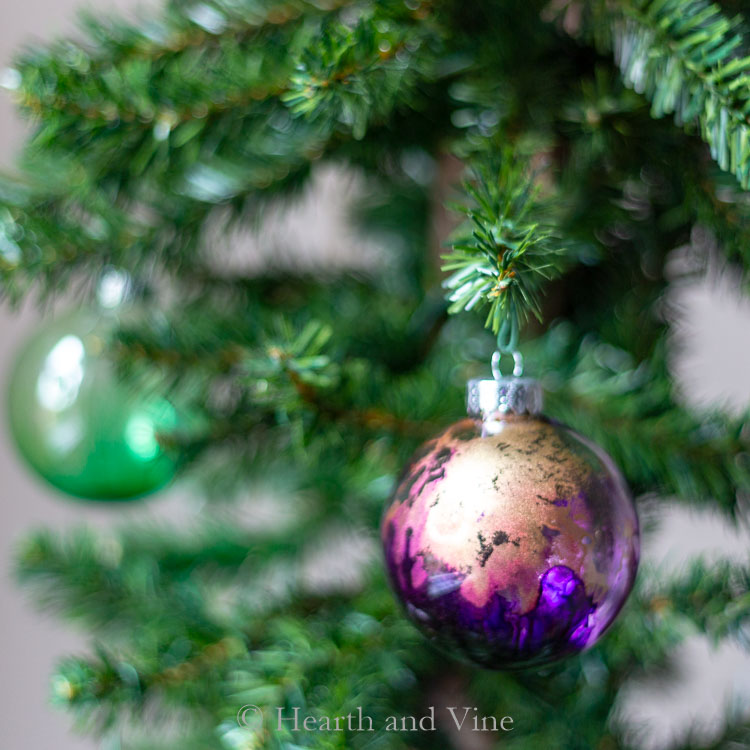 I still think this is beautiful and I liked the fact that the ink was on the inside so you don't have to worry about the mess as much, and you don't have to seal it.
Try using some metallics with the colors if you choose this route.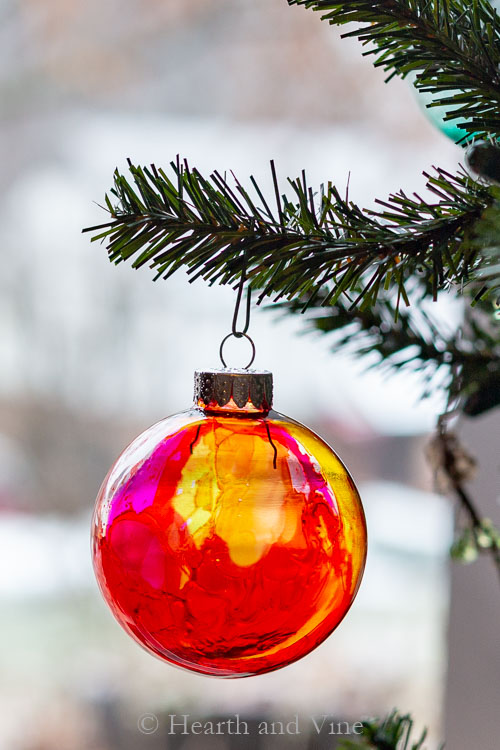 I also tried using canned air after each drop of color. This worked really well to dry and spread the color without pooling at the bottom.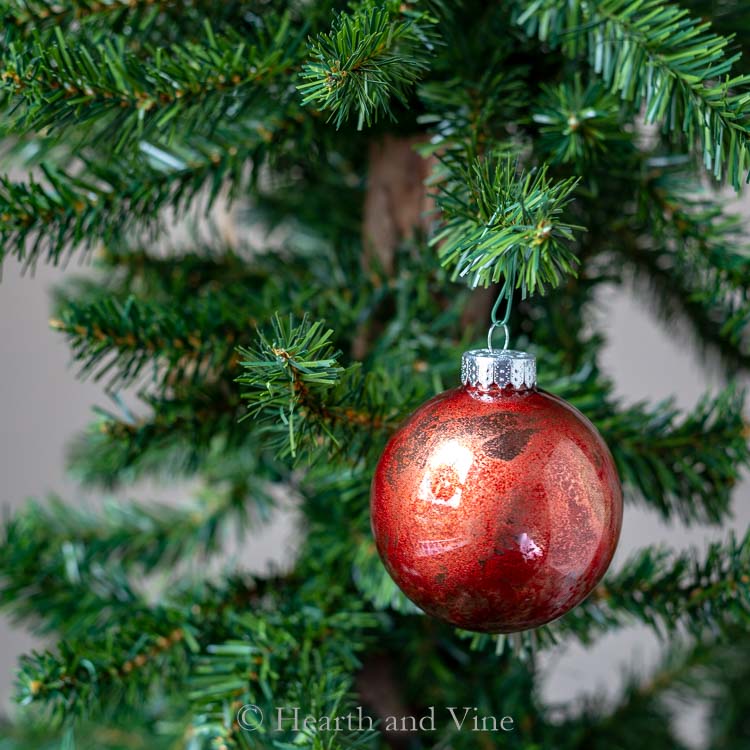 Here's another one with red and gold inks on the inside using just the pour and turn method.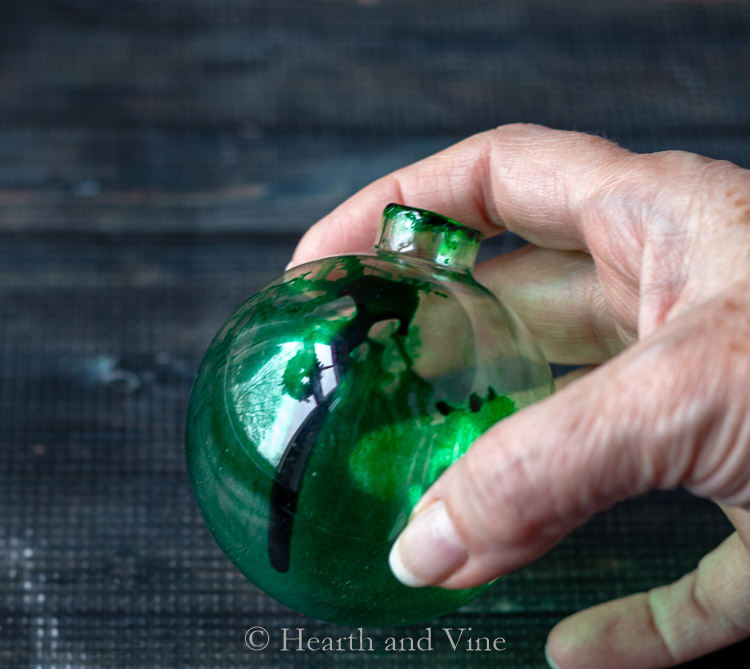 This one ended up with a drip on the inside that I did not like.
I used a cotton swab with isopropyl alcohol to remove it.
Since I still wasn't pleased with this one, I tried using the alcohol inks on the outside to see how they looked.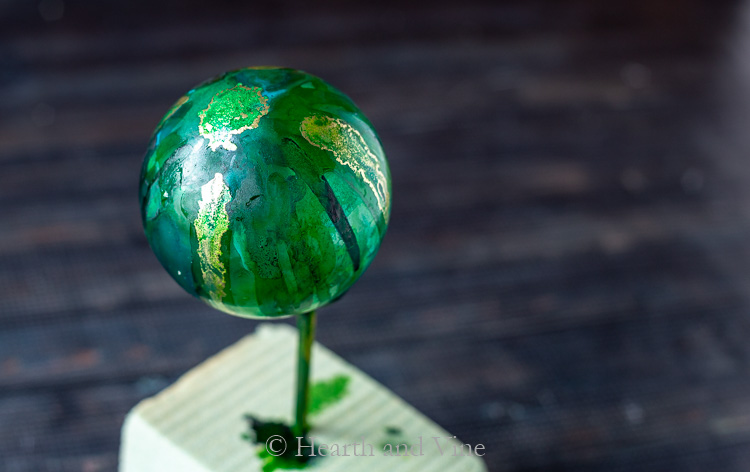 I knew this would be much messier so I made a little stand with foam and a wooden skewer to place the ball on. (Make sure you cover the table under the foam too. Let the ink drip down around the ball. They dried quickly on the outside and stayed in place.)

Sealing Alcohol Ink Ornaments
The clear bulbs with ink on the inside do not need to be sealed. For those with ink on the outside, I would recommend waiting a full 24 hours. Then carefully spray this ornament with a clear acrylic coating
.
Use the same foam stand and make sure that you don't spray too close or you might mess up your beautiful ornament. Wait for another hour and add a second coat.
Options for Alcohol Ink Ornaments
Use them on white ornaments
Coat the inside of the clear plastic with white paint
Canned air or a straw can create special effects and promote drying
Use a felt pad to stamp on a design
Cotton swabs dipped in rubbing alcohol help to remove ink and add texture
Use a paintbrush for extra control
This is a great craft to make with friends and small groups. You can share the inks and buy some ornaments in bulk. Play some festive music and enjoy an evening or afternoon creating with this easy and beautiful medium.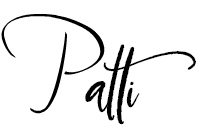 Click Here to Save to Pinterest!
Alcohol Ink Ornaments That Look Like Colorful Blown Glass
Alcohol ink ornaments resemble blown glass, but are so easy and cost very little to make. If you haven't tried making these yet, you are in for a treat! You will want to make one for everyone on your list this holiday season!
Materials
Clear plastic ornaments
Alcohol Inks
Isopropyl Rubbing Alcohol 91%
Canned Air (optional)
Foam
Skewar
Instructions
Alcohol Ink On The Inside Of The Ornament
Cover your work area.
Pour a little bit of the ink inside the ornament and swirl it around.
Use a little canned air to help mix it up.
Add other colors to create the look you want.
Let dry overnight.
Alcohol Ink On The Outside Of The Ornament
Cover your work area.
Pour a little alcohol ink on the outside of the ornament.
Let the ink drip down around the ball.
Add more than one color.
Place a skewer in a piece of foam and place the ornament on for drying.
Use a cotton swab with isopropyl alcohol to remove any unwanted spots and general clean up.
Seal with a clear sealer.

Recommended Products
As an Amazon Associate and member of other affiliate programs, I earn from qualifying purchases.