If your succulent grows tall and leggy you can use this simple trick that will help bring it back to its original beauty.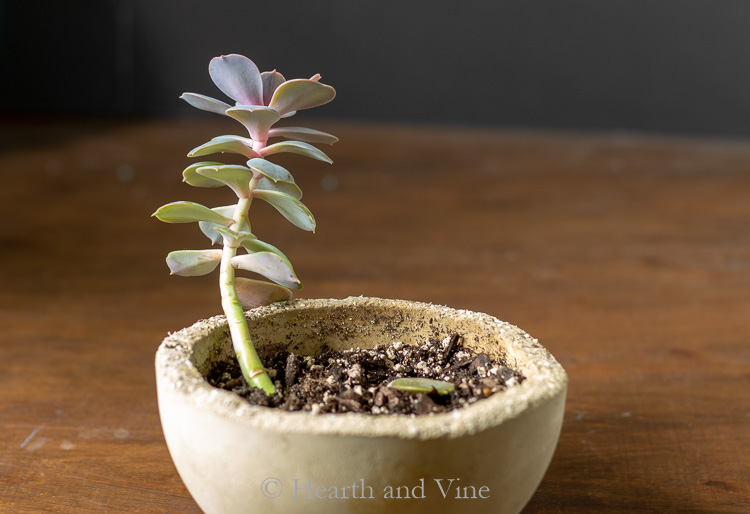 This pretty Echeveria 'Perle Von Nürnberg' was looking so leggy, losing its pretty purple color, and some of the leaves were falling off.
Why a succulent grows tall and leggy?
The most likely reason is that they are stretching to find the light.
Last year my daughter wrote a post about caring for succulents and one of the main tips is to give succulents tons of light. I'm not sure what happened to this guy. I think it may have started in the nursery and the window I had it in to start just wasn't getting enough light on an ongoing basis.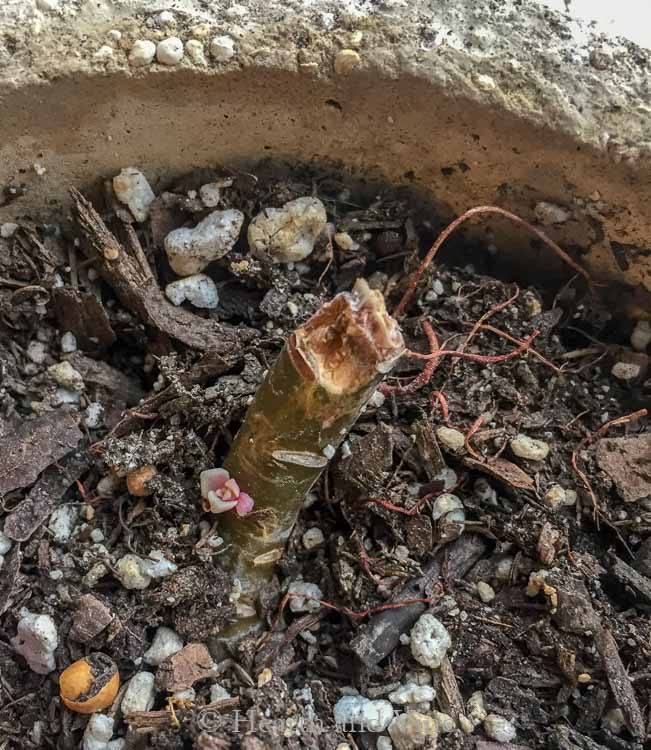 I decided to cut it off at the bottom. You can see after a little while a new rosette started forming.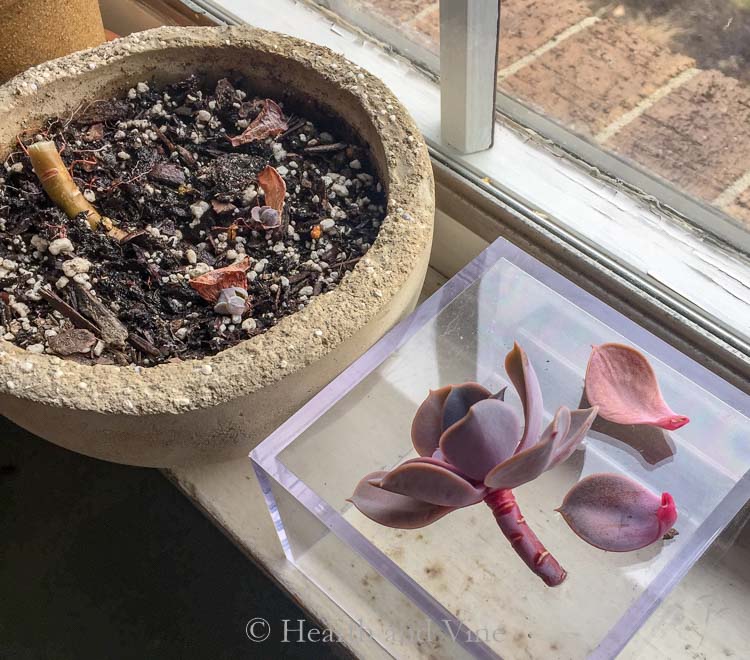 I kept the top portion of the plant and a couple of leaves and allowed them to callus over for several days.
If you look to the left there are a couple of leaves on top of the soil that have started to regrow. To be honest, these almost never do well for me.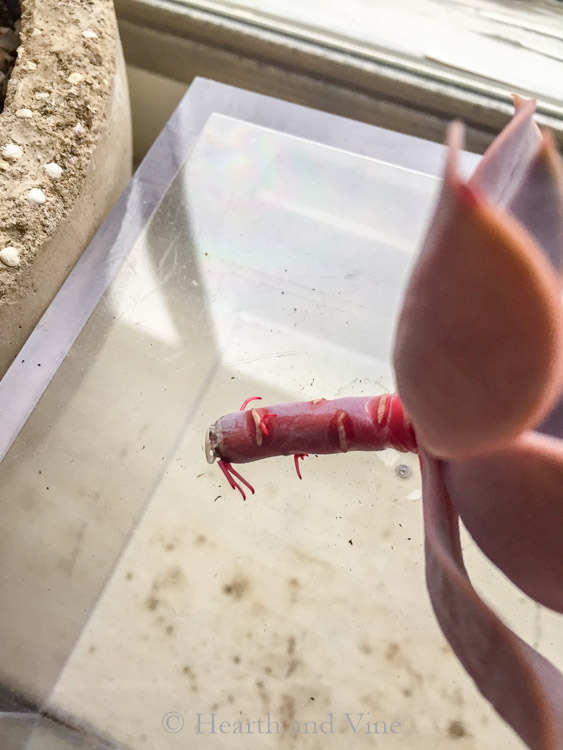 However, waiting until the top portion began to send out roots before re-planting worked really well.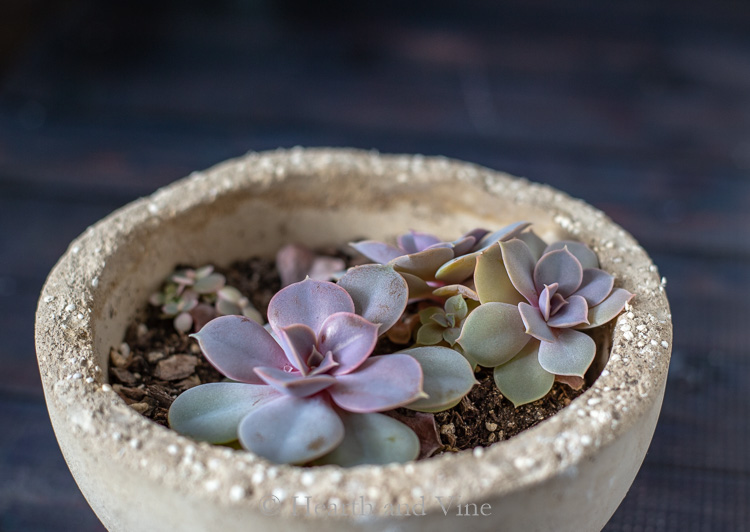 Here it is 7 months later. The rosette in front is the top portion of the original plant. The two on the back right side are growing from the original cut stem. You can see a new one growing between the two.
The plants in this container are growing nice and tight. They look healthy and display beautiful color.
Now you know of one option to try if your succulent grows tall and leggy.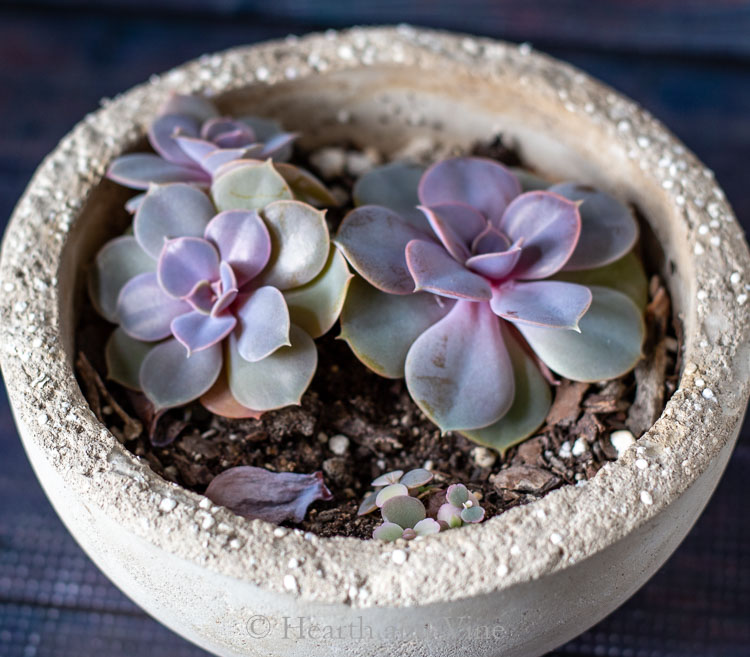 You may also notice a baby Kalanchoe up front. Soon I'll transplant elsewhere eventually as it will grow to be too tall.
That shriveled leaf was an attempt to propagate the plant from a leaf. Though this works well for many succulents I haven't had a lot of success with the process. The leaves start to send out growth but they never quite take to the soil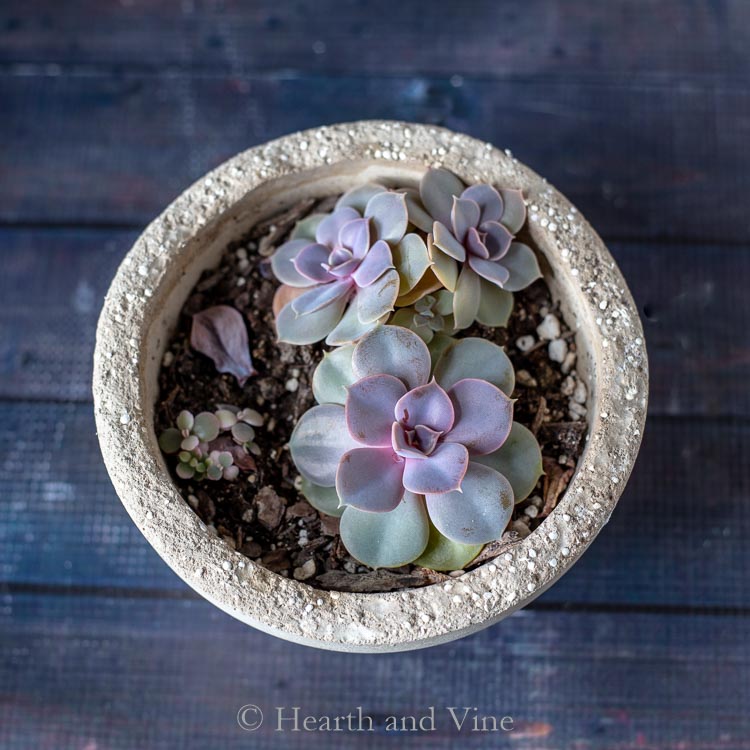 This planter is sitting in a south-eastern facing window. It's watered lightly every week with the rest of my plants.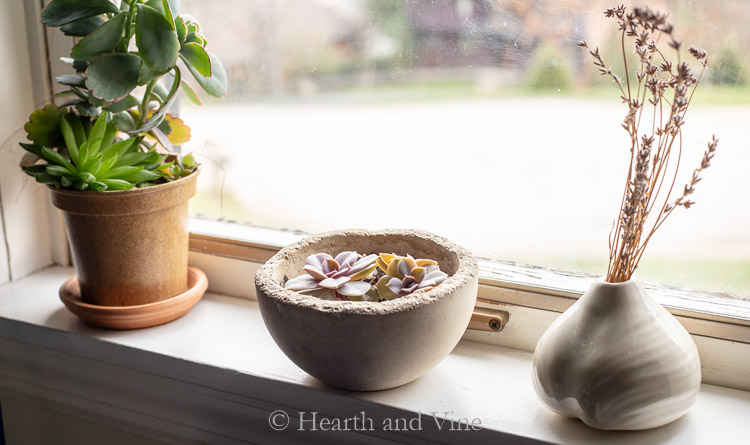 Here it is on the windowsill of my office right next to my desk so I can enjoy them as I work.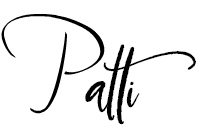 ---
P.S. I have a few other posts about succulents that you may like. Tips about growing succulents, written by my daughter, a huge plant lover studying Botany. Another is all about hardy succulents that you can grow outside in colder climates, and a third is a cute project about how to make a succulent birdcage planter.