This succulent log planter is an easy DIY project that you can use as a beautiful centerpiece on the patio all season long.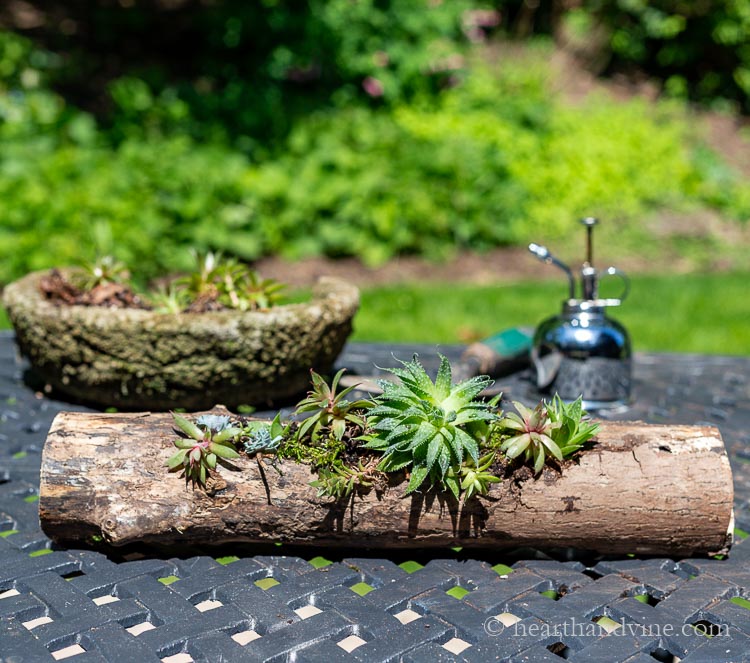 Now that we are spending more time outside I thought it would be nice to create a little centerpiece for our patio table.
I have a few indoor succulents stretching for the light that had seen better days. Instead of pruning them or throwing them out, I decided to use them in an outdoor planter.
I also had a few in this broken planter that needed a new home.
The plants on the left came from the broken planter and already have some roots. However, those on the right were cut from the legging indoor plants so I needed to wait a couple of days to let them harden off before planting.
How to Make A Succulent Log Planter
Find a log somewhere in your yard. You can decide how long and how wide you want it to be.
Note: I don't plan on bringing this inside. If you want to bring in your log planter you will need to prepare the wood for indoor use first before creating the planter.
Using a screwdriver and a hammer you can chisel a planting area into the log. If you have an actual chisel that would be even better.
Most succulents don't need too much space for their roots. Also, they will love all the outdoor light that they will get on the patio.
A little well draining or cactus potting soil will work great here.
Add a little bit of soil to the bottom of your crevice. Play around with varying sizes, shapes, and colors to get the look you like. Tuck in the soil around the plants and don't water right away.
If you are having a rainy spell it may be a good idea to move the planter to a sheltered spot to dry out. This is important as succulents do not like soggy conditions.
Finally, if you are in a cold climate like me you will want to move the planter to a sheltered spot for the winter. Something like a covered porch or garage is a good space to place the planter to live during cold months.