Learn how to make your own pressed flower jewelry dish from polymer clay, a few flowers from your yard and craft paint.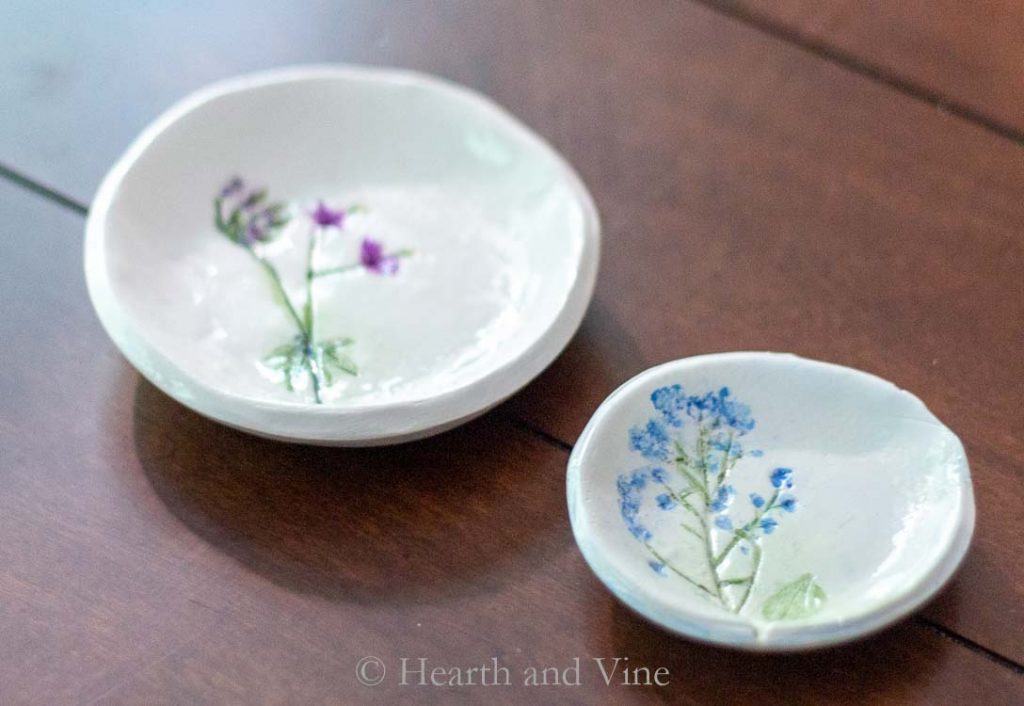 Recently I came across a pretty ceramic soap dish made by Salt Marsh Pottery. It was one of the items we used to sell at the herbal gift shop.
As I was looking at it I wondered if I could make a little pressed flower jewelry dish from polymer clay. So I went out to Hobby Lobby and purchased some polymer clay and a plastic clay kit with a roller and cutter.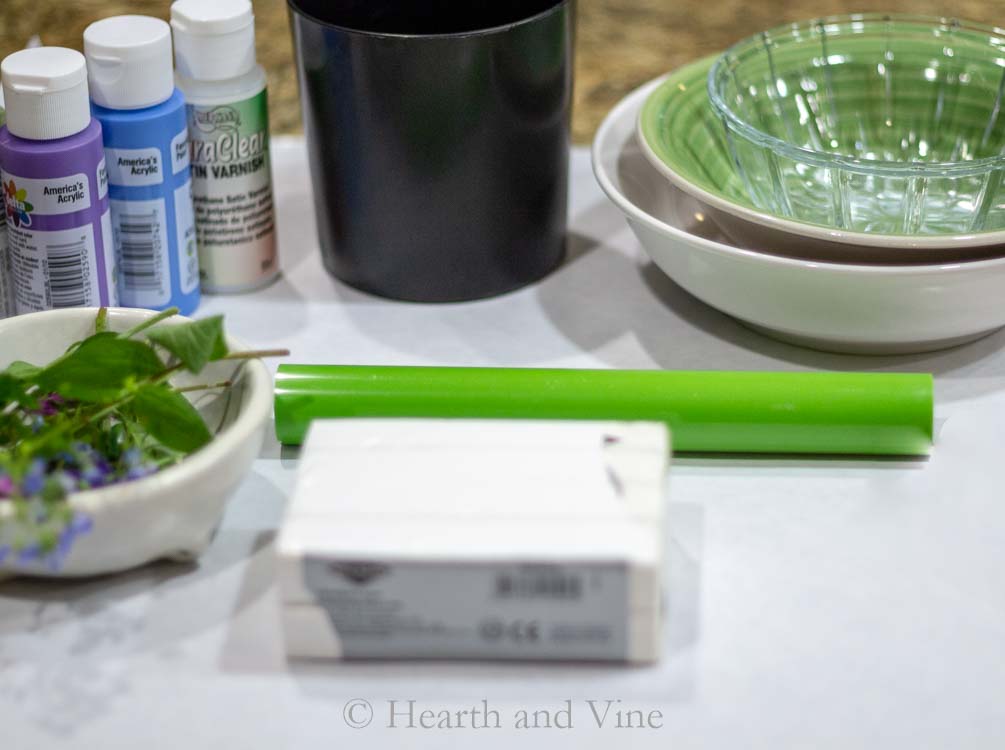 This post contains some affiliate links (that means if you make a purchase after clicking a link, there's no additional cost to you, but I will earn a very small commission.) Click here to read my full disclosure policy.
Supplies
Polymer clay
Flowers and leaves from the garden
Oven safe bowl – (dollar store)
Rolling pin for clay (anything round, not your baking tools)
Craft Paints
Varnish
How to Make a Pressed Flower Jewelry Dish
Pick a few flowers, rinsed them well and let them air dry.
In the meantime work on softening the clay. I don't have a special tool to condition the clay for rolling so I sat in front of the TV and used my hands to knead it until it was soft and pliable. This was the hardest part and took me about 20 minutes.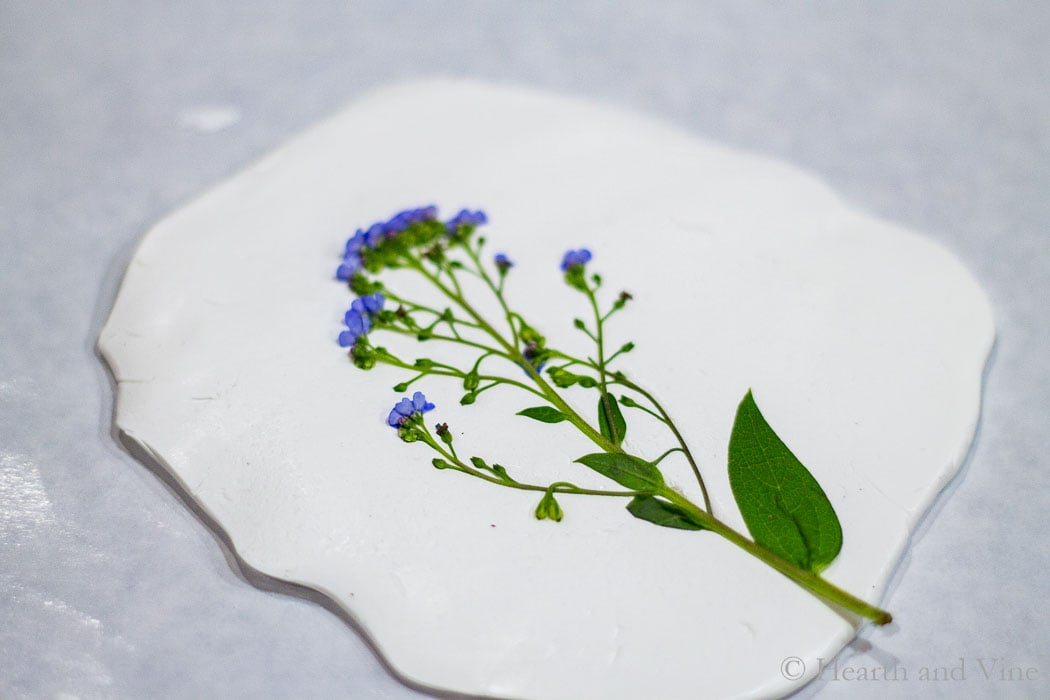 Next, roll out the clay on some parchment paper until it was about 1/4 inch thick. Place some of the flowers on and rolled it gently into the clay to make an impression. Gently removed the plant material and used a pin to lift out any stragglers.
Use something like a plastic round container to trace a circle and cut it out.
Place the clay into a small oven proof bowl. I had read somewhere that you shouldn't use your regular utensils or dinnerware when working with polymer clay. I used one that I bought from the dollar store.
The directions on the particular clay said you bake at 300 degrees for 20-30 minutes.
Once the clay was done baking let it cool, and then turned it upside down on some paper towels and tap on the bottom until it comes out.
Use some heavy sandpaper sand off any rough edges.
Next, use craft paints to color and fill in the impressions to match the real flower.
Once the paint dries add a nice clear varnish to give the entire piece some shine and protection.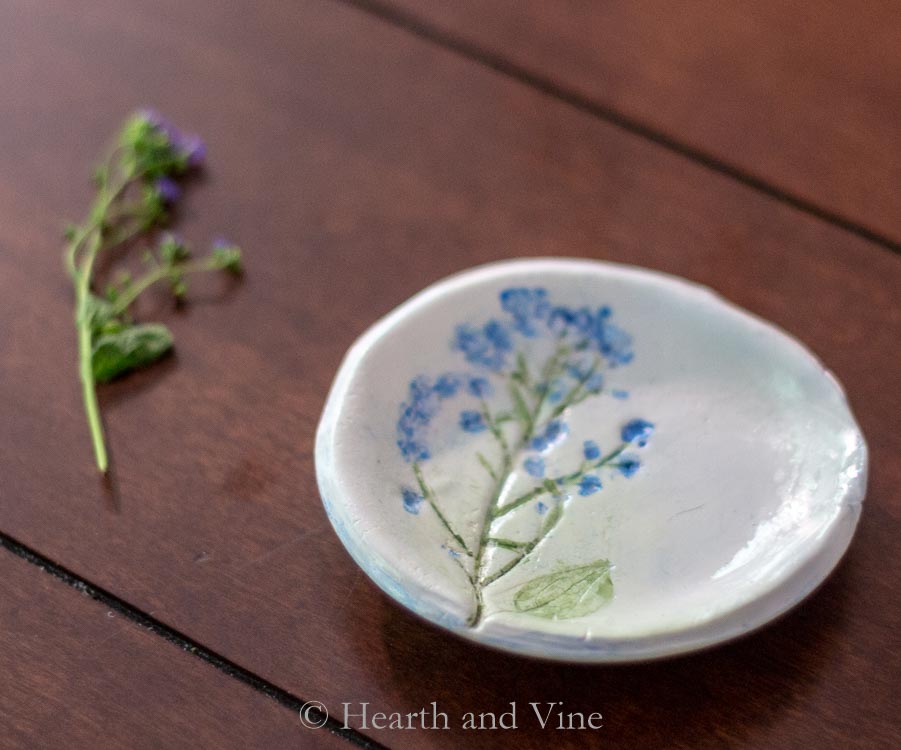 I think they turned out great.
I'll admit they are a far cry from the fine craftsmanship at Salt Marsh, but sometimes it's just fun to do it yourself. And, I think with some planning and practice, this project could only get better and better.
Do you ever go to bed with earrings on? I hate getting out of bed but worry about losing studs if I place them on the nightstand so this jewelry dish is the perfect solution. It would make a great gift, don't you think?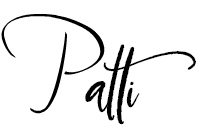 ---
P.S. You may also like these Alcohol Ink Jewelry Dishes. They are less work and a bit messy but really fun and easy to make.
Click Here to Save to Pinterest!