Learn how to create a handmade clay tray with flowers and air dry clay. It's really easy and makes a nice statement in your home.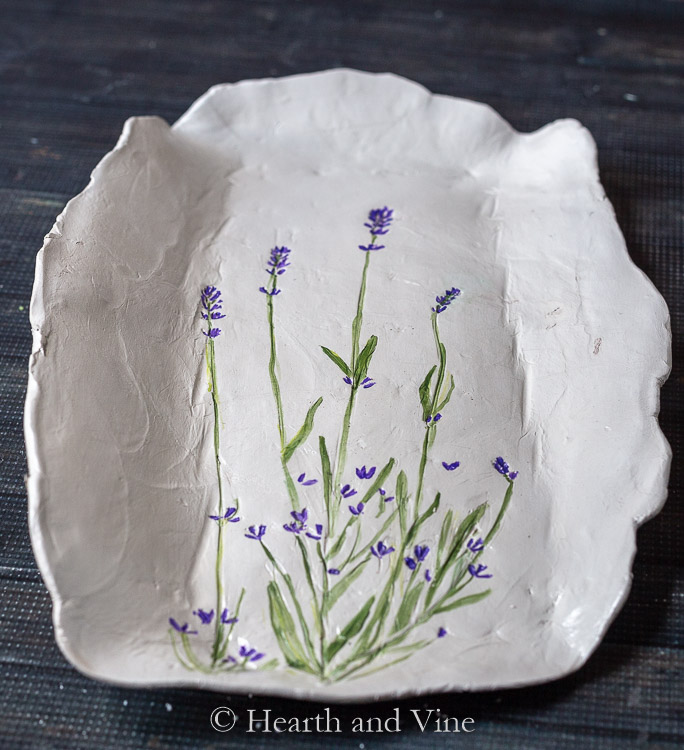 A long time ago I took a clay class with my older sister at The Penn View Art Center. The center was run by, Sr. Edith Nemeth from the neighboring Divine Redeemer motherhouse.
Sr. Edith was a wonderful person, always smiling and sharing her love of ceramics, painting, and other art forms. She received her MFA from Carnegie Mellon University and loved to share her knowledge with others.
Sadly she passed away in 2013. I know those whose lives she touched will remember her always.
Handmade Clay Tray
One of the projects we made in the clay class was a decorative tray or bowl. Today I'm sharing a similar idea in remembrance of Sr. Edith.
Since I don't own a kiln (but that would be so fun,) or have access to one, I'm working with air dry clay
.
The first thing you need to do is work the clay to distribute the moisture and soften the clay.
Next, roll out the clay on some wax paper. This one is rolled out about 1/4 inch thick.
At this point, you can cut and smooth the edges to make a more perfect shape or leave it rough, as I did.
Next, pick some flowers or branches from your garden. Wash and dry the plant material and then gently press them into the clay.
This lavender left a beautiful imprint.
Cover the clay with another piece of wax paper on top and then flip it over onto a bowl or basket as shown here.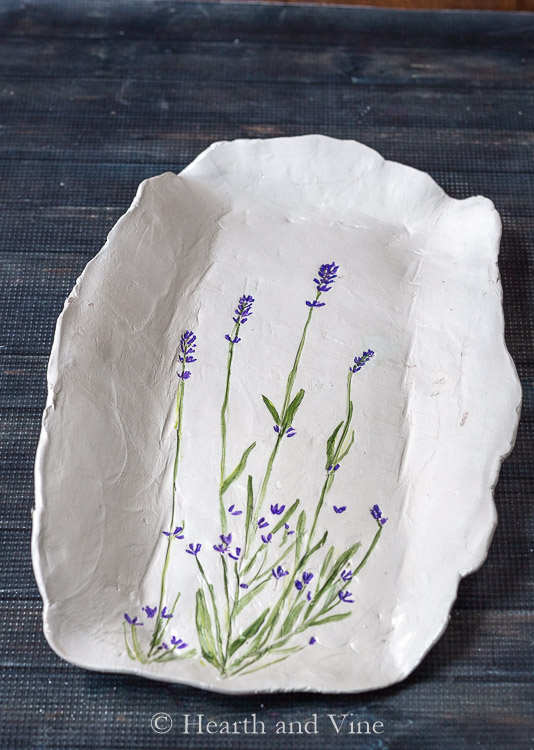 After a day or two, the tray should be dry enough to remove and paint. I used regular craft paints to fill in the blossoms and leaves.
Let the paint dry and then apply a coat of polyacrylic
for a nice finish.
Note: This is purely a decorative piece. You cannot serve food on it and it cannot be washed. However, you could place some parchment on the plate and set food on the paper.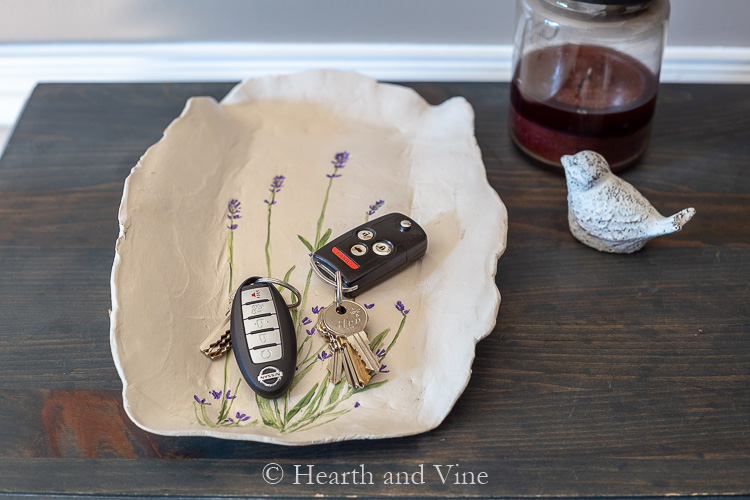 It is very rustic. The edges are rough and the sides could have been more even but you get the idea.
Use your own creative sense to make it as perfect or as rough as you like.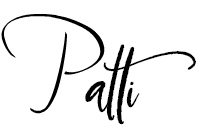 ---
P.S. You may also like this Pressed Flower Resin Tray or these Pressed Flower Jewelry Dishes. You can find them and much more on my DIY Projects Page.