Creating an indoor water garden is a fun project that you can make in about an hour, and it can be as simple or as elaborate as you wish.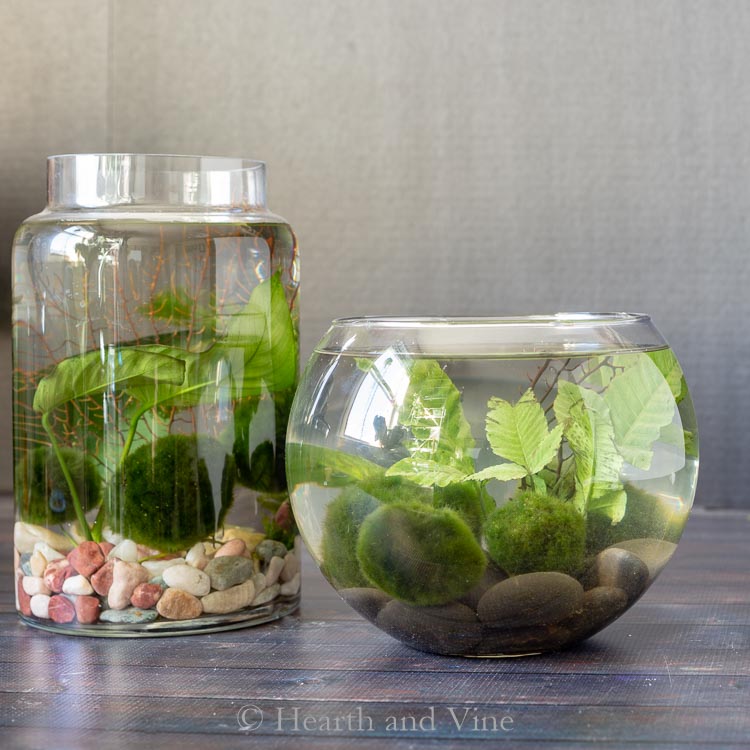 They're pretty simple but if you love plants you will certainly enjoy making this lovely little desktop water garden. These low maintenance beauties are perfect for gift giving and offer a great way to get creative.
Also having a water feature such as this or something like a simple indoor water fountain can bring a sense of tranquility to your workspace or home.
This post contains some affiliate links (that means if you make a purchase after clicking a link, there's no additional cost to you, but I will earn a very small commission. ) i.e. as an Amazon Associate, I earn from qualifying purchases. Click here to read my full disclosure policy.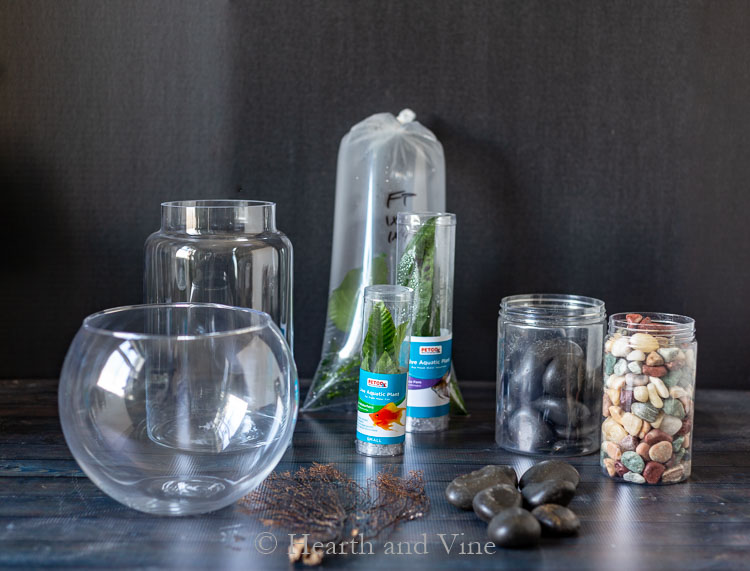 Making the Indoor Garden
Supplies
Large Glass Containers - Terrariums, Vases, Bowls
Gravel, Stones or Rocks
Aquarium Plants - I used Aubias
, Bolbitis
, and Marimo Moss Balls
.
Sea Fans
and Decorative Add-ins
Distilled Water - You can also use tap water. Let it sit out for 24 hours first so that the chlorine will evaporate.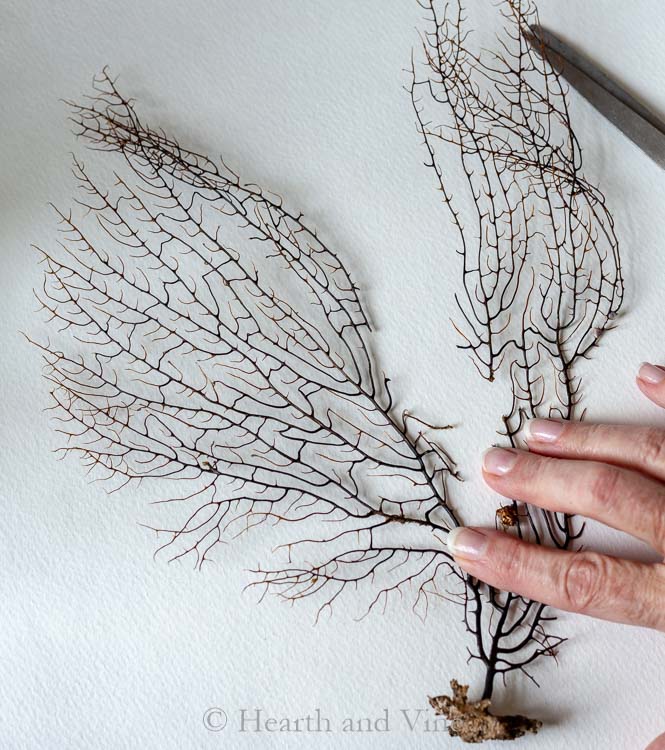 This Sea Fan is actually dried coral and you can buy one piece and cut it up into different sections for your water garden, share with someone, or keep for a future project.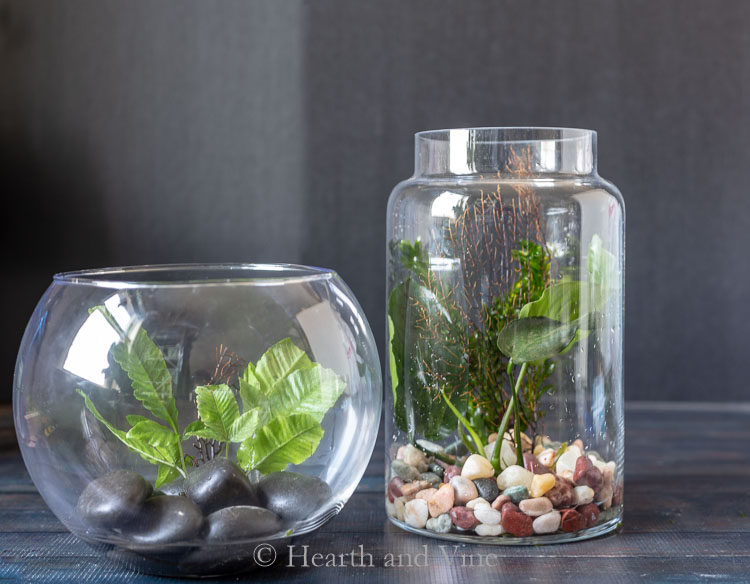 Start with some decorative stones, clean gravel, or rocks. They provide stability for plants, a place to hold the sea fan and they look really pretty.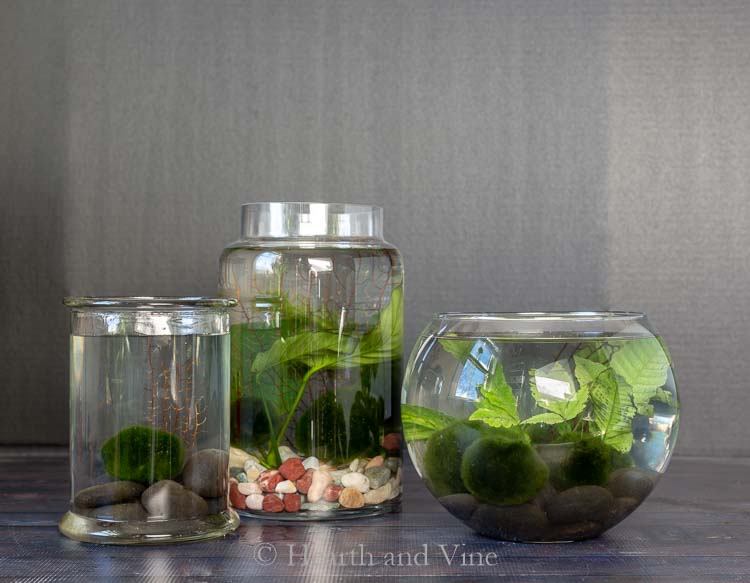 Plants to Choose
I used an Aubias in the tall container and a Bolbitis in the round container. Both of these plants are submergent plants which means they grow underwater. These two also grow in low light conditions and will grow in rocks so I didn't need to prepare the bottom with soil.
I also ordered a set of Marimo Moss balls
. The descriptions said I would receive 6 balls but I actually received 8 moss balls! So I ended up using an old glass vase from my stash and created the simple garden on the left with some of the black rocks and a piece of the sea fan.
Did you know that Marimo balls are actually algae and not a moss at all? I think they are so pretty in these containers. If you become a huge Marimo fan you may want to read this Marimo Moss Ball Care Guide for great info on these beauties.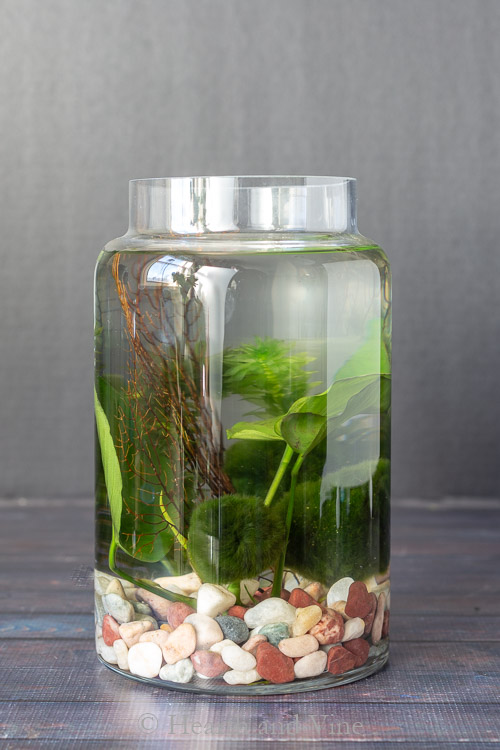 How to Care for Your Indoor Water Garden
For this set of plants, you only need to make sure they get some indirect light. A room with a decent window should do.
Change the water every month with more distilled water or tap water that has been left out for a good 24 hours first. You can also buy a tap water conditioner online or from any commercial pet store that sells aquariums. They may also sell plants and marimo balls too.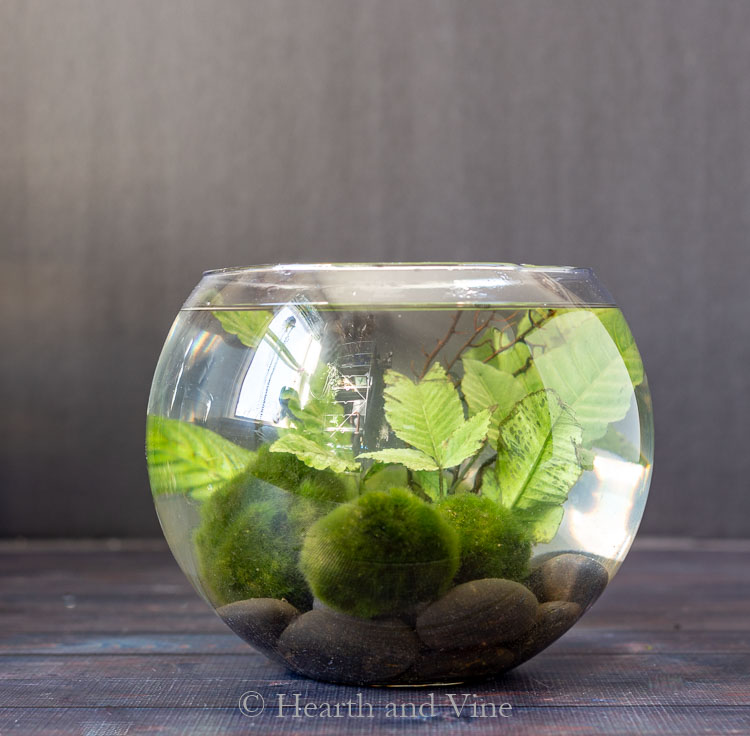 I'm super happy with the way they turned out.
My daughter already wants one for her apartment. We just need to figure out where she can put it. A place that her ferret can't reach.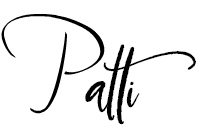 ---
P.S. Indoor gardening can be just as fun and beautiful as outdoor gardening. If you are starting to get into houseplants you may enjoy my post about the simple pleasure of houseplants or one on houseplant symbolism.