Alcohol ink jewelry dishes are easy to create, and make beautiful handmade gifts. Caution: you may become obsessed with this creative art.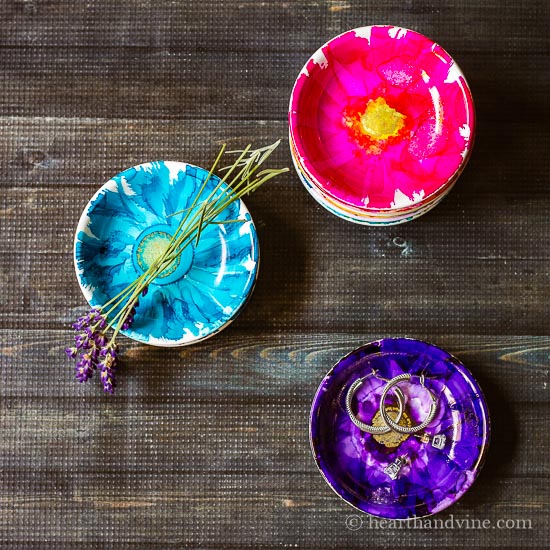 I'm a big proponent of making gifts for the holidays. I enjoy making them and I think most people enjoy receiving them. Little dishes are always useful in the home. I love using them for my earrings at the end of the day. Originally I thought about using sharpies with alcohol to make pretty dishes but then I ran across alcohol ink.
This post contains some affiliate links (that means if you make a purchase after clicking a link, there's no additional cost to you, but I will earn a very small commission. ) Click here to read my full disclosure policy.
Today's tutorial is part of the 7th Annual Handmade Holidays blog hop hosted by Smart Fun DIY, formerly Hydrangea Hippo, by Jennifer Priest!! The goal is to inspire readers to create something from the heart this holiday season.
Today is Gift Ideas Day, followed by Home Decor tomorrow, and Recipe/Food Gifts on Thursday. I'm only participating in today's hop, but if you are interested in home decor or food ideas you can visit Smart Fun DIY tomorrow or Thursday.
Following today's tutorial you will find 25 more handmade gift ideas and a special prize pack raffle.
Alcohol Ink Jewelry Dishes
Supplies
Ceramic dishes

Alcohol Inks

Canned Air

Isopropyl Rubbing Alcohol 91%

Cotton Swabs

Protective Spray Gloss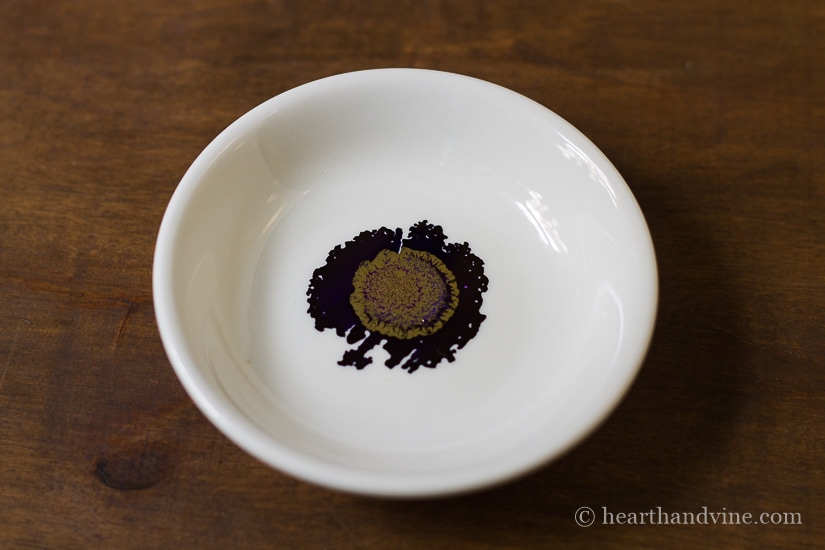 f you haven't tried alcohol inks yet, you are in for a treat. I love the transparent look they have, somewhat like very intense watercolors. I played around the many techniques and patterns you can easily create with these beautiful paints, but my favorite (no surprise) is making flowers.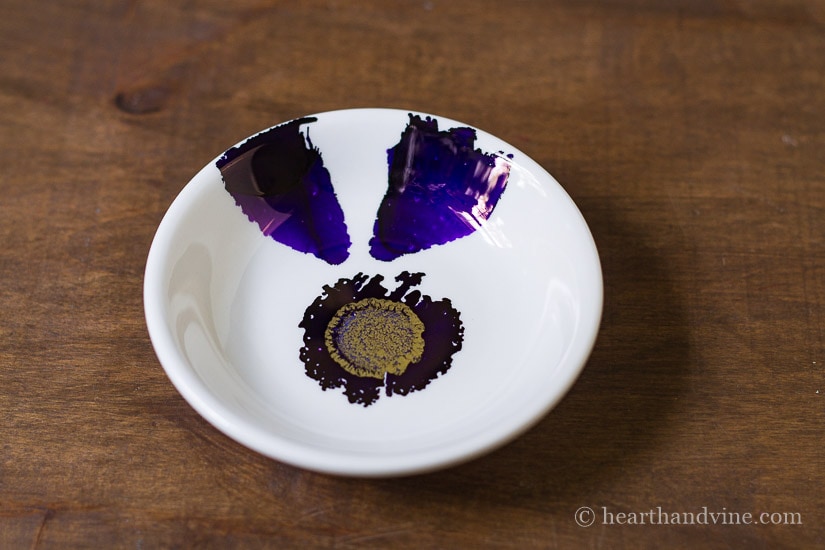 The Process:
First clean your dishes with rubbing alcohol.
Then place one drop of ink in the center and watch it bloom.
Place a second drop on top. I used the gold for the second drop but you can experiment with different colors.
Next choose a color for the petals.
Place a drop just outside the center of the flower and use the canned air to shoot the ink up and out making a petal.
Continue around with this color creating petals or add another color, in between, over top, the fun never ends.
Note: Don't like what you see? Use a paper towel and the rubbing alcohol to remove it and start over.
When you are all done wait a day and give it a couple of coats of varnish to protect your masterpiece.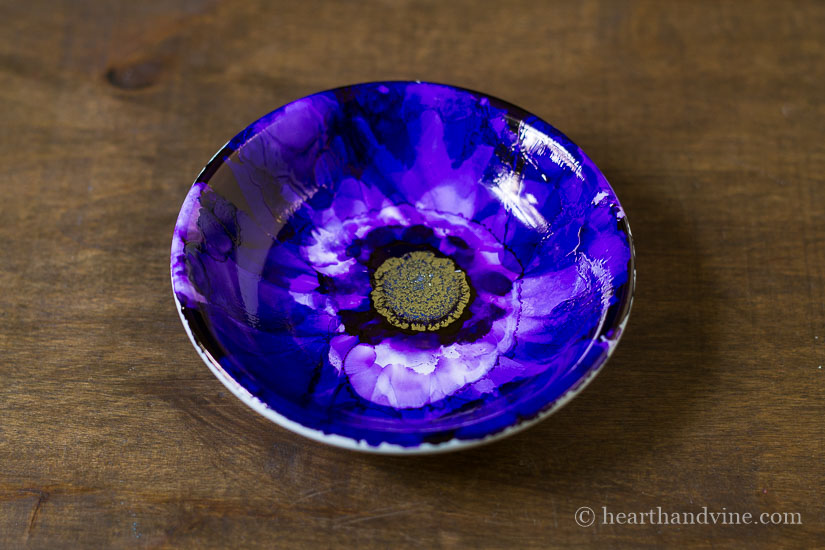 I ended up using a whole can of air to make twelve dishes, including experimenting and starting over a couple of times.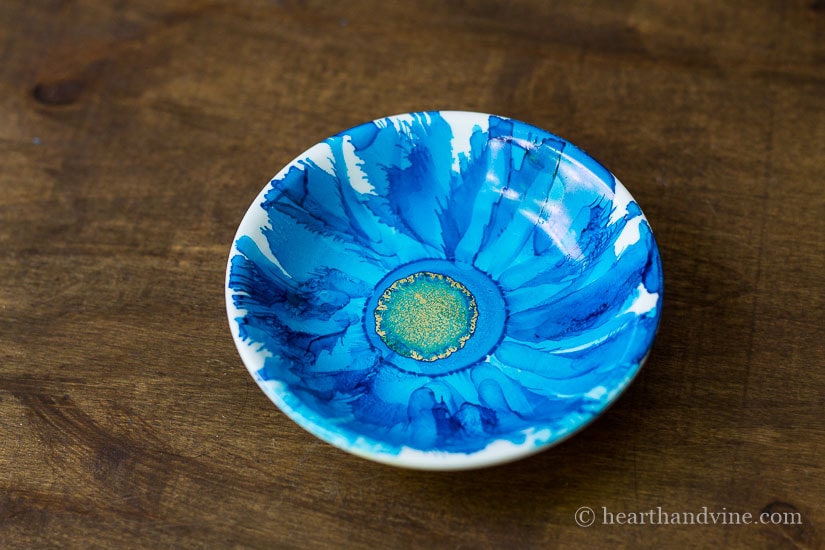 This may be my favorite, but that's probably because I'm partial to blue.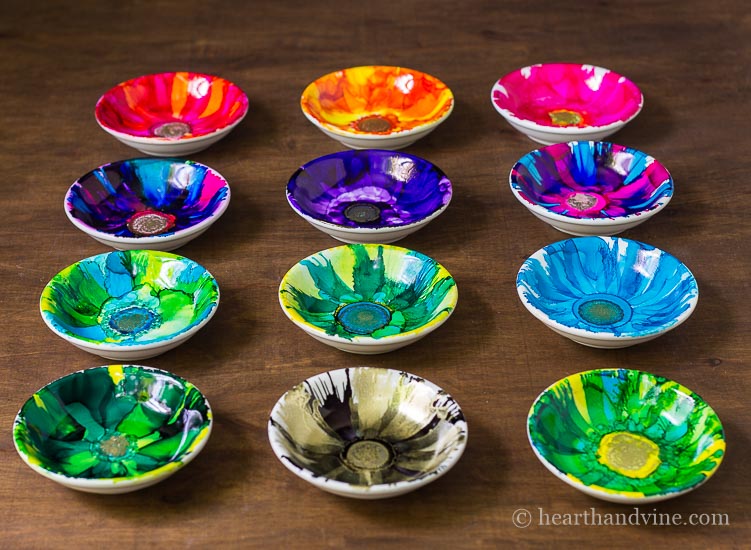 There were so many combinations to create with the kit I purchased but if you have a specific color combo in mind you can easily find it. For example, this set did not have a red, and maybe you want to make a Christmas themed flower or dish.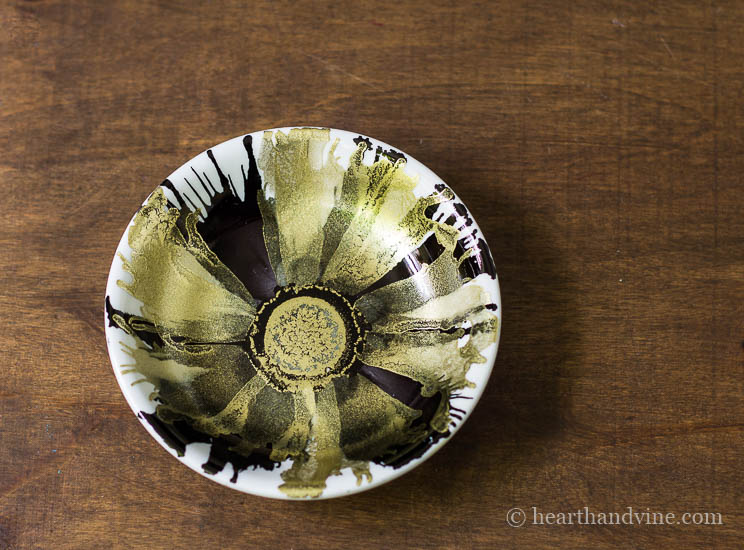 I even made one with the ever popular black and gold Steeler colors. We may have a fight over this one.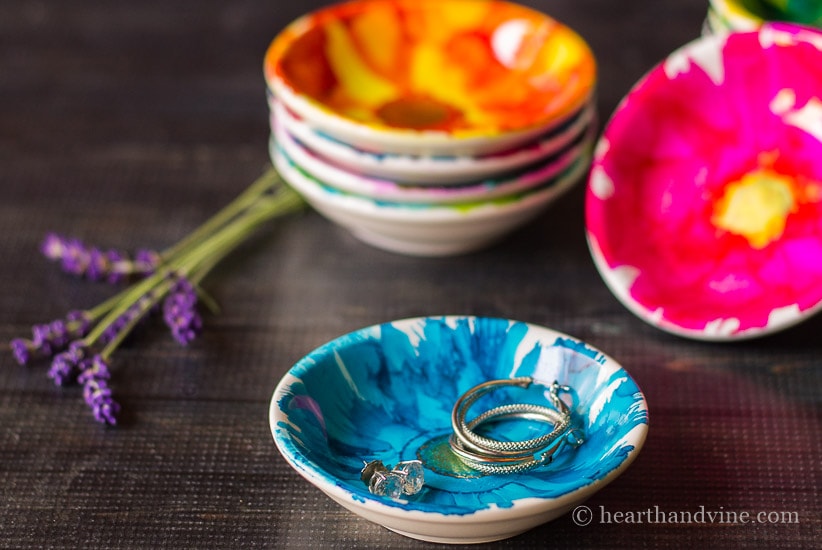 These will be just one of the fun gifts I'll give out at the holidays to my friends and family. Now I'm thinking about what else I can make with these fabulous inks.
Enter below for a chance to receive a prize pack from our lovely sponsors
worth $50 or more.
5 winners will be selected randomly and announced after November 14th, 2017
More fabulous handmade gift ideas: