These alcohol ink trivets are very easy to create, and make the perfect get together activity to enjoy with friends, and small groups.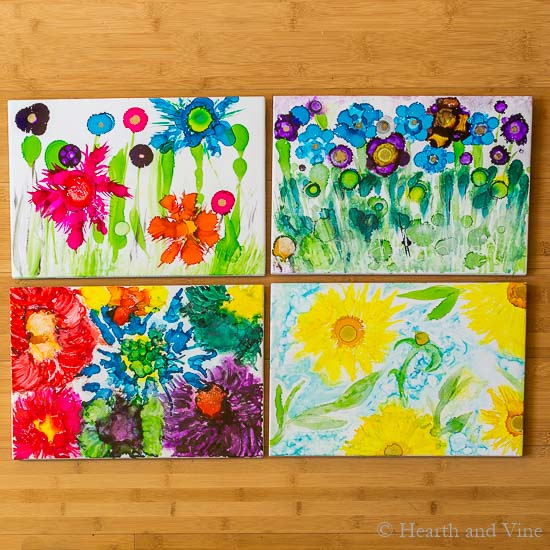 Every winter I have the great pleasure of spending the weekend away with two of my best girl friends from childhood. We stay at one of my friend's sister's mountain cottage, and over the past few years I have brought a fun activity project for us to make and take home. This year we made these alcohol ink trivets, which were so fun to design, and really let our creativity shine. I actually made two. One for me, and one for the homeowners, as a thank you for letting us use their house for the weekend.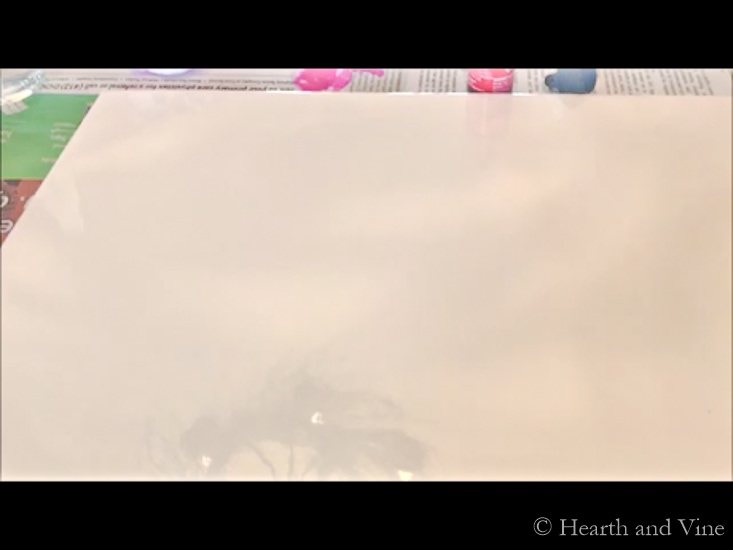 This post contains some affiliate links (that means if you make a purchase after clicking a link, there's no additional cost to you, but I will earn a very small commission.) Click here to read my full disclosure policy.
You may recall that during Christmas I made alcohol ink jewelry dishes. They were created with small ceramic dishes, so when I saw these large tiles (10 x 14 inches) at Lowes for just a few bucks, I thought they make nice trivets.
What You Need to Make Alcohol Ink Trivets:
Ceramic tiles
Alcohol Inks

Canned Air or Straws

Isopropyl Rubbing Alcohol 91%

Cotton Swabs

Rubber Feet

Protective Spray Gloss
This time we used plastic straws instead of canned air. It worked pretty well but took a little experimenting to get it right.
Note: Place a plastic barrier to protect your table under the tile. We used newspaper and paper cups but the rubbing alcohol seeped through to the paper. Also, the rubbing alcohol worked great for removing the ink on the tile and our hands but not so well from clothes. So if you get any on your clothes use hairspray. It worked great on my friends cotton sweater, and later she was able to wash out the hairspray with no problem.
On of my readers mentioned that she used paint brushes and felt on her alcohol ink jewelry dishes, so I tried using brushes this time too. I'm no artist but the brushes did give a level of control.
These rubber feet were placed on the corners of the backside, to protect any surface from being scratched.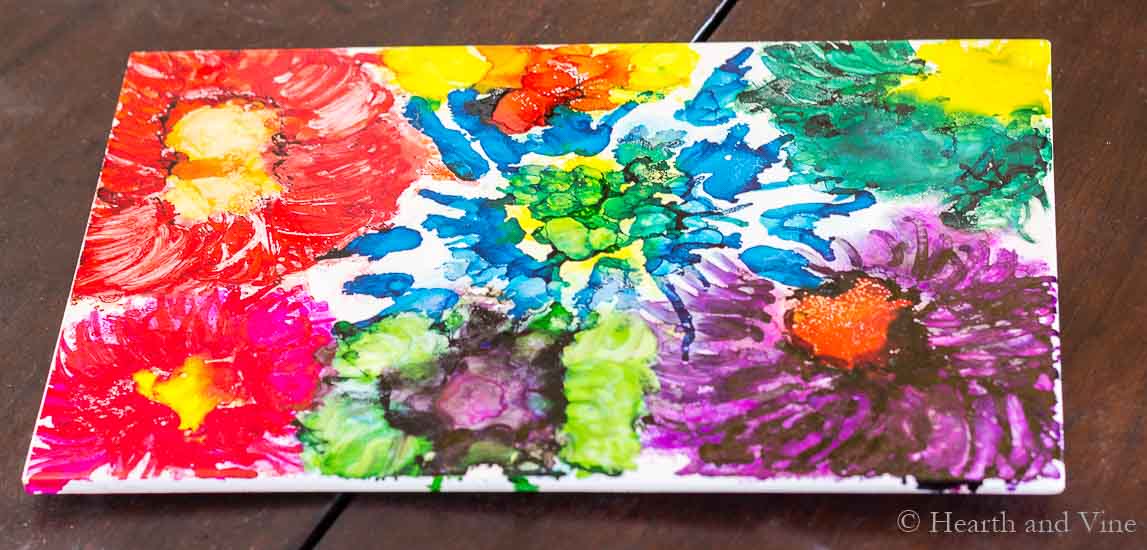 Here are our finished pieces. They all come out beautiful!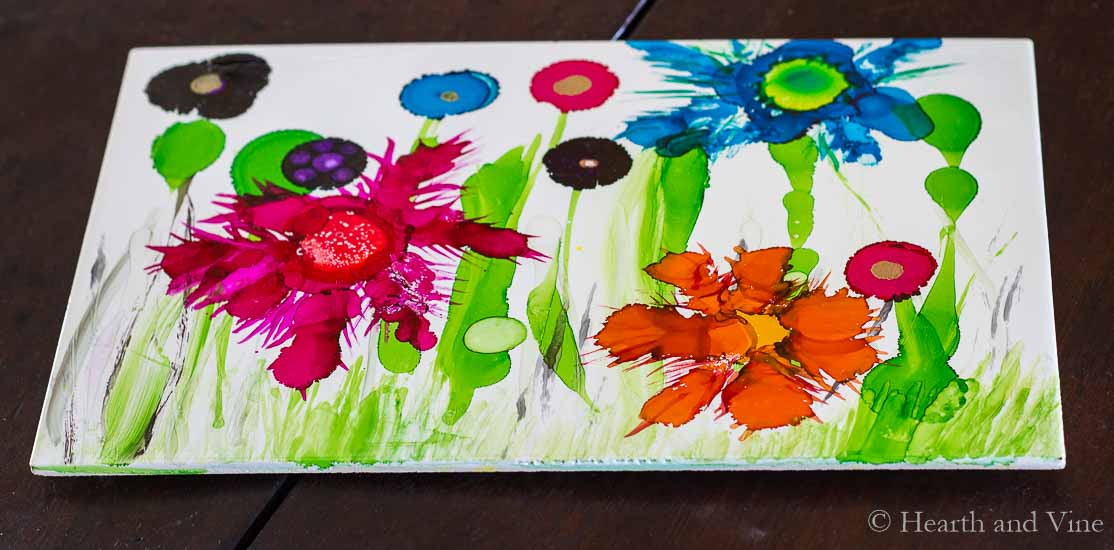 The next day I sprayed them with a few coats of a protective gloss.
Just like the jewelry dishes, these alcohol ink trivets were a blast to make.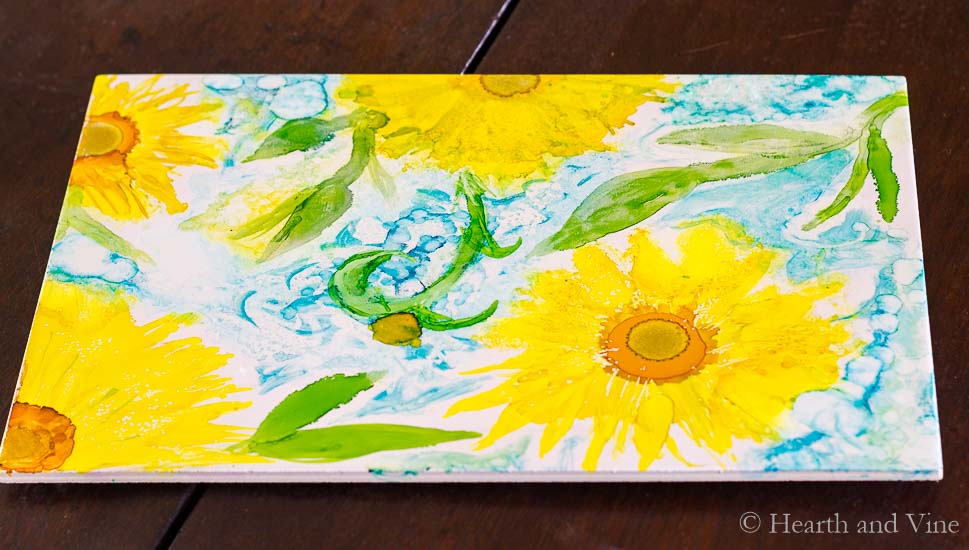 This last one was left at the house for our host. I hope they like it, and are able to get lots of use out of it in the future.
With a little planning you could easily do this with a few friends, host a girls night out, or share with your favorite group. The tiles only cost a few dollars, and you can share the inks, and other minimal supplies, making this a very affordable and fun creative project.