See images and info on why you want to grow perennial salvia, including both culinary salvia and several favorite ornamental salvia varieties. They are easy to grow, low maintenance, and have a lot to offer.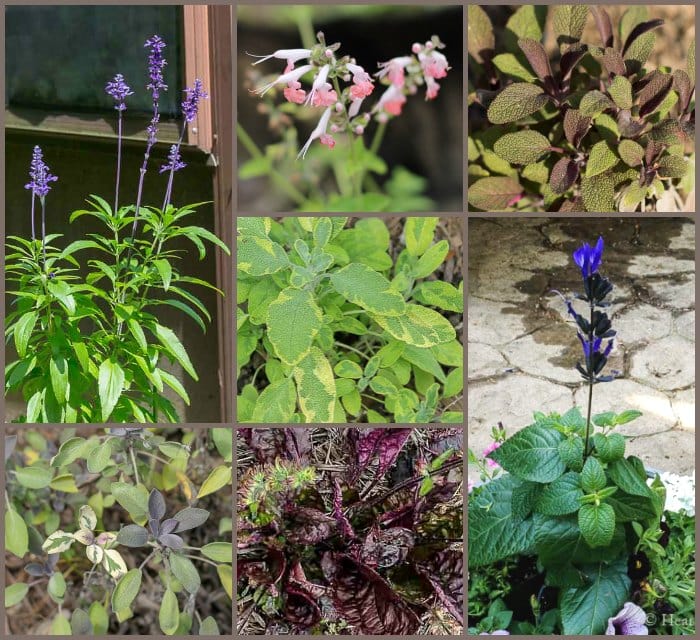 If you're not growing garden salvia you're missing out on a beautiful group of perennials, that are easy to grow and make a great show in the garden and planters. The genus Salvia has over 900 different species. These beauties often bloom from June or early summer all the way until frost time.
Why Grow Salvia?
They are perennials which means they come back year after year though some are considered annuals or tender perennials because they are not cold tolerant in the north.
They come in a wide variety of colors and shapes.
They are drought tolerant and deer resistant making them very low maintenance.
They attract, hummingbirds, bees, butterflies, and other pollinators.
They bloom for a long period of time. In fact, you can cut them back and they will often rebloom into September.
Are All Salvias Plants Perennials?
Yes, however, in some places they are sold as annuals because they are not cold-hardy. For example, a particular variety such as Salvia guarantica 'Black and Blue' is perennial in zones 8-10 like parts of Texas and Florida. They should come back every year. However, it will not hold up in my 6a zone garden in Pennsylvania so if I plant them, and I do, I will treat them as an annual and not expect them to come back.
Perennial Salvia Characteristics
Size - Varies but most are around 24 inches tall by 36 inches wide
Hardy to USDA Zones 5-9 with a few that are only perennial to their zone 8 (see tender perennials)
Light Requirements - Full sun
Water Needs - Average - A good drought tolerant plant
Soil - Average well-draining soil
Bloom time - late spring, summer, and into early fall
Few pest or disease problems.
Types of Garden Salvia
Cold Hardy Perennial Salvia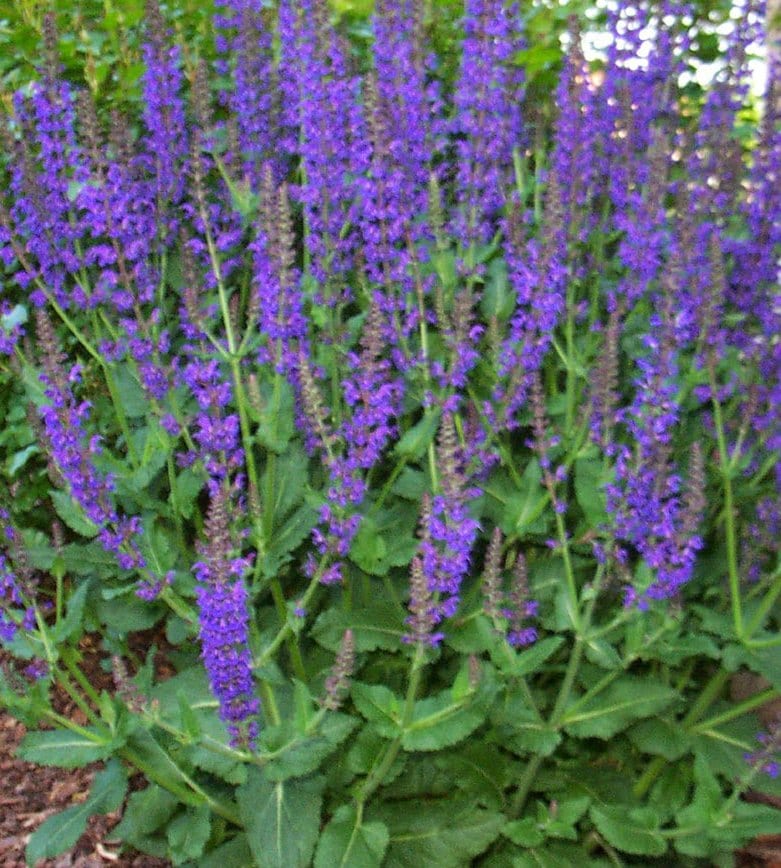 The images above are some true winter hardy perennial salvias. Salvia nemorosa 'May Night,' aka Salvia x sylvestris 'May Night' or meadow sage, was even named Perennial Plant of the Year in 1997, making it a great choice for the garden. Purple Volcano is Salvia lyrata, a native perennial, also known as cancer weed because it was used to treat skin cancer. This variety has really pretty foliage and self seeds in the garden.
Salvia Officinalis - Culinary Sage
Salvia officinalis, is probably the most common, also known as garden sage or common sage. It's also a perennial, cold hardy to Zone 4. This one is considered a culinary herb as it is edible and can be used in cooking. You'll often find it in with a pretty greenish gray leaf, but as you can see above it comes in several different colors. Salvia officinalis is often used in tea, and stuffing recipes and some enjoy frying up sage leaves for a fun appetizer.
Tender Perennial Salvia
This group of beauties is hardy only to zone 8, so they do not overwinter in colder areas. However, I do buy them at local nurseries where they are readily available and sometimes labeled as annuals. They are perfect for the "thriller" or the tallest plant that you place in the center of your container planters. The one shown just above called "Black and Blue," is Salvia guarantica, one of my favorites, it can sometimes over-winter if it's in a protected spot.
Another favorite of this tender perennial group is Pineapple Sage or salvia elegans. It has beautiful red flowers that bloom in the late summer, and the foliage smells just like fresh pineapple. This is another edible sage. The leaves can be used to make tea and the flower blossoms can be added to salads or a garnish for desserts.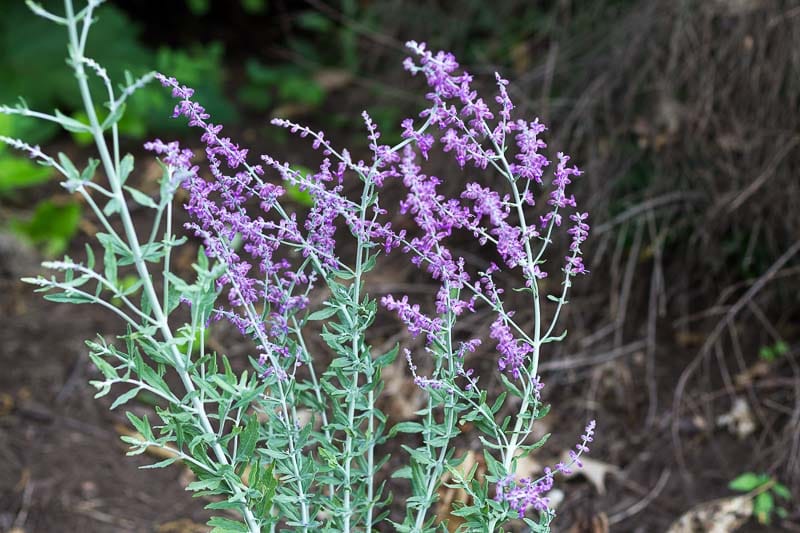 Perennial salvias are commonly known as sages. However, the opposite is not true. For example, the pretty purple blooming plant above is called Russian Sage, but it's not a salvia at all. Its scientific name is Perovskia atriplicifolia. They are both members of the Lamiaceae, or mint family, so they are more like cousins. However, Russian sage is a long blooming perennial, that is also drought tolerant and deer resistant. Another good choice for the garden.
Whether you are a garden collector, veggie grower, or beginner gardener, growing salvia plants is a good choice you won't regret.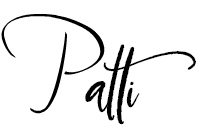 More Perennials Plants You'll Love