This jelly candy recipe is a fun gift for anyone who has a sweet tooth. Made with gelatin, sugar, and flavored drink mix, to create a sweet and tasty treat.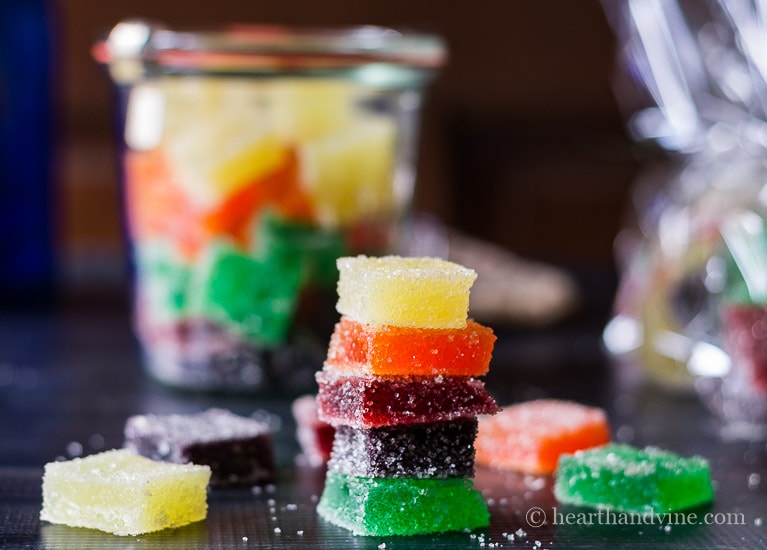 Homemade Jelly Candy
My husband is a big fan of fruit jelly candy.
In fact, one of our girls had a friend who worked in a hardware store as a cashier in high school. One day she asked, "Is your dad the guy who comes in and buys Chuckles® all the time?" My mother loved them too, and although she has passed, I thought it would be fun to make some homemade jellies for my family and friends.
This post contains some affiliate links (that means if you make a purchase after clicking a link, there's no additional cost to you, but I will earn a very small commission. ) i.e. as an Amazon Associate, I earn from qualifying purchases. Click here to read my full disclosure policy.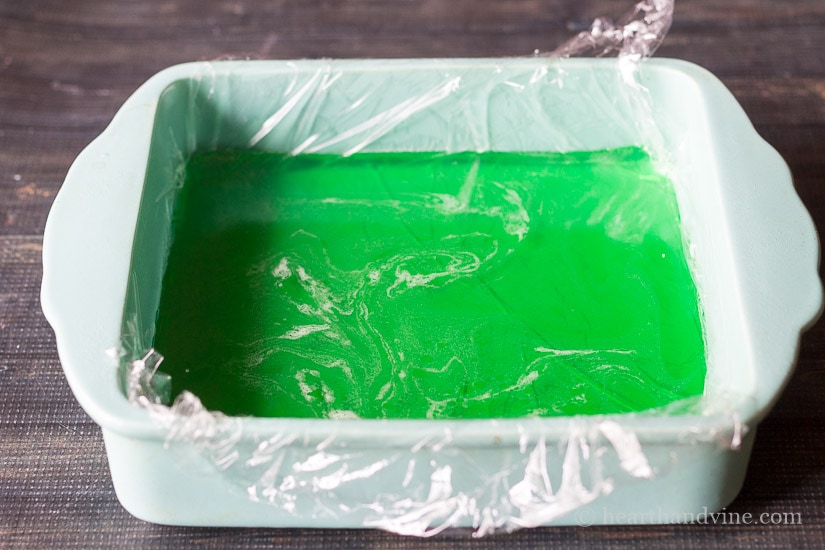 After researching many recipes I decided to make them with gelatin, sugar, and Kool-Aid® packets
. It was the easiest way to get a few different flavors and colors, at a very affordable price.
One problem I ran into was the fact that I could not find lime Kool-Aid® so I did use lime extract and green food coloring for one of the batches. After all, my husband was the muse for this idea, and that is his favorite flavor.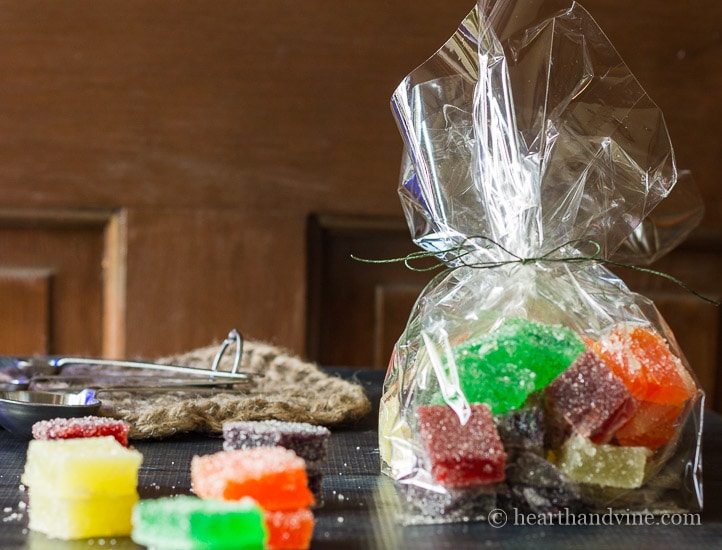 In the end, the jellies turned out pretty good. The color and flavor were perfect. The firmness could have been better. This seems to be an issue for many recipes.
One thing that helped is flipping the jellies over after 24 hours, and adding a coating of sugar to the top, then letting them dry out another day. Also, the smaller ones dried out better, so keeping them small is a good idea.
Packaging Ideas
I have them packaged in Weck jars
and cellophane bags
, (the crinkly kind) for gift giving.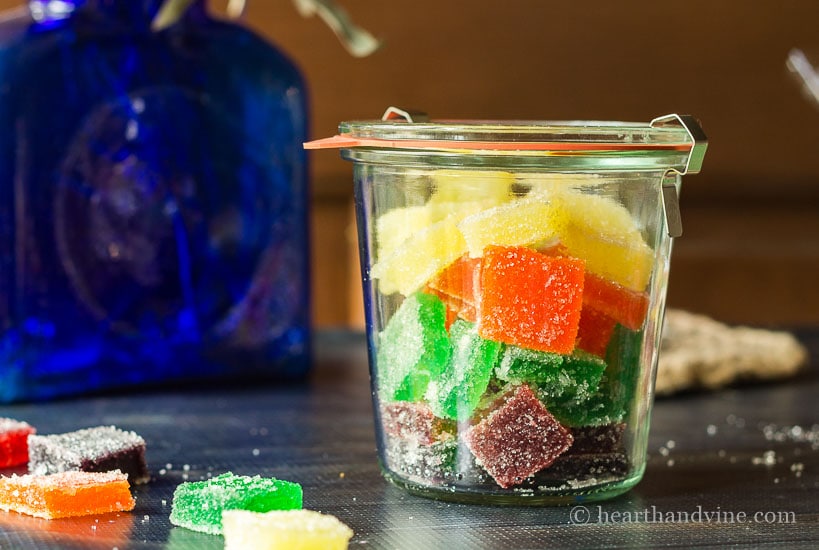 How Long Will They Last?
They should last for a month or so if kept in a sealed container. Probably longer in the refrigerator, unless of course, someone decides to gobble them up.
What are you making this year?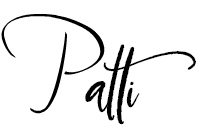 ---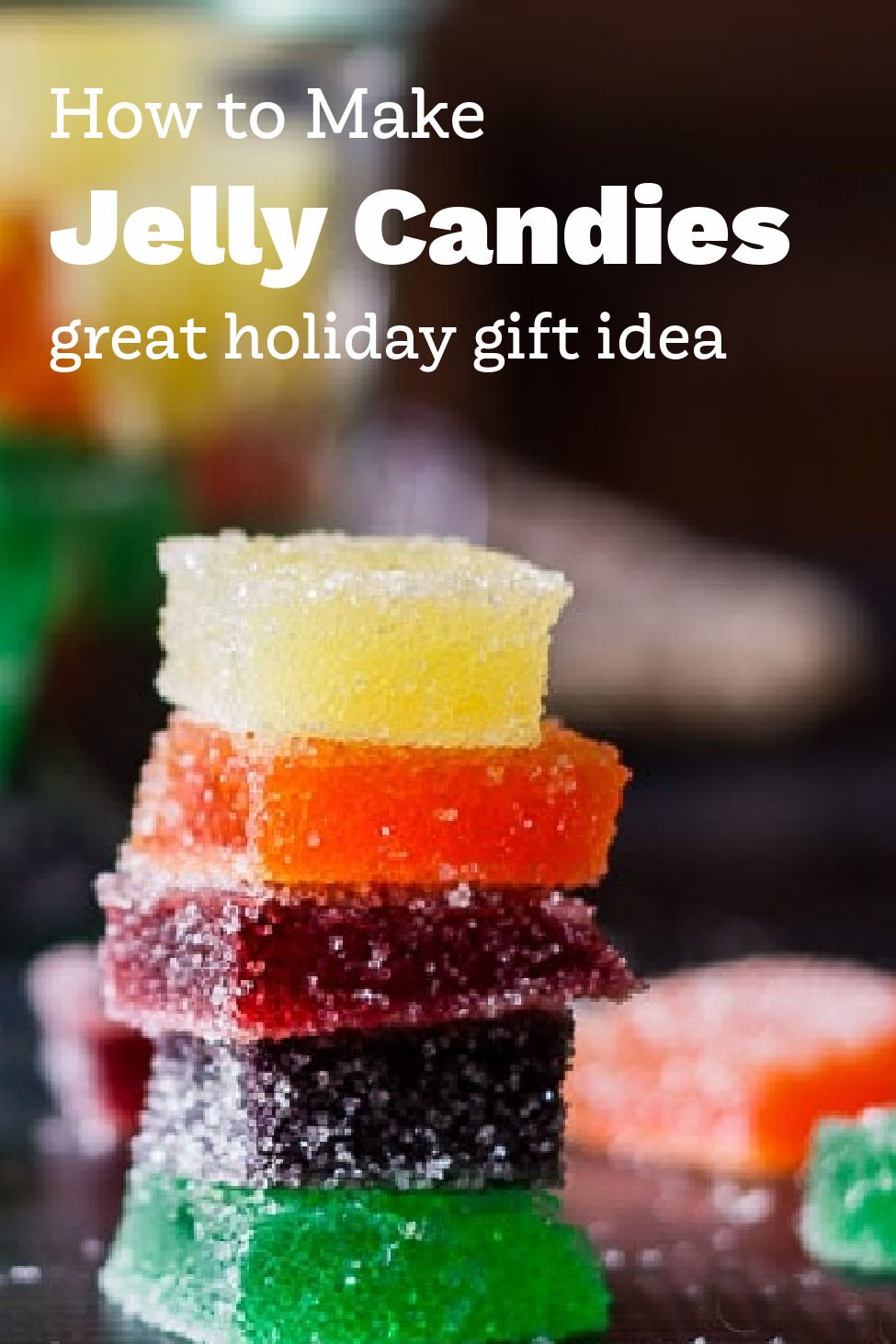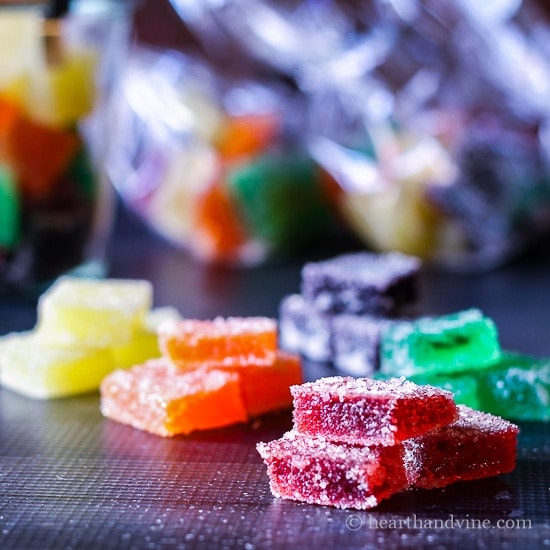 Homemade Jelly Candy
This jelly candy recipe is a fun gift for anyone who has a sweet tooth. Made with gelatin, sugar and flavored drink mix, to create a sweet and tasty treat.
Ingredients
2 - 1

oz.

boxes gelatin

8 envelopes

2

cups

cold water

2 1/2

cups

boiling water

6

cups

sugar

unsweetened Kool-aid packets or flavored extract with food coloring

2

cups

sugar for coating
Instructions
Prepare pans by lining them with plastic wrap and vegetable spray. I used three 8x8 oven pans and two bread loaf pans.

Place cold water in a bowl and sprinkle gelatin over top. Stir slightly to get all powder incorporated. Set aside

In a medium saucepan bring 2 1/2 cups of water to a boil. Add sugar and stir. Let simmer, stirring until all sugar is dissolved.

Add gelatin mix to the sugar and water mix. Once all the ingredients have dissolved bring back to a boil and cook for 2-3 minutes.

Remove from heat and let cool for about 1-2 minutes.

Divide mixture into 5 bowls. Add one packet of drink mix to each bowl. If using extract add 3 teaspoons and enough drops of food coloring to get the color you wish. I used 5 drops of green for the lime candy.

Mix with a wire whisk to ensure all the drink mix is dissolved.

Pour into prepared pans and refrigerate overnight.

Place a nice layer of sugar on parchment and flip the jelly candy on top. Then move to a new piece of parchment and use a pizza cutter to cut into small square or rectangular shapes.

Let sit overnight. Then coat the bottoms of the candy in more sugar and let sit out overnight again with the newly coated side up.

Place in bags or airtight containers.
Nutrition
Serving:
1
g
Calories:
107
kcal
Carbohydrates:
27
g
Protein:
1
g
Sodium:
3
mg
Sugar:
27
g