These punch ornaments are a great way to get started with punch needlework using a basic holiday image that you can hang right on the tree.
This year I tried my hand and punch needle embroidery to make these country casual punch ornaments for the tree. If you have experienced working with punch needles then these will be a breeze. However, if it is new to you as it was for me, it may take a little practice and lots of patience. Still, I like the overall effect and plan on creating something larger in the near future.
This post contains some affiliate links (that means if you make a purchase after clicking a link, there's no additional cost to you, but I will earn a very small commission ) Click here to read my full disclosure policy.
Punch Ornaments
Supplies
Punch Needle

Embroidery thread

Embroidery Hoops

Needle Punch Fabric

Hot glue
Extra fabric for backing
Cording for hanging
Above is a handy template that you can print out and use to trace a template onto your fabric. I have them in reverse because you are supposed to punch on the backside of your image.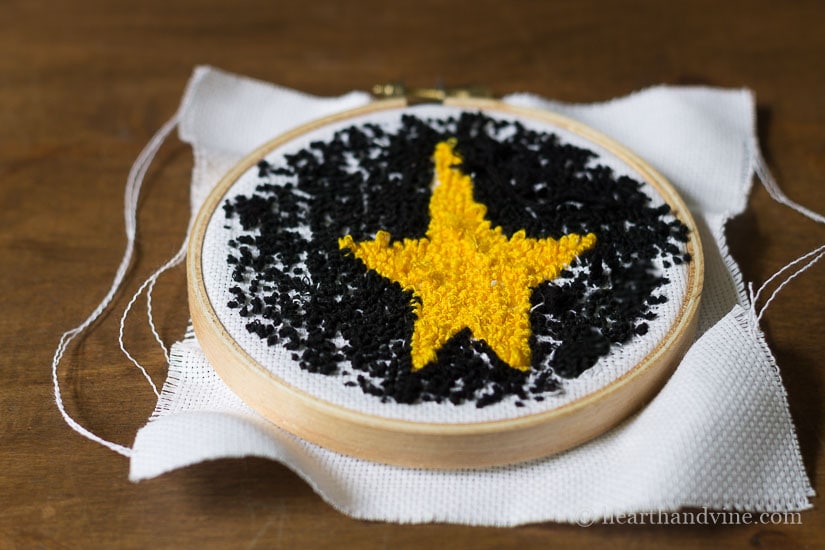 Cut the fabric slightly larger than the hoop and draw the image on the back side. This is where you do the needle punching. As you can see the first one I created was a little lacking. The needle comes with instructions and there are tons of YouTube videos that show you how to punch. It just takes practice.
Once you have finished with the needlework you can cut away the extra fabric, leaving about 1/2 inch all around. Then hot glue the edges onto the inside of the hoop.
Cut out a piece of complementary fabric to cover the back.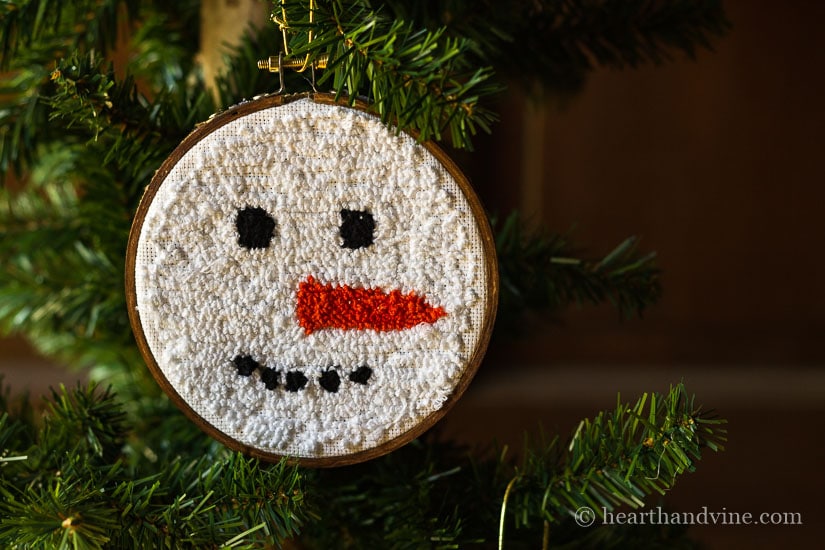 Attach your gold cord to the embroidery hoop screw, and hang on the tree for all to see.
I also stained the hoops to give them a little-weathered feel, but that is totally optional.
The best part of this project; It kept my hands busy in the evening, so I was less likely to snack. 🙂