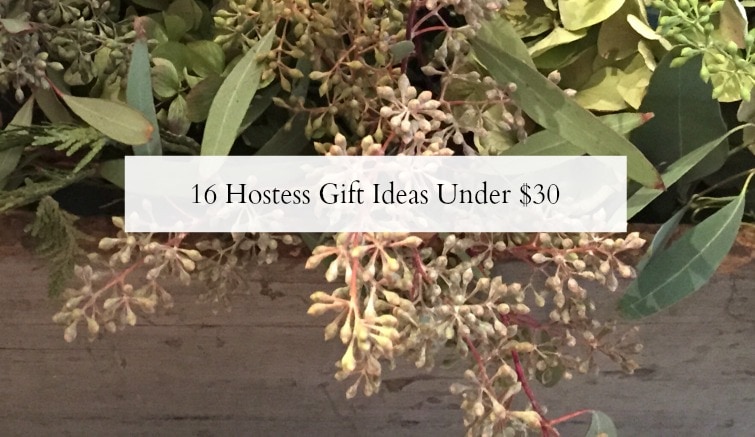 Hostess gifts are a great way to say "Thank You" to those who have invited you into their home for a special celebration or overnight visit.
Today I've teamed up with a great group of bloggers as part of the Ultimate Gift Guide post hosted by Valerie of Occasionally Crafty. I have chosen to write about hostess gifts and have listed 16 below, in a range of prices, to inspire your next purchase.
This post contains some affiliate links (that means if you make a purchase after clicking a link, there's no additional cost to you, but I will earn a very small commission. ) i.e. as an Amazon Associate, I earn from qualifying purchases. Click here to read my full disclosure policy.
Hostess Gifts
Click on the Image to See More
Bring Something Homemade Packaged In a Gift to Leave with the Host
If I'm invited to a party I almost always ask if I can bring something. I like to cook so it could be an appetizer or dessert or even a side dish. To make it even more special, I bring my dish in something that I will leave with the hostess as a thank you gift. This way you don't have to worry about getting your container back, and even if you are not big on cooking, this works great with packaged food like candy and cookies too.
Don't bring flowers bring Plants - They Last Much Longer
For all your flower lovers. Why not consider bringing the gift of a plant that will last for more than a week? The Christmas Cactus has gorgeous blooms and will last for years.  Remember the string of pearls I planted in a vintage teacup? It's still going strong months later. Amaryllis bulbs can be planted in the garden in the summer and brought back into bloom during holidays.
Bring Someone Upscale - They May Not Buy for Themselves
Here are a few items that I have tried and can attest to their quality. They are a little pricey. Not the kind of thing you'd put on your weekly grocery list, but perfect for a special gift.
Gift An Epicurean Specialty Item
You can never go wrong with something in the foodie category. The prickly pear syrup can be used to make Bobby Flay's Cactus Pear Margaritas which make a gorgeous bright pink drink that's tasty and delicious. Flavored oils and vinegar are super fun to cook with, and adds little something extra to the simplest of dishes. The gourmet salt package is fun to serve and experiment with. A lot different than your average table salt.
Dress Up That Bottle of Wine
Ramp up the old standby of bringing a bottle of wine by wrapping it in a gift. How fun are this oven mitt and tea towel? Even a pretty burlap bag can be appreciated. Nice enough for the hostess to recycle and reuse the next time they are invited out.
The joy of giving is so often better than receiving.
Don't you agree?