Learn about this beautiful blooming holiday houseplant and how to tell the difference between the Thanksgiving and the Christmas cactus.
This beauty is not a desert cactus but originates from South America in the rain forest. It's an epiphyte which means it grows on other plants, in this case, trees. It's not a parasite but rather lives on the rainfall and air and other debris that accumulate near it. I'm sure that is why this plant makes a great houseplant. It doesn't require strong light but prefers indirect lighting and it doesn't much water.
What's the Difference Between a Christmas Cactus and Thanksgiving Cactus Plant?
The scientific name for the Christmas cactus is Schlumbergera x buckleyi. Here's the interesting news. When I was looking up the scientific name for this plant I realized that I did not have a Schlumbergera x buckleyi. Instead, I believe this plant is Schlumbergera truncata also known as the Thanksgiving cactus.
Thanksgiving cacti normally bloom around Thanksgiving or the third week of November here in the US. In fact, the majority of plants sold as the Christmas cactus are actually the Thanksgiving cactus
However, there is another key feature that distinguishes the two. The stem, or what looks like the leaf segments, on the Thanksgiving cactus has distinct pointed edges as shown above.
The true Christmas cactus is more scalloped and round edges shown above.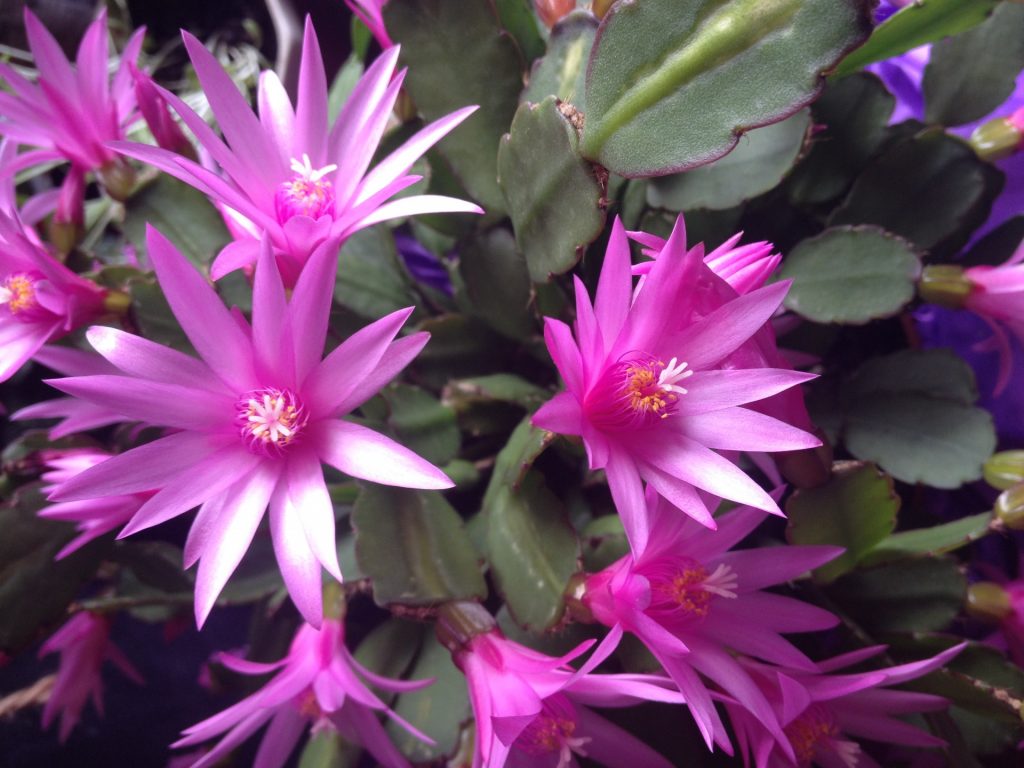 To make matters even more complicated there is also an Easter cactus, Rhipsalidopsis gaertneri, whose leaves look similar to the Christmas cactus. In this case, the key to differentiating them is the blooms. The Easter cactus has star-like daisy blooms shown above.
Here's my DIY embroidery hoop basket with a Thanksgiving cactus in bloom and a Christmas cactus not in bloom on the right. I grew the Christmas cactus from a cutting last year and it has not bloomed yet. I can't wait to see what it looks like in flower.
Here's a true Christmas cactus in bloom from Flickr. I'll have to update this post when mine blooms.
If you have this a plant you thought was a Christmas Cactus or know anyone who does and it always blooms too early, now you know why. Either way, it's a beautiful easy to grow plant.
Schlumbergera Plant Care
I find that this plant likes cool temps.
It's also enjoys being pot bound
Needs bright indirect light.
Also, like many houseplants, it needs a pot that drains well. Let it dry out between watering.
You will find that if it's happy it will bloom more than once a year.
Most of the time I've seen this plant for sale in a pink or salmon color. However, it is said to come in red, peach, white, cream, and purple.
Lastly, according to Birds and Blooms Magazine a properly cared for cactus can live for over 145 years. That's quite a good bang for your buck.