This DIY Hanging Basket Planter is simple to make and a great way to create some vertical gardening space in your home.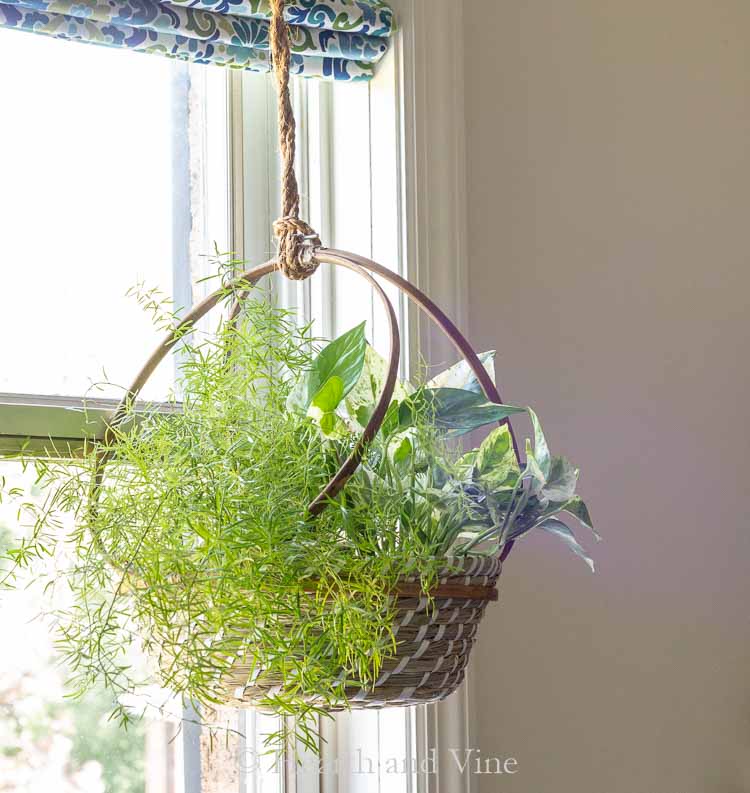 Vertical gardening has become very popular and it's no wonder. When you have limited space or possibly too many plants :), sometimes you can only go up.
This may be why macrame has come back into fashion. It's a great way to hang pots, giving you more room near the window.
Today I'm sharing a fun DIY hanging basket planter that you can place a large plant or a few smaller ones in, and hang it from the window trim or ceiling.
This post contains some affiliate links (that means if you make a purchase after clicking a link, there's no additional cost to you, but I will earn a very small commission. ) Click here to read my full disclosure policy.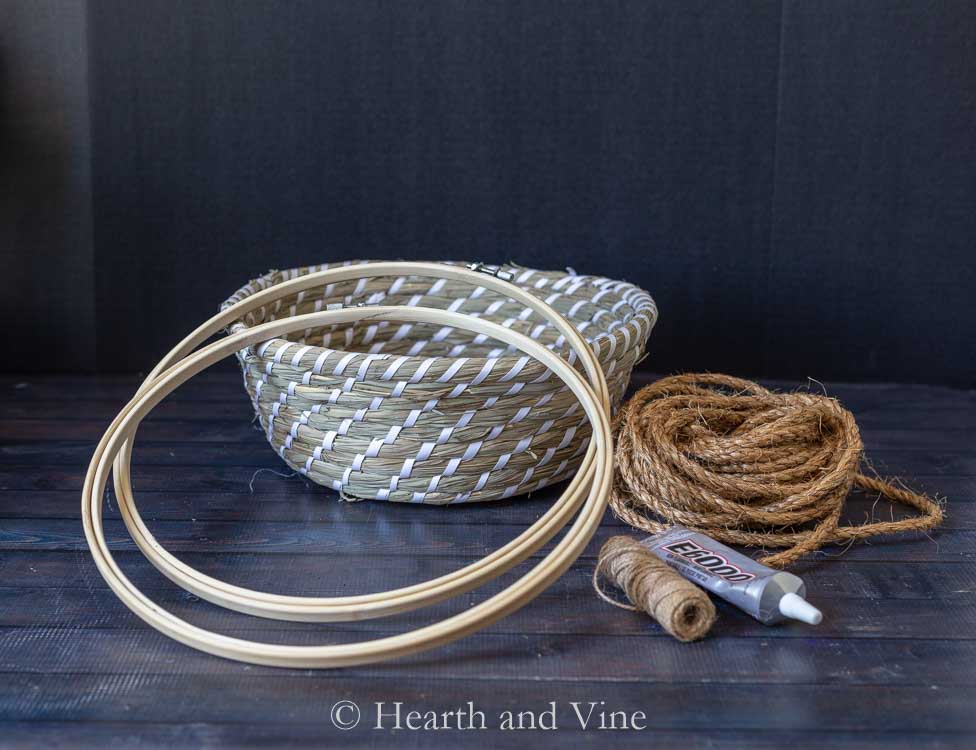 Hanging Basket Planter Supplies:
Making a Hanging Planter with Embroidery Hoops
Start with a wooden embroidery hoop set and the interior hoop of a second set.
At this point, you can decide whether you want to leave the hoops in their natural wood state or give them some color. I used a simple antique wax
to give the hoops a little color. However, I also thought about painting them white.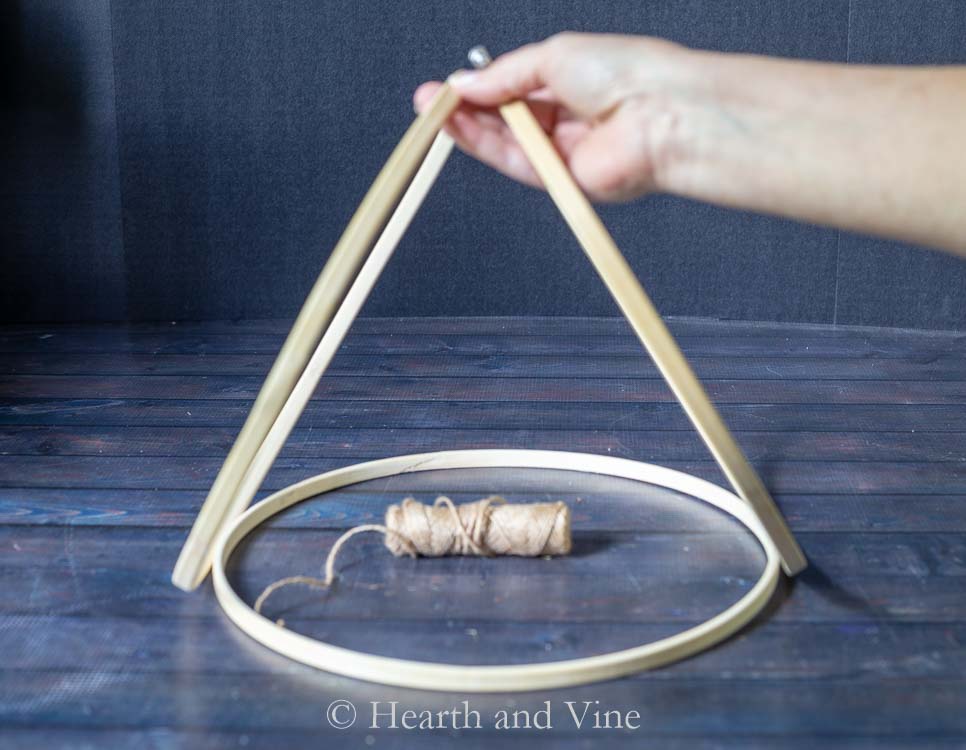 Start by wrapping twine around the top of the embroidery hoop set at the screw.
This will be the top of the hanging planter.
Next is the tricky part. You need to wrap the bottom of the hoops to the side of the third hoop.
I ended up using a large binder clip to hold one side while I wrapped the twine on the other side.
Now you have a hanging frame.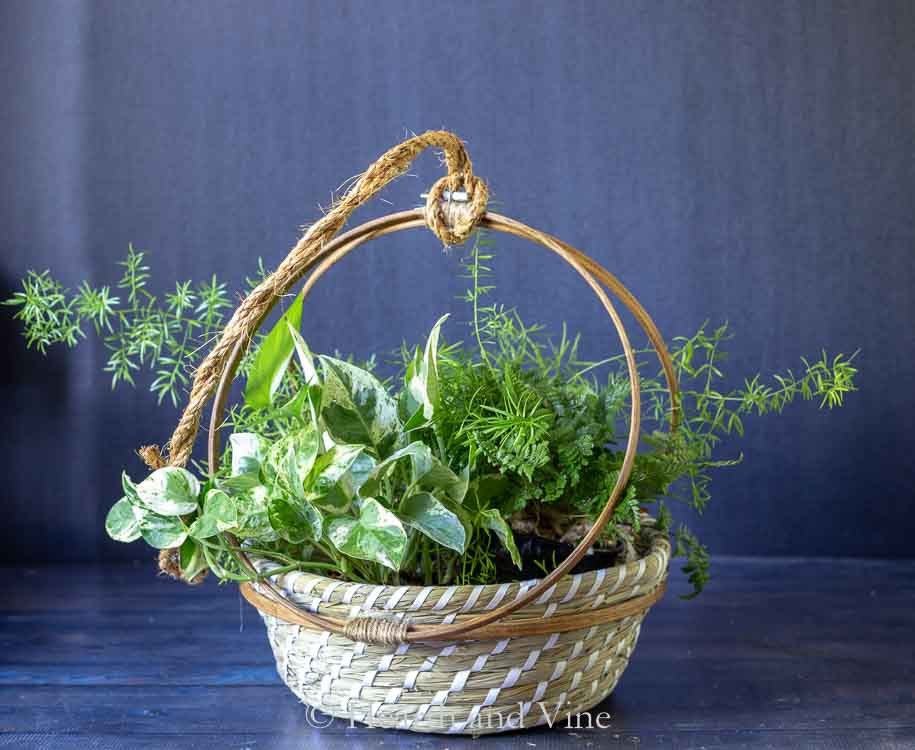 Place a basket slightly smaller than the hoop into the frame and hot glue it to the bottom hoop. Originally I tried using E6000 glue, but it doesn't dry fast enough. Gorilla hot glue worked well. Only time will tell just how sturdy it will be.
Add some rope for hanging to the top by folding it in half and slipping it around the top of the frame.
Use an elastic hair tie or rubber band to create a loop at the other end for hanging.
Place a plastic pot saucer in the bottom to protect the basket.
For now, I have an asparagus fern and a pothos plant in the basket.
I will probably remove one of these plants as they get bigger and let one fill the entire basket.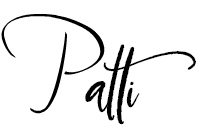 ---
P.S. I've created a lot of hanging planters on this blog. Recently I made a Moss Hanging Planter for the front door and one of my favorites is this Globe Moss Hanging Planter. You can find them and much more on my Gardening Page.
Click Here to Save to Pinterest!