This hanging globe planter can be easily made with sphagnum moss, dollar store containers, and your favorite annual flowers.
Hanging Globe Planter
When I saw small wire hanging baskets at the dollar store, I was reminded of the globe planters seen on Pinterest, and other gardening or craft blogs. They sometimes are made with chicken wire or frames specifically made for this purpose, but I thought I might be able to create one with this more affordable material. Also, many of the globe planters are using succulents, which look beautiful, but they are quite pricey, and you need many to fill this kind of planter.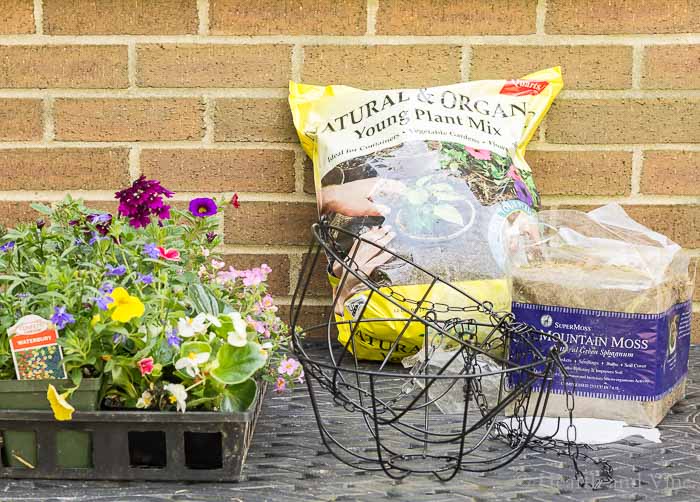 This post contains some affiliate links (that means if you make a purchase after clicking a link, there's no additional cost to you, but I will earn a very small commission.) Click here to read my full disclosure policy.
Supplies
2 wire hanging baskets - (dollar store)
spaghnum moss

small zip ties

potting soil
flowers ( approx. 10 - 12)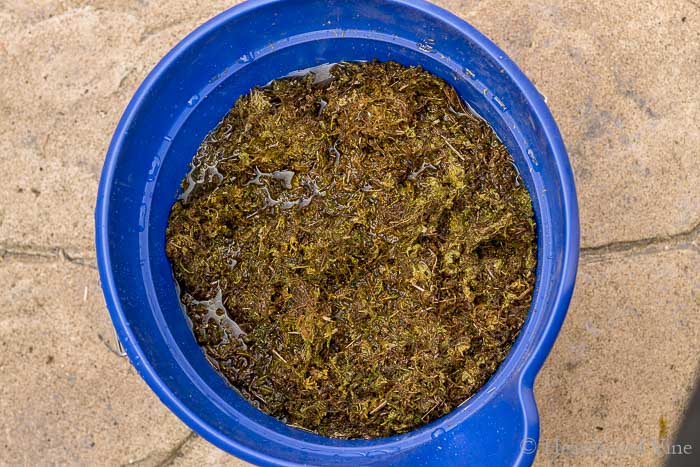 I've worked with sphagnum moss many times. In fact, this planter is very much like the Sphagnum Moss Planter I made a few years ago. I also used it to make a fun hanging vertical herb garden for my sister. The moss comes dry, and all you need to do is soak it in some water for a few minutes.
For this hanging globe planter start by removing the hanging chains (save one for later), and add a piece of plastic in the bottom.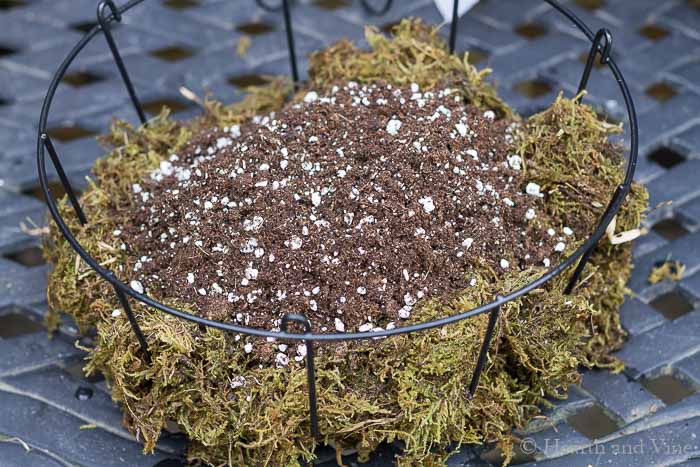 Next, squeeze out some of the water from the moss and start lining the basket. You need to make it quite thick as the space between the wires is pretty large. If you have a tighter basket then you can use less. Fill the basket 1/3 - 1/2 way, then add in some all-purpose potting soil.
Next add in some of the flowers. These are white begonias from a 6-pack. They will fill out and look nice and compact as they grow. Another good choice here would be alyssum.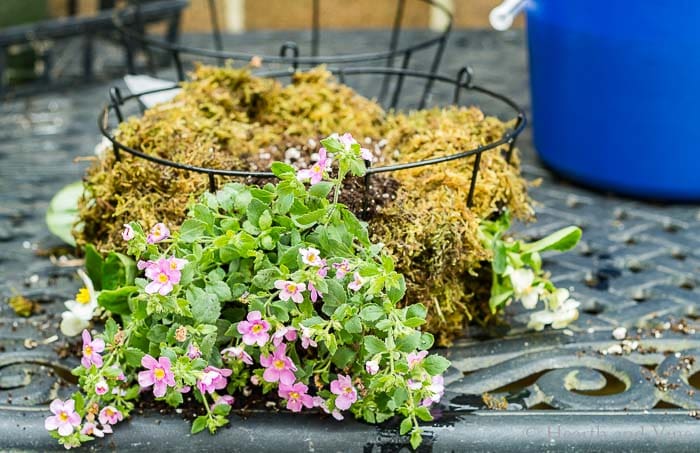 Add some more moss and more flowers.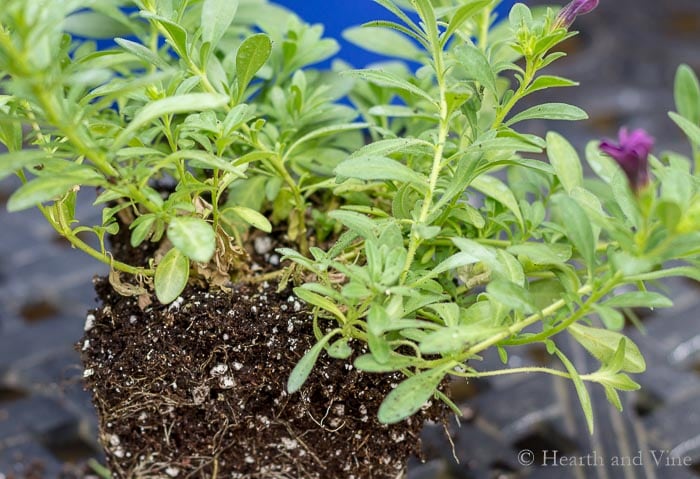 Six pack annuals are perfect for this project, but if you can only find four inch pots take a close look at the top of the soil. If you look closely you may notice more than one plant. This way you can gently pull them apart and use each piece in a different area.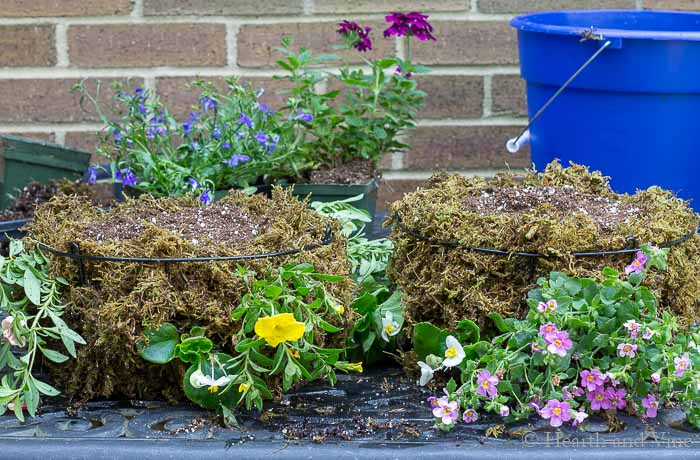 Fill in with more soil and then repeat the same steps for the second wire basket.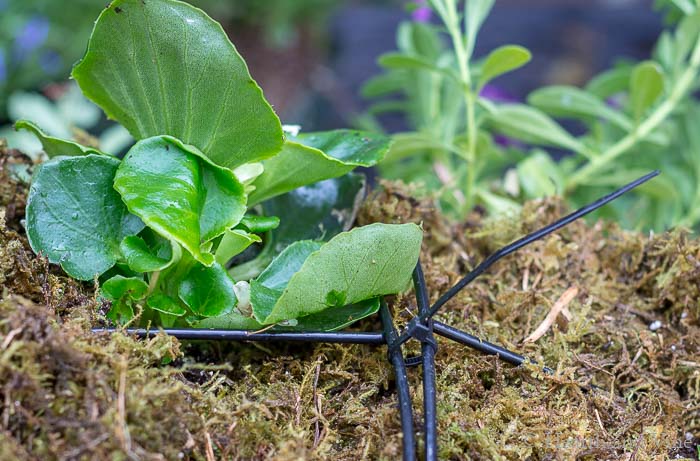 To make them into a globe, carefully tilt the baskets onto their sides, and use zip ties to bring the baskets together. It would be helpful to have an extra set of hands at this point, but I did this one by myself, so you can too. Trim off the excess plastic from the zip tie with scissors.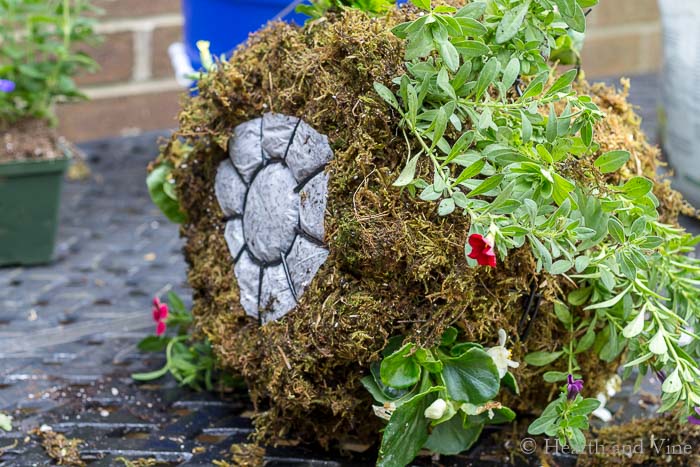 At the bottom you can now remove the plastic.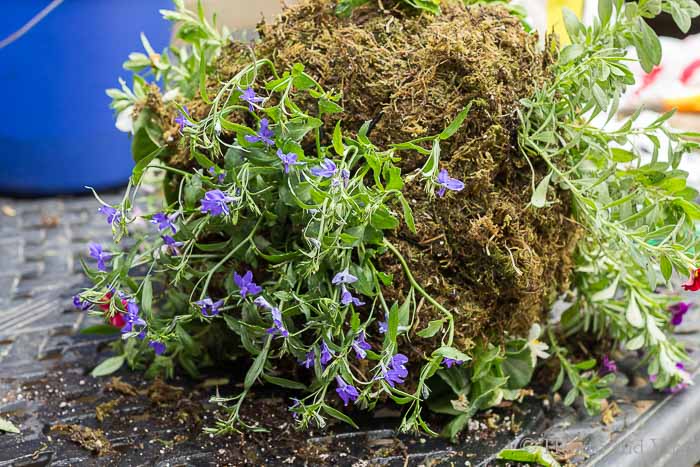 Then use your fingers to make a hole and insert another flowering plant inside.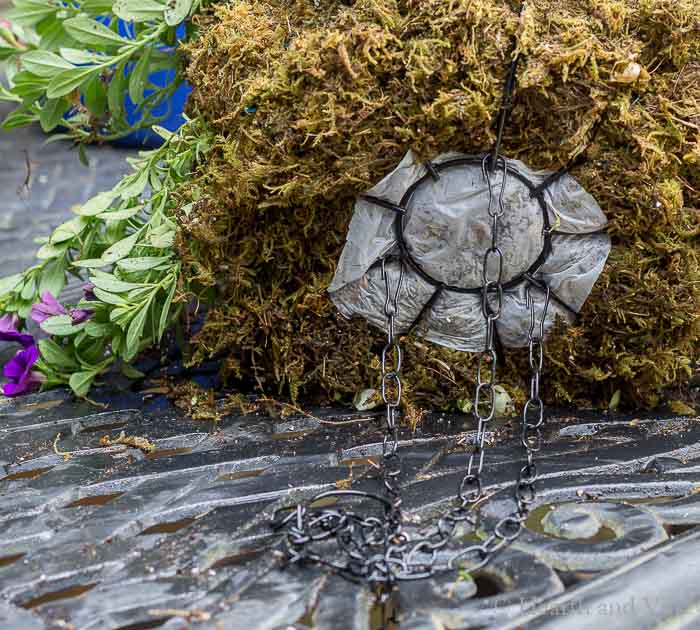 At the top use the chain hanger and attach it evenly onto the spokes just outside the round circle. Then you can carefully remove the plastic and plant one final flower at the top.
Hang your masterpiece and smile. If you notice any bare spots you can add a little extra moss to fill it in.
Hanging Globe Planter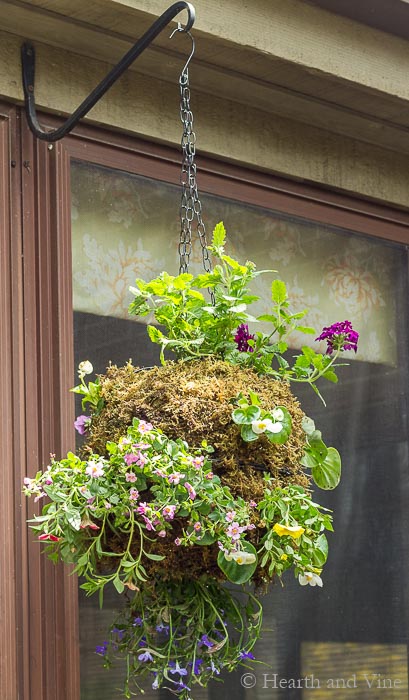 To water use a watering wand or fill a large tub with water, and immerse the entire planter for a minute or so.
The last time I made a moss planter I gave it to my daughter for her birthday, but this time I'm going to keep it for myself. However, I do think this would make a great Mother's Day gift, birthday gift, or a gift for anyone who loves flowers.