Today I'm creating a rustic sphagnum moss hanging planter. When I was pregnant with my first child, we moved into a house right next door to my older sister. Her home was situated on 5 acres of land with tons of beautiful plants and trees. Our property was just under 1 acre, with many mature trees including pear, crab apple, lilac bushes and more. This is really the first place I practiced gardening in full as an adult, and have loved it ever since.
Rustic Sphagnum Moss Hanging Planter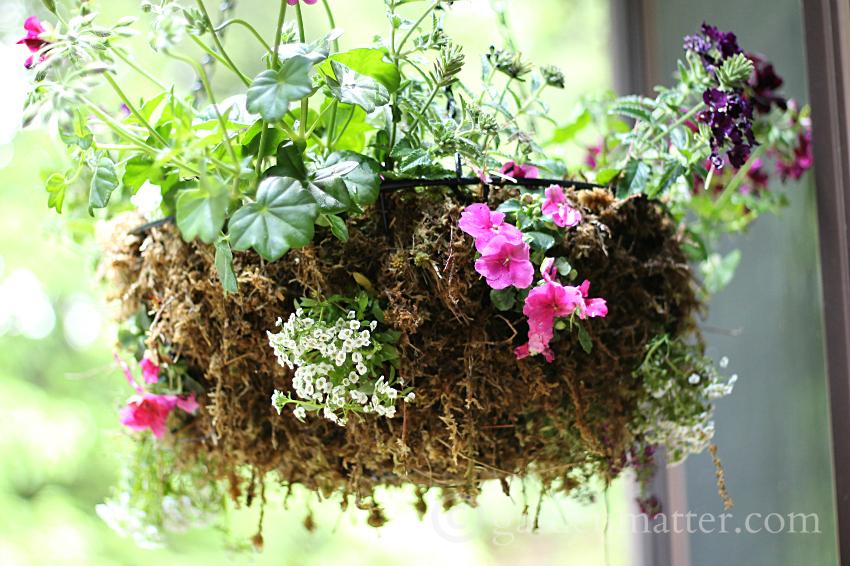 One of the fun garden projects my sister introduced me to was making baskets from sphagnum moss. Today you can easily find baskets with husk liners and even some with moss, which was unheard of back then. However, it is still a nice way to create your own garden art, and one I would like to share with you today.
The Materials
Wire hanging basket
Sphagnum moss ( I used a little less than 2 bags of .25 cu ft)
Trailing & low growing plants (I used trailing verbena, ivy geranium, pink impatiens, and alyssum)
Potting soil
All you have to is soak the moss in water for about 5 minutes.
Next grab handfuls of the moss and squeeze out the water and line the basket.
Then poke holes around the sides and insert your plants adding potting soil around the roots to secure them in place.
Add some additional plants on top and fill in with potting soil.
Water well and hang.
It's quick and easy and I really like the rustic country look. You can also make a similar hanging herb garden with sphagnum moss. As the plants grow and fill in feel free to trim them to keep the planter looking nice and tidy. This particular basket is earmarked for the baby I delivered in that house, who just moved into her own first home.
Note: If you live in a very warm climate or have unseasonably hot weather this one will dry out quickly. Spray it with a hose or fill up a large tub and sink the entire basket in the water.