This easy and inexpensive DIY tiered planter project makes a great statement and is perfect for all of your favorite flowers this season.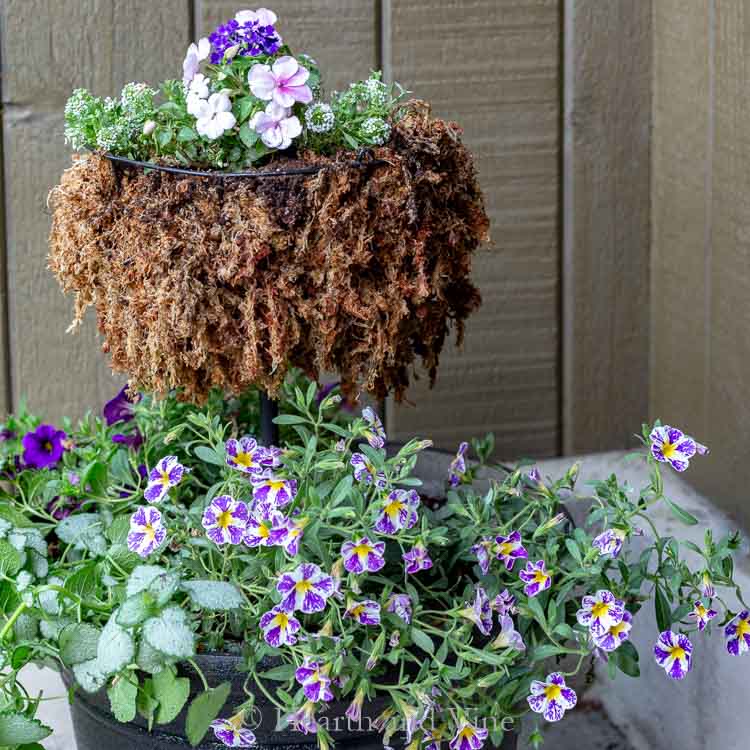 Now that we have a single front door I'm always looking for new ways to decorate it. Last year I made Flower Pot Trellis that flanked the door, but this year I'm trying a 2 tier planter approach.
Of course, they are super easy and affordable to make. That's the whole reason I like to make them. It's fun to get creative and keeping the cost down is a bonus.
This post contains some affiliate links (that means if you make a purchase after clicking a link, there's no additional cost to you, but I will earn a very small commission. ) i.e. as an Amazon Associate, I earn from qualifying purchases. Click here to read my full disclosure policy.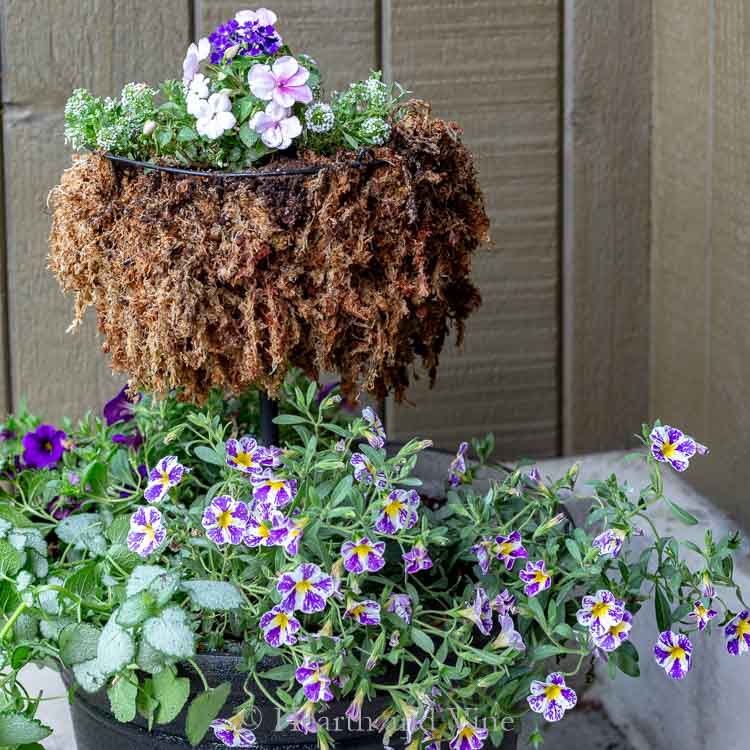 Supplies for Tiered Flower Planters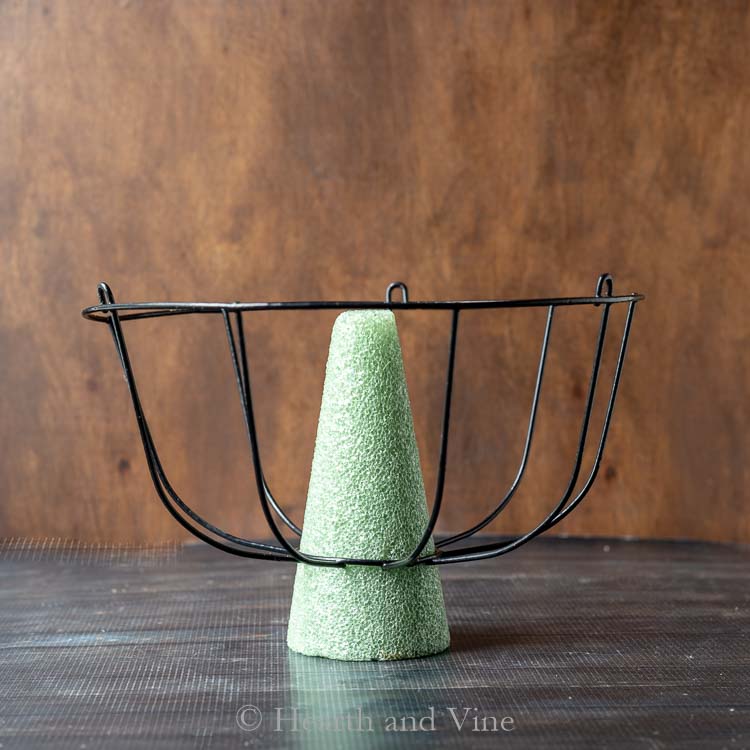 Making Flower Tiered Planter
I re-used the dollar store hanging baskets from my Hanging Moss Globe Planter, from last season.
They have a large hole in the bottom that was perfect for inserting a Styrofoam cone. The cones were already in my stash of crafts but I'm pretty sure I've seen them in the dollar store too.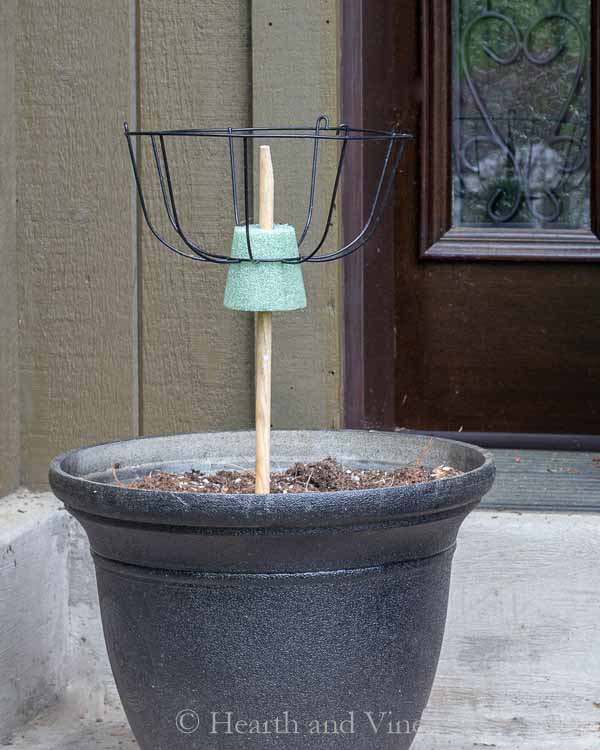 I cut down some of the foam to make plenty of room for the plants.
Next, I used the same dowel rods from the Pumpkin Topiary project in the fall and pushed them into last year's flower pots, and up through the foam cones.
Before inserting the dowel rod use a pencil or other similar shaped object to make a starter hole in the Styrofoam. Then add a little hot glue into the hole just before inserting the dowel rod.
Use some black spray paint on the dowel rod and the foam to help them blend in well with the other pieces.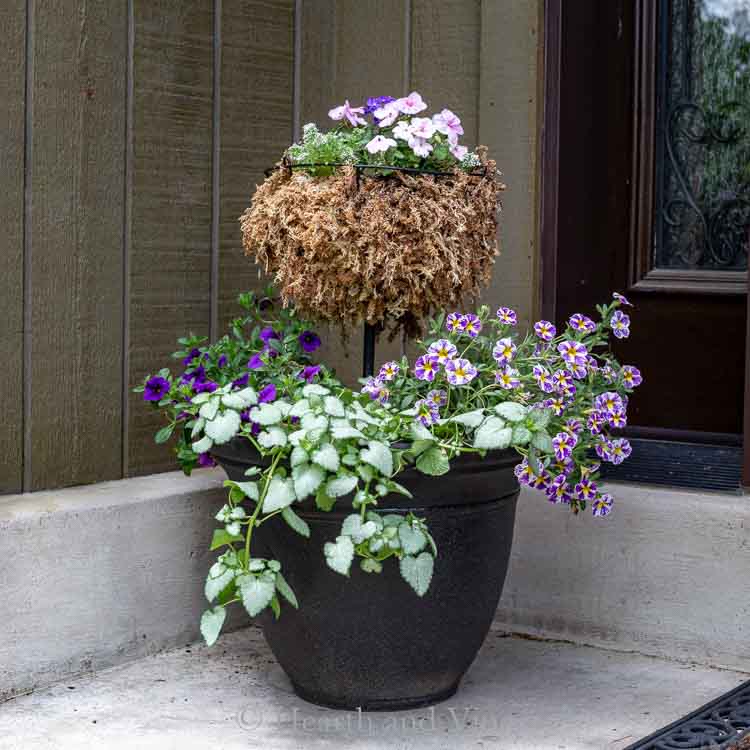 The basket is lined with sphagnum moss. I really like the cottage feel it brings to the planter. You could also use a simple coir liner. Just cut a hole in the bottom to fit over the dowel and foam.
Now all you need to do is add your flowers.
Flower Choices for a Tiered Planter
I chose plants that enjoy a mix of sun and shade because now that our maple tree is gone this porch gets a fair amount of sun, but it's still shady.
At the top in the center, I planted some verbena and impatiens for height.
I also chose plants that will spill out over the edges as the season progresses. White alyssum in the top. Two purple calibrachoas, and a pretty green and white lamium in the middle.
I love the way they look.
You could also try this with fresh herbs in a sunny spot on your patio. This would be especially convenient for those who have a small space to garden. Try tall plants like basil and parsley on the second tier at the top and trailing rosemary, oregano, and thyme on the bottom. Even strawberry plants would be fun and the close proximity to the house makes harvesting so much easier.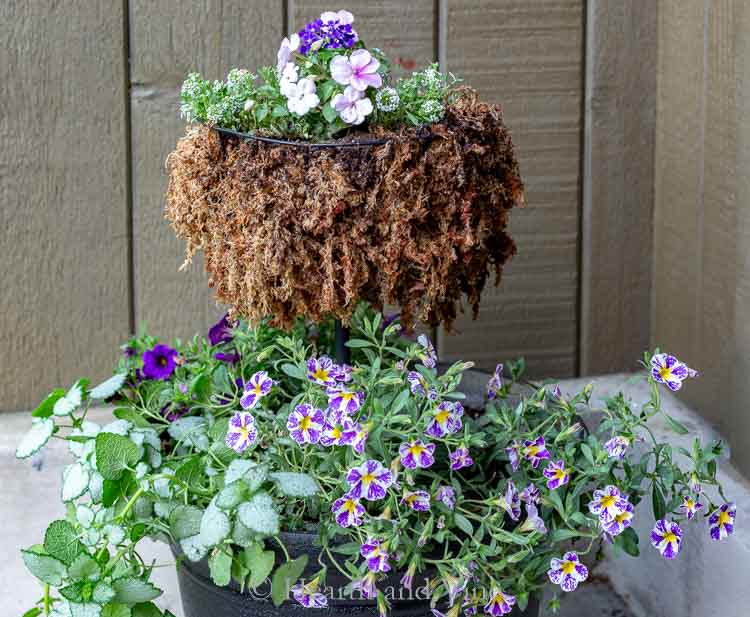 Creating a simple tiered planter for your front entrance is easy and I think adds a beautiful statement and great curb appeal.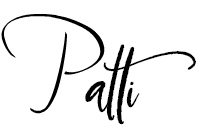 ---
More Flower Planter Ideas
Click Here to Save to Pinterest!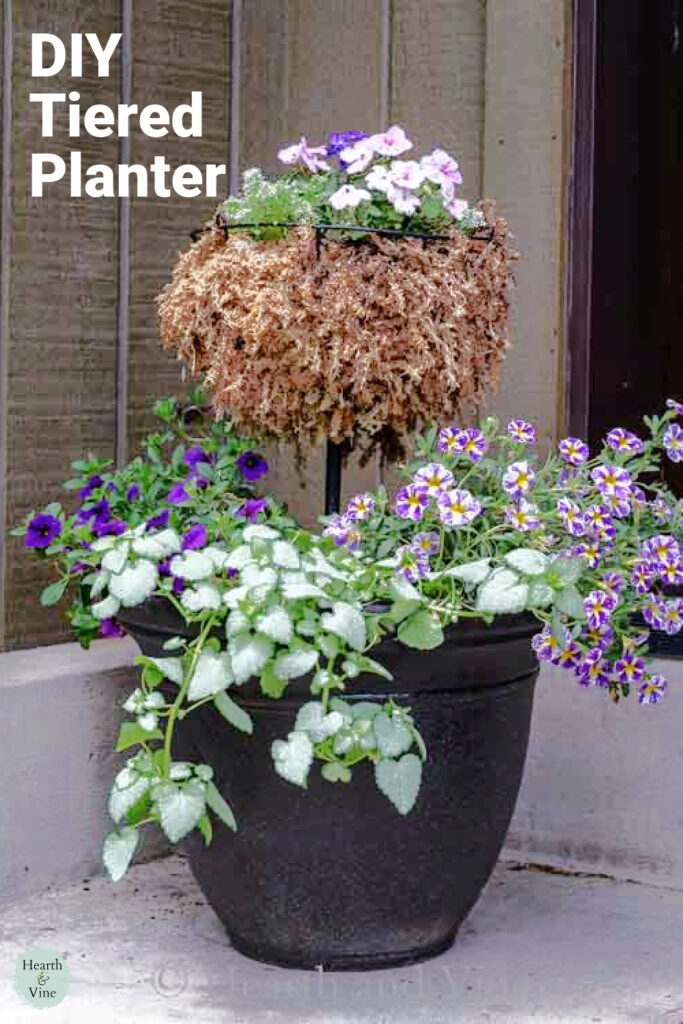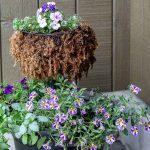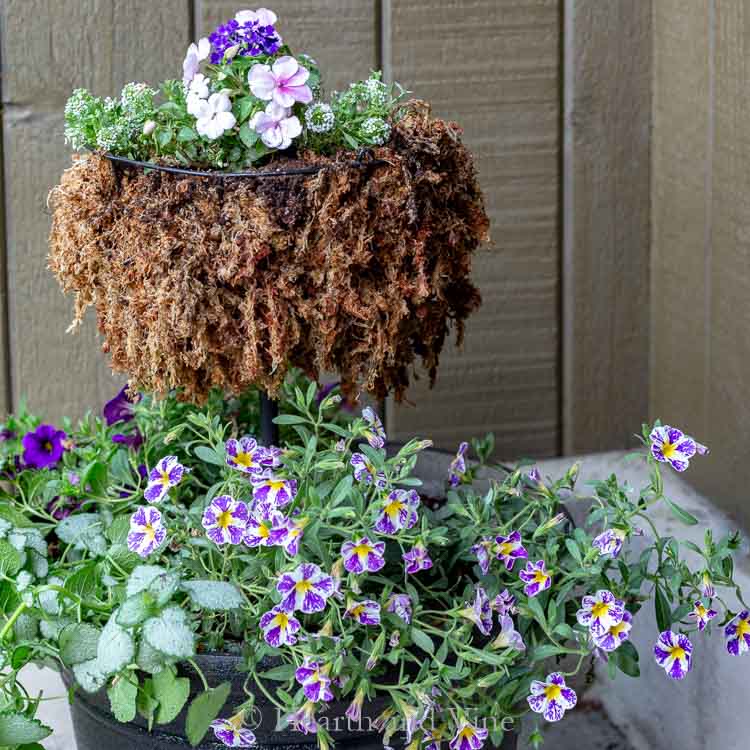 Print
DIY Tiered Flower Planter
This easy DIY tiered planter is a great showpiece for your front door bursting with flowers all season long.
Equipment
Hot glue gun and glue sticks
Materials
Base flower pot

Dollar store 10-inch hanging basket

Styrofoam cone

Dowel rod

Black spray paint

Sphagnum moss

Potting soil

Flowers
Instructions
Fill your base planter with soil.

Insert a styrofoam cone into the bottom of a dollar store hanging basket.

Spray paint the dowel rod black.

Push the dowel rod up through the styrofoam cone securing it with a little hot glue.

Then push the other end into the soil, leaving 10 or so inches between the bottom of the basket and the top of the soil in the base pot.

Line the basket with sphagnum moss that you have soaked with water.

Add soil to the basket.

Plant flowers in the basket and all around the dowel in the base planter.
Notes
Choose flowers that will grow well in the area you plan to set the planter whether a porch or patio. If you have a sunny location you might want to plant herbs or strawberries.
Trailing flowers work best in the bottom base pot while upright look good in the top basket.