You won't believe how easy this DIY eucalyptus wreath with fresh branches from the store is to make. Another beautiful piece of decor made from natural elements.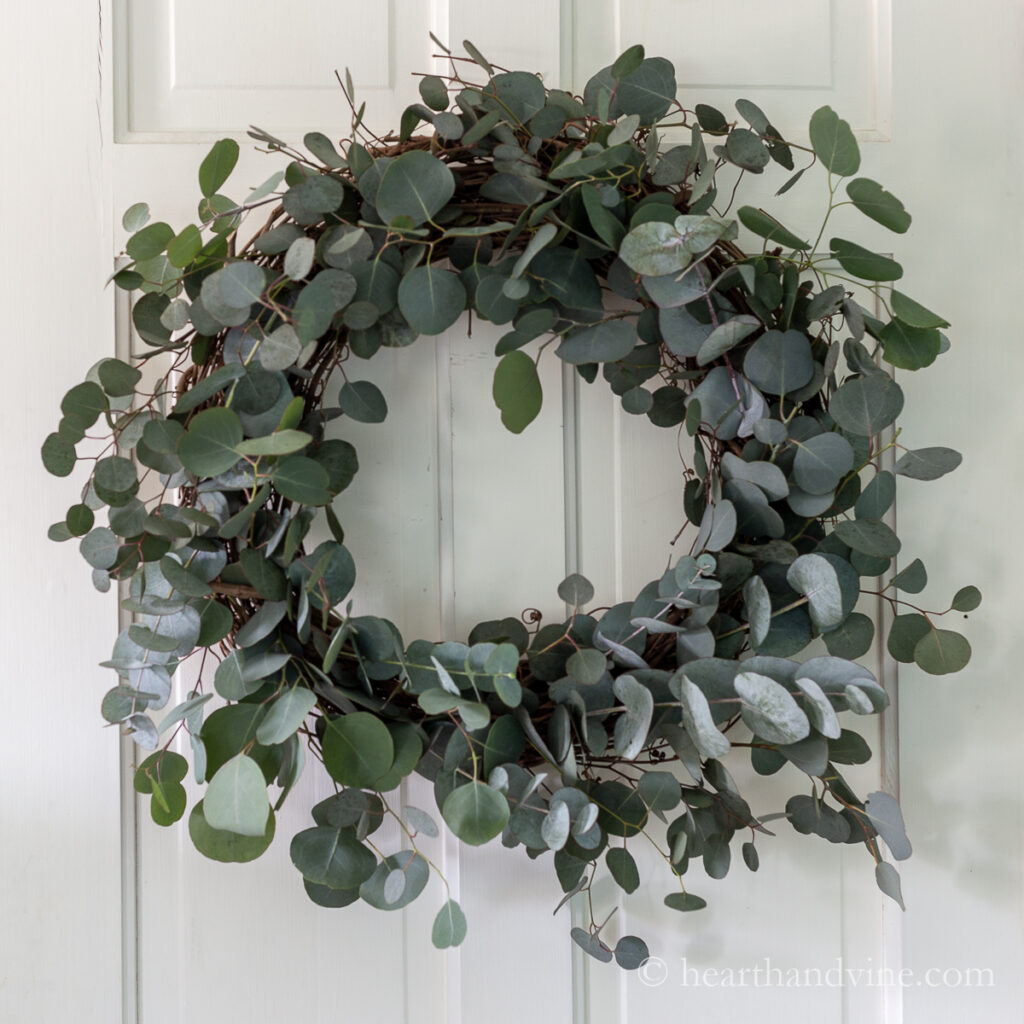 When you find bunches of beautiful fresh eucalyptus at the grocery store you make a wreath with it, right? Well, that's what I was thinking. Sometimes you find this during the holidays, especially seeded eucalyptus, but I really think this is pretty enough to enjoy all year long. So I'm using it on my front door for the summer.
This post contains some affiliate links (that means if you make a purchase after clicking a link, there's no additional cost to you, but I will earn a very small commission. ) i.e. as an Amazon Associate, I earn from qualifying purchases. Click here to read my full disclosure policy.
I picked up both baby blue eucalyptus and silver dollar eucalyptus. I even had enough left over to create some beautiful leaf printed napkins.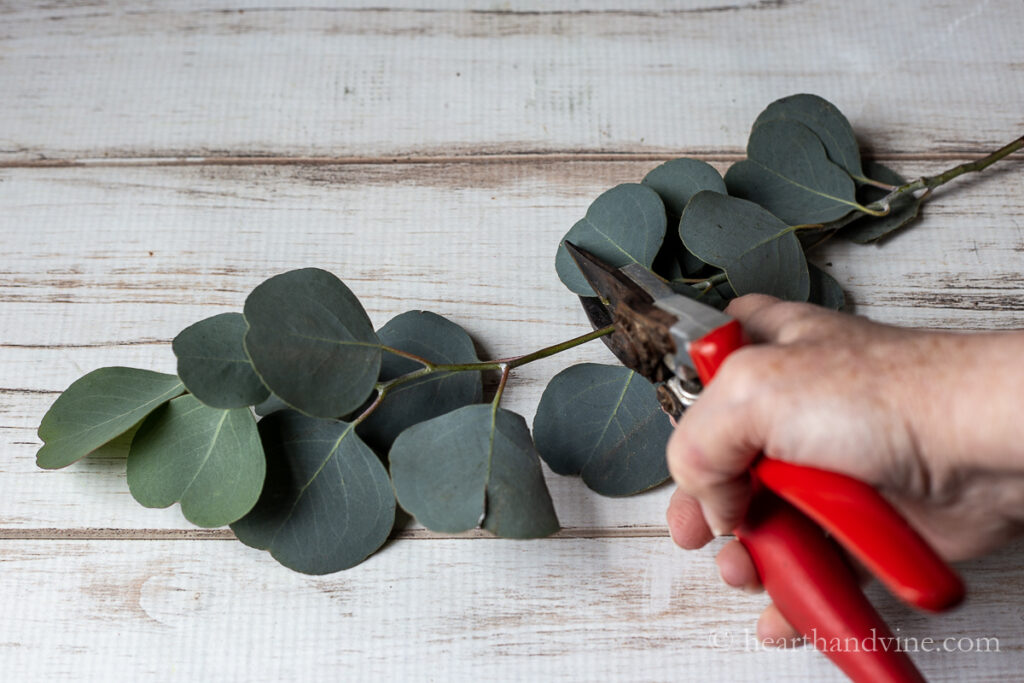 Making a Fresh Eucalyptus Wreath
Supplies
fresh bunches of silver dollar eucalyptus leaves
fresh bunch of baby blue eucalyptus leaves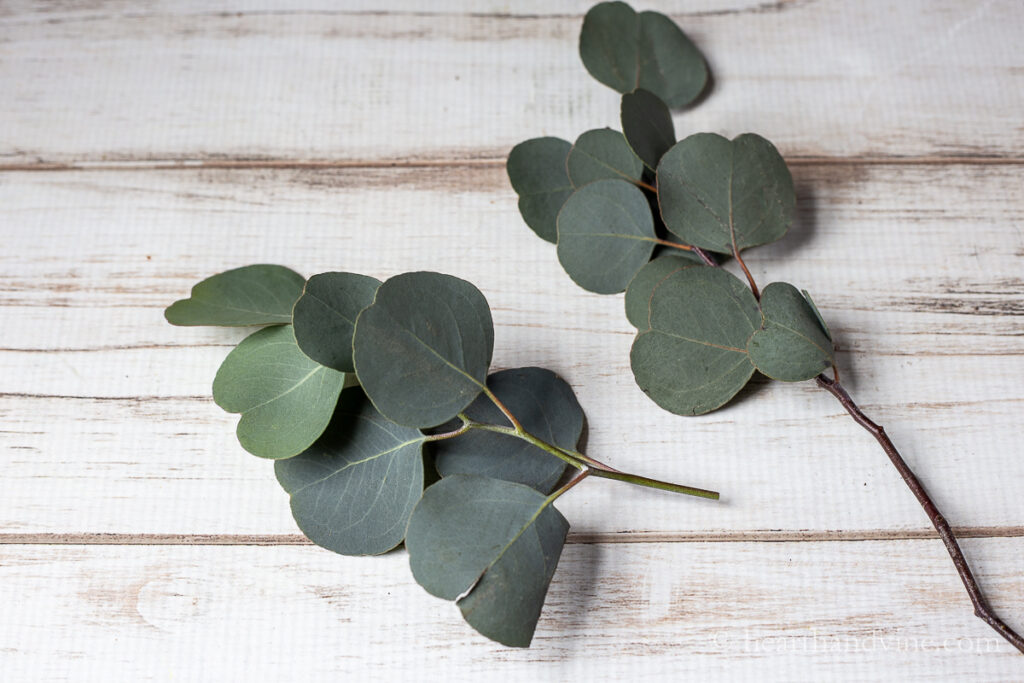 Cut up the stems of the eucalyptus in 6-8 inch lengths.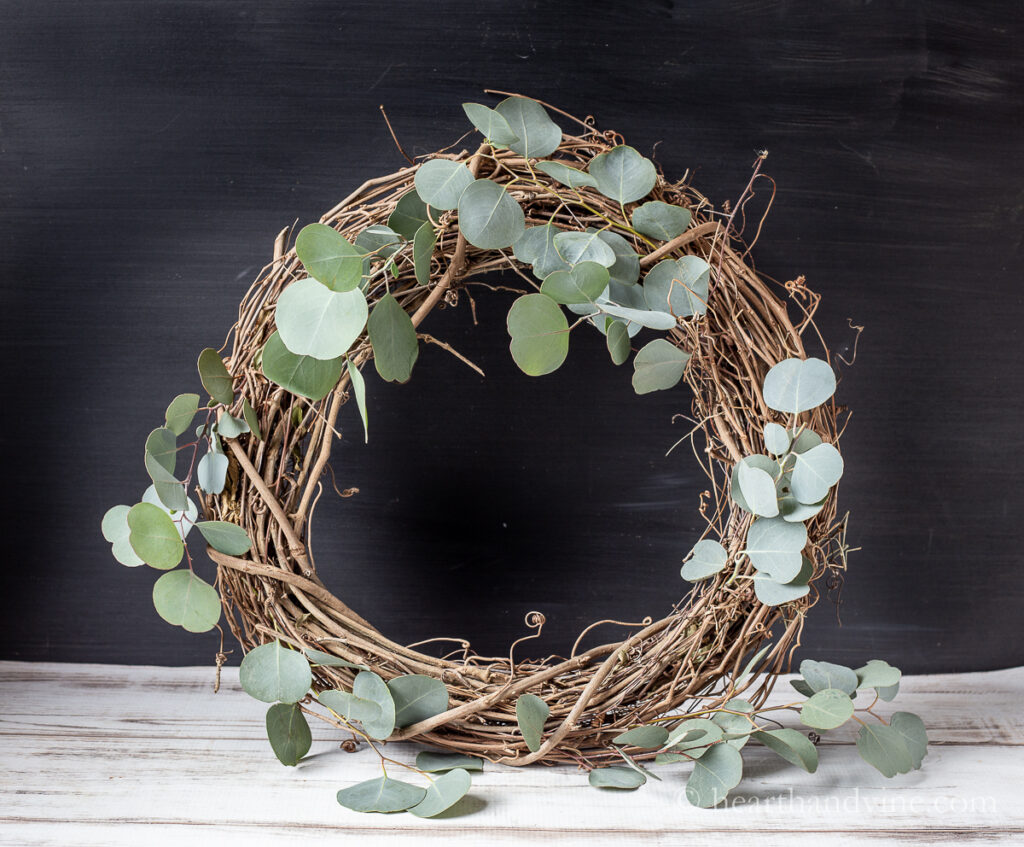 Next, decide how you want your wreath to hang. Start wedging the stems into the grapevines at even intervals around the wreath.
I like using grapevines for the perfect base wreath. You can make your own grapevine wreath from garden vines or pick one up at a craft store. Make sure it's nice and tight so you'll be able to easily stick the eucalyptus branches in.
You could also use an embroidery hoop base or a foam wreath form. However, they need the use of hot glue, floral tape, or twine to attach the branches to the wreath.
Tip: Working someplace where you can hang or lean the wreath makes it easy to see the overall look while you work.
Continue to fill in with some of each type of eucalyptus.
You can use hot glue as you place the branches into the grapevine for a more secure wreath. You could also use thin floral wire and combine bunches of branches to tie into the wreath. However, I usually don't. Do some of them fall out when the door is slammed? Yes, however, not often, and usually it's just one branch that I can easily stick right back in.
The best part is that I know it will dry naturally over the next few days or weeks and still look great. If it shrinks up too much you could add more foliage or other different seasonal accents and embellishments such as pinecones.
I'm enjoying the nice greenery with its beautiful neutral look. It's the perfect decoration for our front door decor this summer.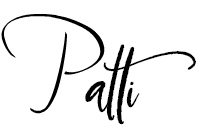 More Natural Wreath Projects
Print
DIY Eucalyptus Wreath
This DIY eucalyptus wreath is created with silver dollar and baby blue fresh eucalyptus branches and a grapevine wreath form.
Materials
fresh bunches of silver dollar eucalyptus leaves

fresh bunch of baby blue eucalyptus leaves

18

inch

grapevine wreath form
Instructions
Cut the eucalyptus branches into smaller sections around 6-8 inches long.

Start placing the branch cuttings around the wreath in even sections. One at the North, South, East, and West part of the wreath. Try to make sure that they are held in place with the grapevines.

Then start to fill in between.

Continue until you feel satisfied with the entire look.

Hang on a decorative hanger, command hook, or nail.
Notes
This wreath will naturally dry in place and last a long time.
Check from time to time to make sure none of the branches have come loose. Alternatively, you could use a little hot glue to permanently adhere the branch to the wreath.