Learn how to gather items from your backyard to make a beautiful natural fall wreath for free. Vines, seed pods, herbs, and many flowers will naturally dry and look beautiful in a wreath for your front door fall decor.
If you have been following me then you know how much I love to create with nature. Last week my rustic fall mantel was full of items found in our yard and today's post is following the same pattern.
How to Make a Natural Fall Wreath
We have tons of wild grape vines growing around here. They are very hard to get rid of. Typically by the end of summer we'll find a huge vine growing in more than one place. Honestly, I don't know how they get so massive so quickly.
The silver lining is that I get to make grapevine wreaths from the vines to decorate our home.
Plant Materials
There are lots of plants that work for a foraged fall wreath that you can use. Here I have some hydrangea flowers both fresh and some that have dried on the shrub.
I also cut some yarrow, coneflower, catmint, and penstemon perennial stems for the wreath.
You can also cut some fall colored shrubs like the ninebark and barberry shrubs. Finally, I love the look of green acorns from the many oak trees on the edge of our property.
Note: Sometime the acorns will fall from their caps as they dry. A little hot glue will remedy this problem.
The great thing about grapevine wreaths is that they give you space to simply stick the plant material into the wreath without needing any glue. Of course, you can use glue if you want to be certain that they won't drop out. I would use hot glue in this case.
I had some sunflowers from a bouquet a while back that I let dry in a jar. They were perfect for this wreath.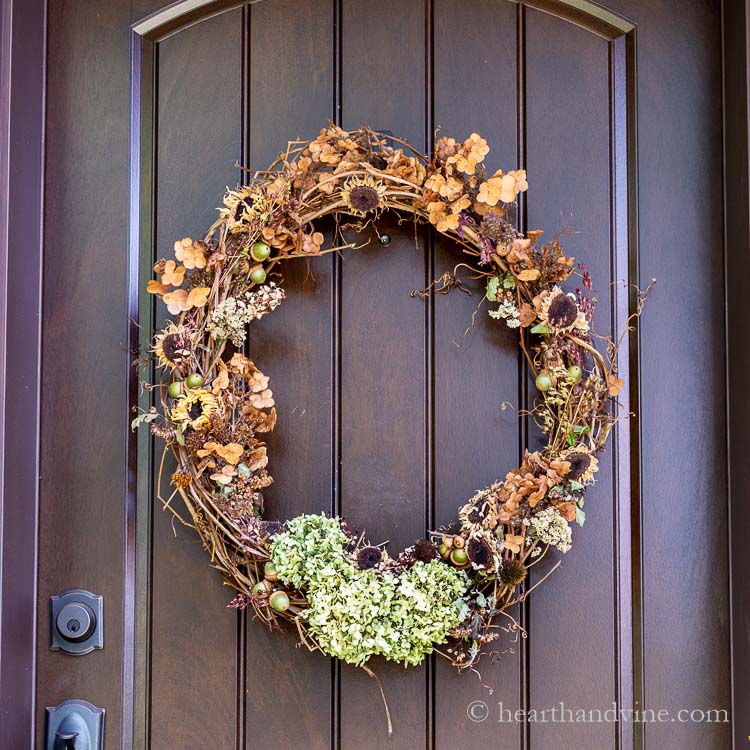 If you are using a mix of fresh and dried plant materials you may need to go back after a few days and fill in any empty spaces where the plant material may have shrunk.
Here, you could simply add in more dried material from the yard or hot glue some things you have around the house. Pine cones are a great option and seem to last for years. Cinnamon sticks would be nice for fall. Even some faux fall berries or mini pumpkins would be cute.
Creating a foraged natural fall wreath can be so rewarding. The natural elements are, in my opinion, always beautiful, and it costs nothing to make. What have you got to lose?
Print
How to Make a Natural Fall Wreath with Cuttings from Your Yard
Gather items from your yard to create a beautiful foraged fall wreath. It's such a great way to bring a touch of nature to your home decor.
Materials
Grapevine

Gathered flowers - I used yarrow

coneflower, catmint

Acorns

Dried Sunflowers

Floral Wire

Dried Hydrangeas
Instructions
Create a grapevine wreath with the grapevine and floral wire.

Hot glue the flowers of your choice to the grapevine wreath.

Use a mix of smaller florals with larger ones, like sunflowers.

Add acorns and berries. Use whatever you have available from your yard.

Add a piece of wire to the wreath for hanging.