Get inspired by a wonderful group of fall flower planters you can create at home and display for months until the cold weather hits.
Fall is like spring. At least in my neck of the woods. After a long winter, I can't wait to get out into the garden after being cooped up so long. And, come fall after months of hot weather and humidity, the cool air is so invigorating, it makes me eager to get outside and play.
One thing I love to do for the front door is create beautiful fall flower planters. Typically I use some of the plants from the summer and fill in with more fall-like color.
This Heliopsis 'Burning Hearts' is new to me and perfect for fall. It's also a perennial so I can plant it in the garden just before winter sets in.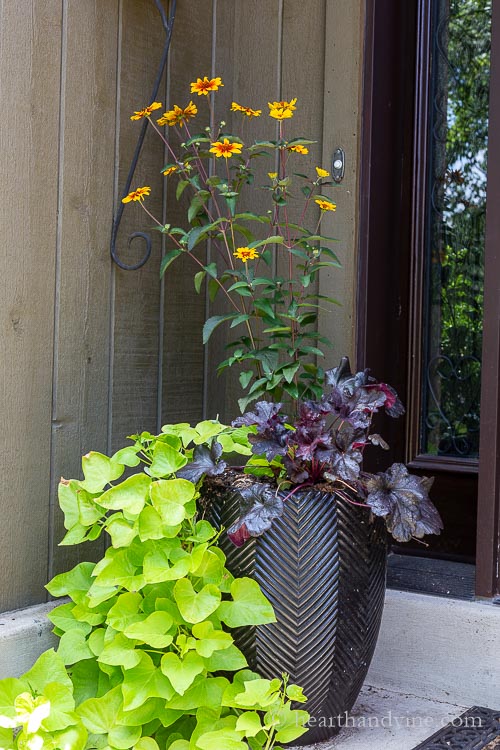 The bright green sweet potato vine was already in this planter. It looks so pretty and grew so well I thought it deserved to stay.
The last addition is a pretty Heuchera called, Black Pearl. This is also a perennial and can be relocated to the garden before winter.
For even more inspiration check out some of my past fall flower planter ideas along with a few other garden lovers' ideas for fall container gardens.
Fall Planter Tips & Ideas
Here are more ideas for fall planters, using fall flowers, different kinds of plants, pumpkins and more.