Gather leaves, branches, grapevines, acorns, and more from the yard to create some beautiful rustic fall mantel decor. Using natural elements that you forage from your property is a great way to add a little beauty to your home and costs you nothing. Add in some other pieces from around the house and you have a fully decorated fall mantel in no time.
Today I'm joining a great group of bloggers sharing all kinds of wonderful fall ideas! A big thanks to Angie at Postcards From the Ridge for putting this tour together!
Make sure you check out all the fun fall inspiration at the bottom of the page!
For my part, I'm sharing my fall mantel decorating ideas again this year. Last year, my fall mantel was full of color. This year there is some color but it's much more muted. And, I'm bringing back the use of foraged materials from the backyard for an easy and natural fall look.
Rustic Fall Mantel Ideas
For the focal point, I was inspired by my friend Jennifer's spring wreath using branches and vines. For my nature window, I used twine to lash the branches together and then added some grapevines, leaves, and foxtail grass. I especially love the look of the green acorns from one of the many oaks in our yard.
Using Natural Elements from Your Yard
Speaking of oaks, I may have mentioned that we have many, many oak trees that border the back of our property. They can be a real nuisance since the leaves are pretty tough and don't break down for a long time.
Recently I found several bunches of oak leaves in the garden and on the grass from a windy day. Interestingly, they were already starting to turn brown and I thought their color was pretty so why not use them in some fall decor.
So I used them as a bouquet in these dollar store vases. I knew I would need some light on the mantel as this brick and the room is a little dark. The vases were clear glass, but I spray painted them with chalk paint to look like ceramic.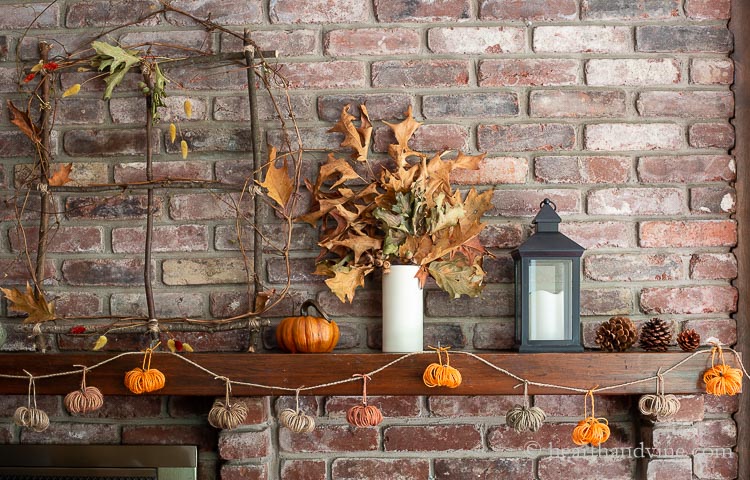 DIY Twine Pumpkin Garland
I also hung a twine pumpkin garland on the front of the mantel. This fun DIY project is an easy one and I think the texture of the twine fits in so well with the rustic nature of this fall mantel.
Here's the tutorial for the pumpkin garland with a little video and details on how to make the garland with different colored twine.
A couple of faux pumpkins, a pair of black lanterns and a few pine cones complete the look.
Don't forget to check below for tons of fall inspiration. We have more mantels, porches, tablescapes, tiered tray decor, and a few great DIY/Craft ideas.
It's a Fall Inspiration Extravanganza.
I for one am so ready for fall. Check back for more fun crafts and fall home decor ideas over the coming weeks.
Fall Tablescape Decor Ideas
Fall Porch and Deck Decor Ideas
Fall Tiered Tray Decor Ideas
Fall DIY Crafts