Learn how to make a sweet pumpkin garland with twine. The natural texture of jute or twine gives this easy craft a rustic warm and cozy feel that's perfect for your fall decor.
This year's fall mantel is decorated with muted fall colors with natural elements. However, I really wanted to add in a little color, so I decided to create a pumpkin garland using natural twine.
This post contains some affiliate links (that means if you make a purchase after clicking a link, there's no additional cost to you, but I will earn a very small commission. ) i.e. as an Amazon Associate, I earn from qualifying purchases. Click here to read my full disclosure policy.
How to Make a Twine Pumpkin Garland
Here's a short video to help you see how easy the pumpkins can be put together.

Supplies
Twine - Thin twine for pumpkins and a thicker twine for the garland
Cardboard Tube
Tree Branch for pumpkin stems
Scissors
Hot Glue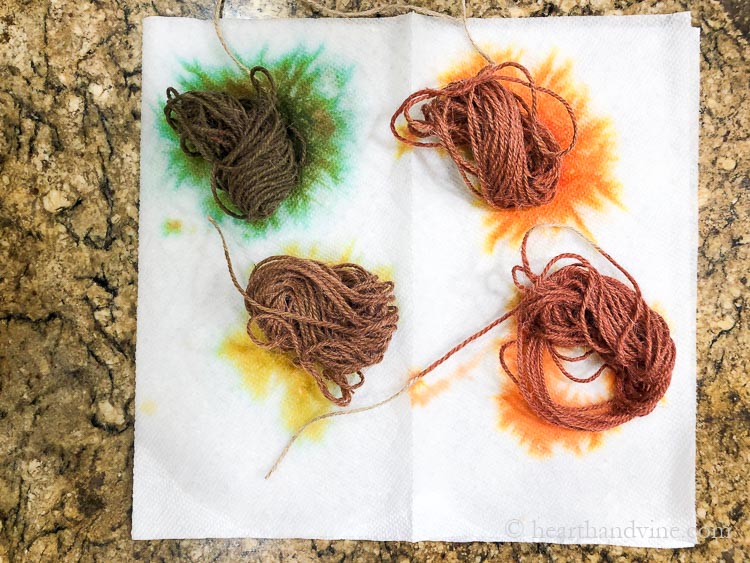 Dying Twine
I always have natural twine in the house but I also picked up some orange twine. However, natural and orange pumpkins seemed a little boring so I wondered if I could dye some of the natural twine to add in a bit of extra color.
I used food coloring with boiling water and vinegar just like dying eggs at Easter. Using different combinations of red and yellow dye and some blue gave me a few different colored twine for the pumpkins.
Making the Twine Pumpkins
Start with a wrapping paper tube. For these pumpkins, I used one that was about 1.25 inches in diameter. This created pumpkins about 3 inches wide.
Cut the tube to 7 inches in length.
Next cut through the tube lengthwise.
Begin wrapping the twine around the tube from one end to the other. At one point I started taping the ends to help keep the tube shape while wrapping. You can see this in the video below.
When you take off the twine you will get a nice coil that creates a round shape when you tie the ends together
Once you've created the pumpkins, hot glue a small bit of a tree branch to the top for the pumpkin stem.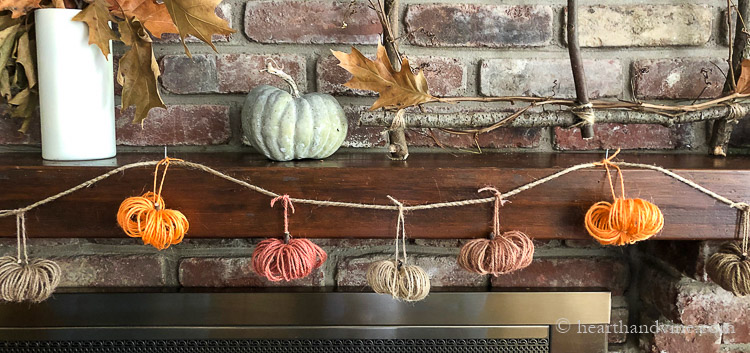 Tie the pumpkins along a thicker piece of twine and hang your pretty pumpkin garland from the mantel or anywhere you want a little fall whimsy.