Learn how to create a beautiful hanging tea cup planter by upcycling an antique teacup and planting it with a string of pearls plant.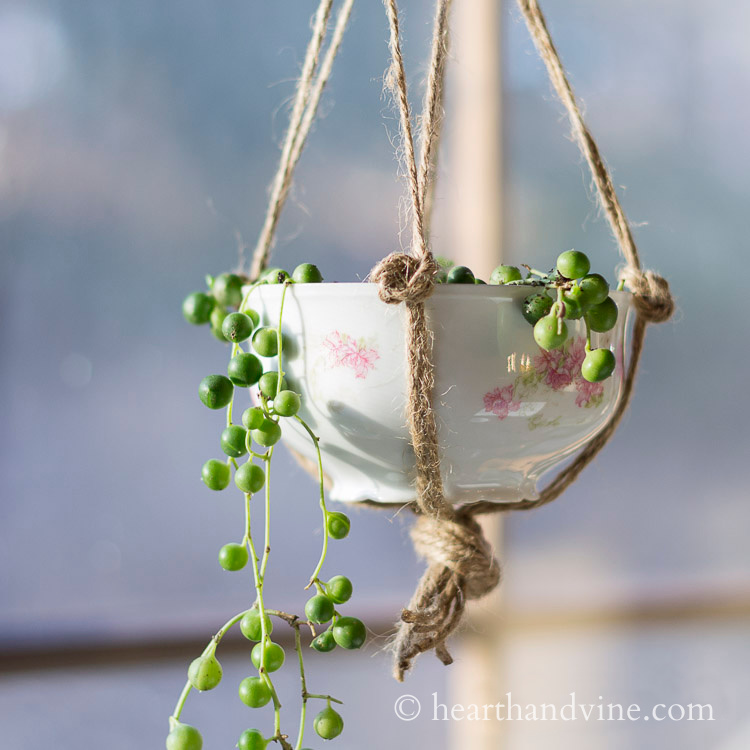 Old teacups are so pretty and I love seeing all the ways people reuse them in their decor. I've made teacup candles before and today I will show you how to create a beautiful hanging planter with an old teacup.
This post contains some affiliate links (that means if you make a purchase after clicking a link, there's no additional cost to you, but I will earn a very small commission. ) i.e. as an Amazon Associate, I earn from qualifying purchases. Click here to read my full disclosure policy.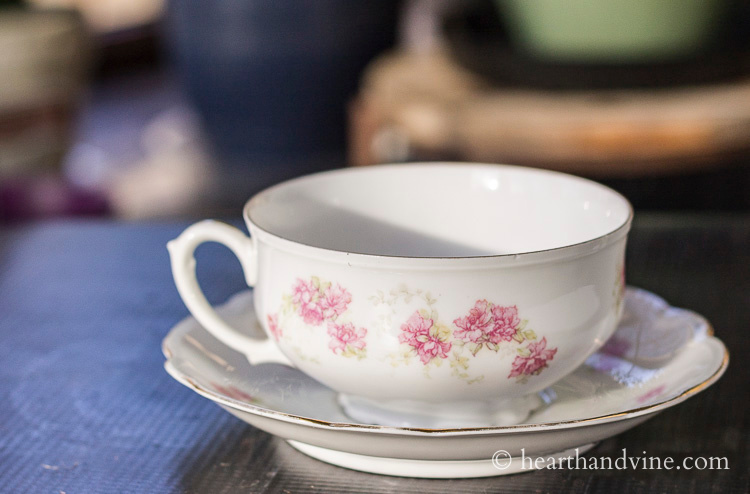 Making a Hanging Tea Cup Planter
When deciding on what to plant in this cup the lovely String of Pearls Plant
, aka Senecio rowleyanus, came to mind. After all, good china and a string of pearls go perfectly together. Also, the fact that it is a succulent plant means it doesn't need to be watered very often so keeping it in a container like this would probably work. You could try it with other cacti or faux plants if you don't have a green thumb.
I have a few teacups that came from my mother, but also several that I've collected at antique malls over the years. I thought the pretty rose floral one was a good size for housing a plant.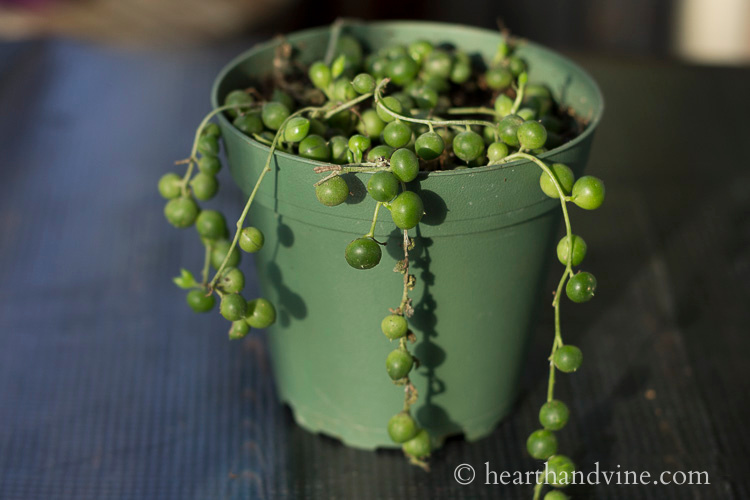 This is a little transplant, I purchased it online it already had several "strings" flowing over the sides. When it came in the mail, all the little stems were neatly packed inside, and like a fine necklace, you need to carefully untangle them before repotting.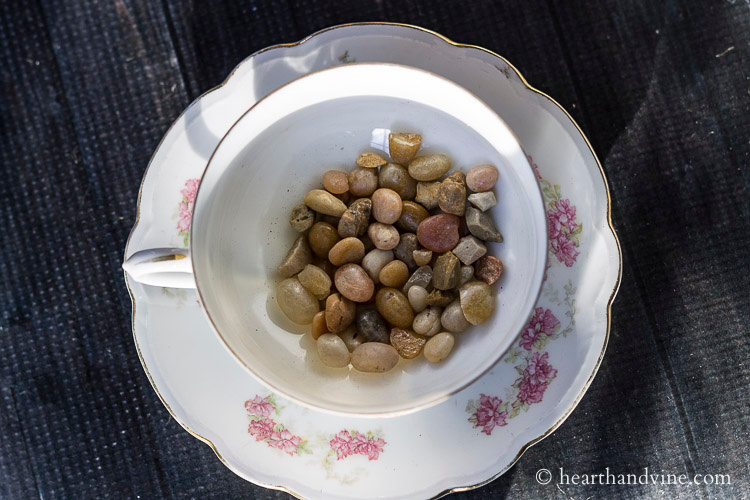 Since this planter would not have any drainage holes I placed a nice layer of stones at the bottom. Hopefully, any excess water will stay in the stones, and not allow the soil to remain wet, and risk root rot. I don't plan on watering it very often.
The string of pearls plant likes to dry out well before watering and only needs a small amount of water. I think that makes it a good candidate for this project too.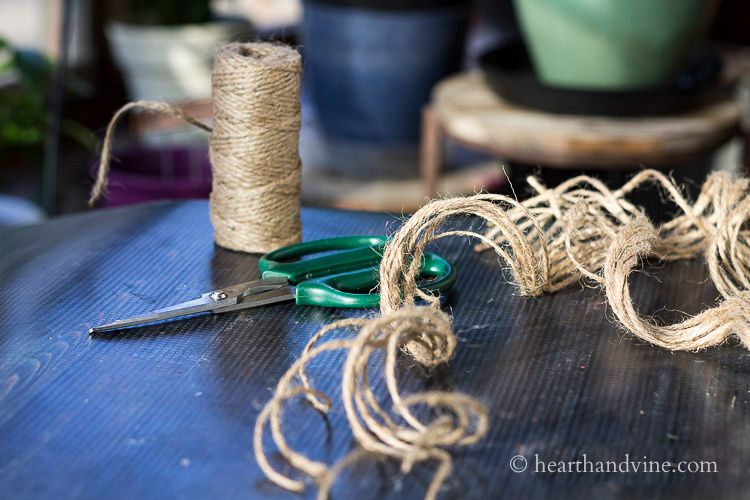 Creating the Twine Hanger with Macrame Tutorial
For the hanger, I used some basic macrame knots. I took eight strands of twine
about 40 inches long. First I tied them to a plastic ring. This is what I had on hand but I think a metal key chain ring, or binder ring, would look much nicer. Use this ring to hang the plant from a hook.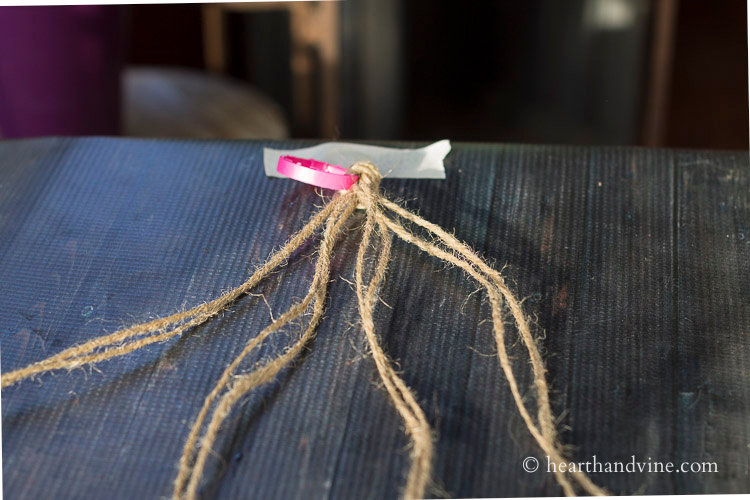 Tape the ring to the table and separate the twine into four pairs of two.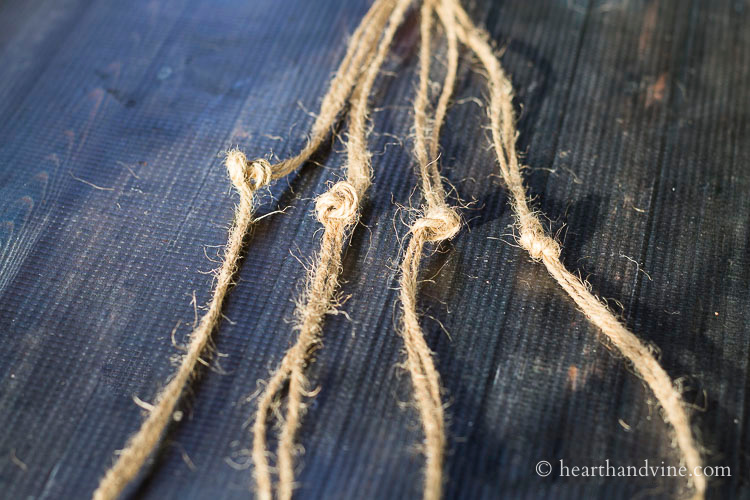 Tie a double overhand knot about 6-8 inches from the top.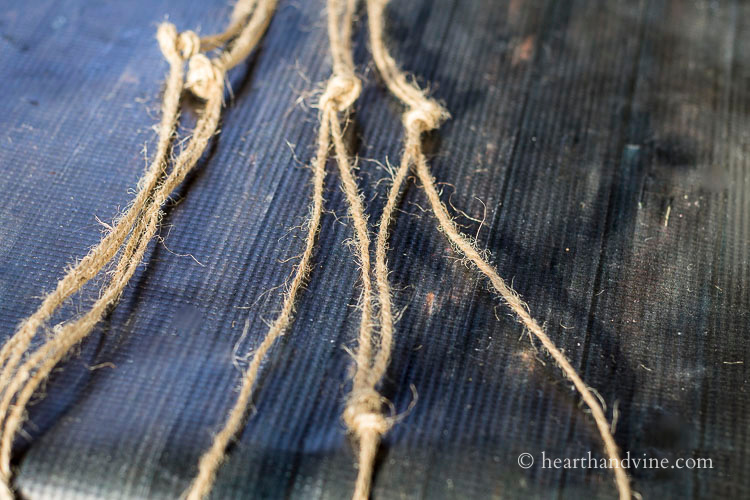 Move down another 6-8 inches and take two strands, one from each group, and tie knots in the new pairs.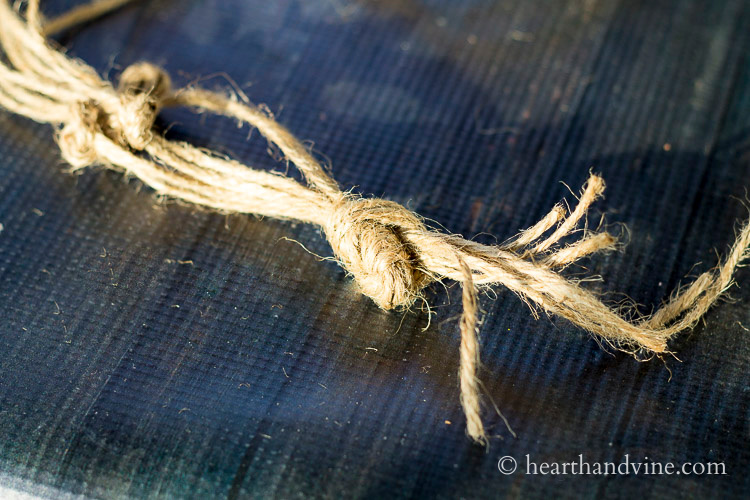 Finally, tie a double knot at the bottom.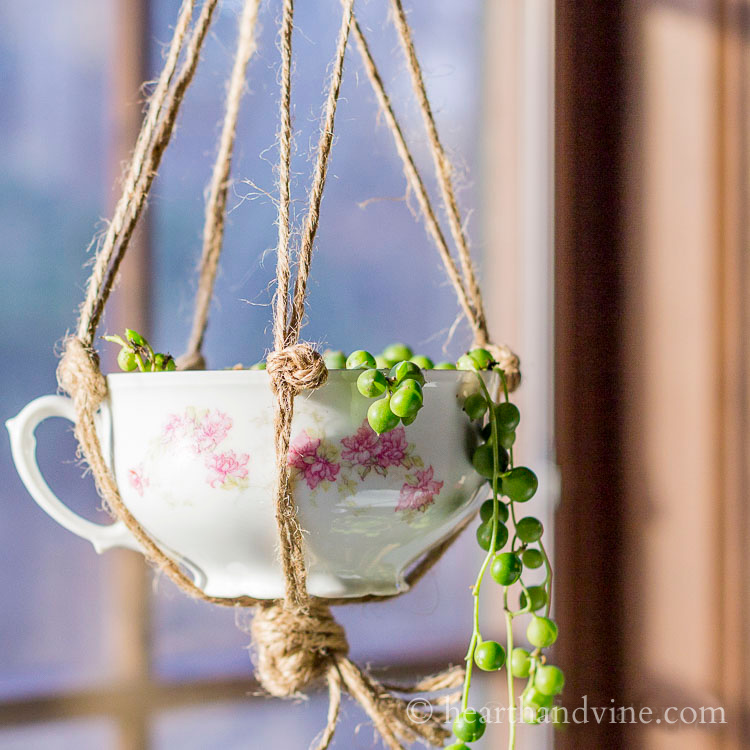 Hang up the twine hanger, and then gently place the vintage teacup inside. Keep the saucer for another upcycle.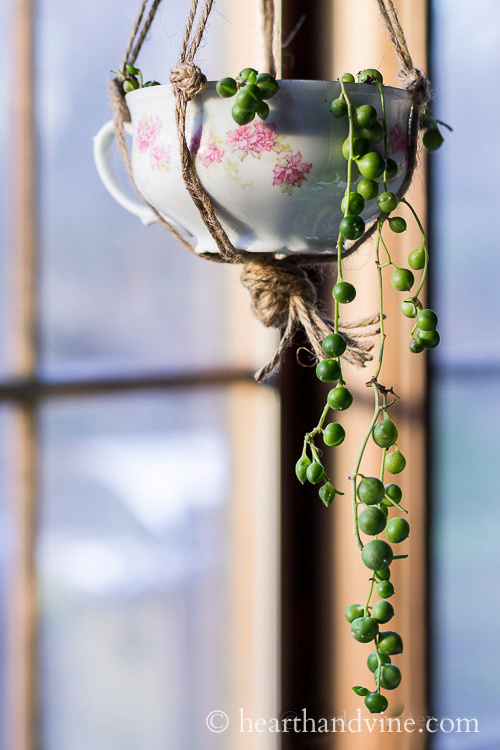 This DIY teacup planter idea is in my dining room and looks so pretty there. There's light from the windows but it's north-facing, so there's not too much direct light which is perfect for this string of pearls plant. I can't wait until it fills in and spills all over the cup.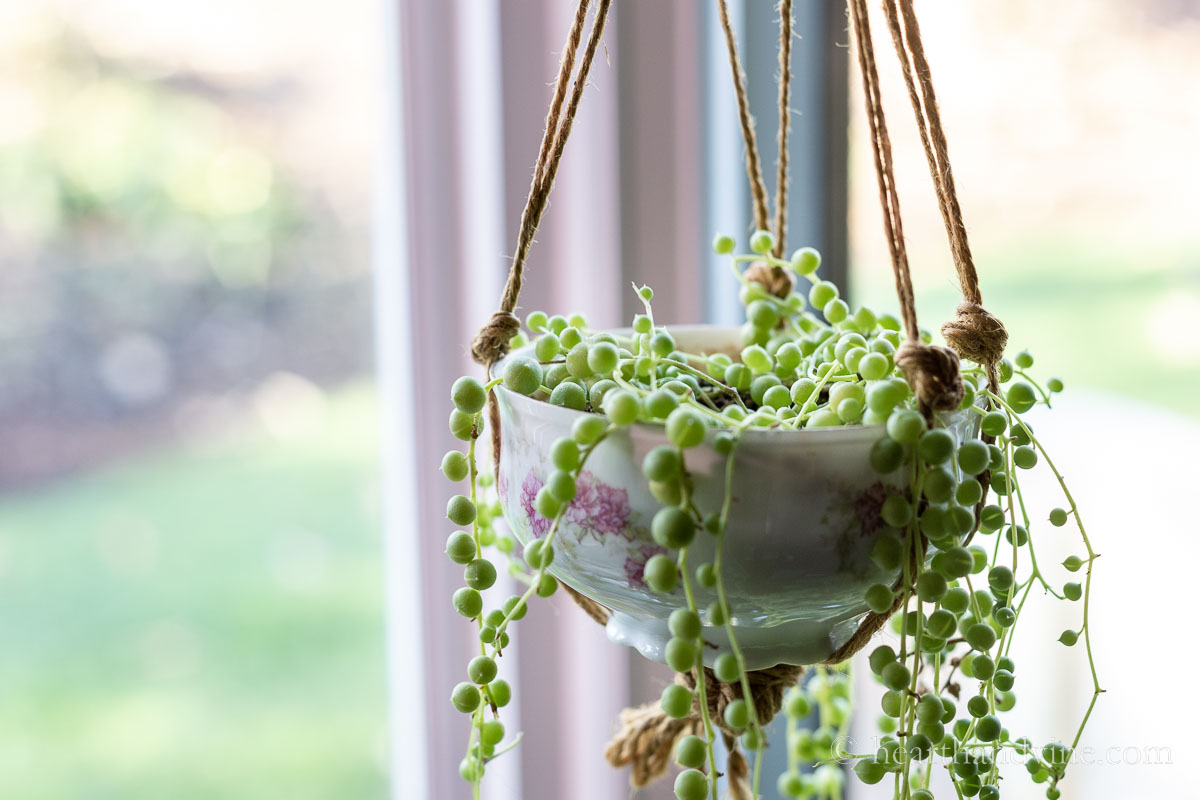 Here's an updated look at the same planter. It's filled in nicely.
It also tends to get quite long so every once in a while I'll trim it and place the cuttings in a new pot to give away or grow somewhere else in my home.
Wouldn't this make a great gift for mom or a birthday gift for one of your plant-loving friends?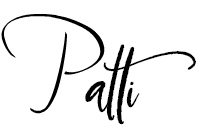 More Fun Garden Upcycle Ideas