These DIY teacup candles are scented, affordable and easy to create. They make wonderful gifts during the holidays or any time of year for everyone in your life.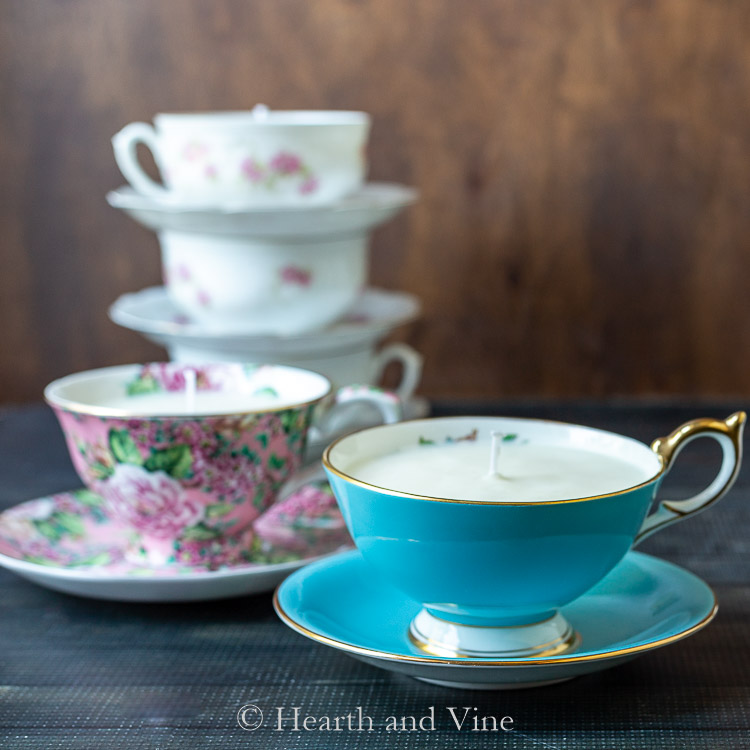 It's that time of year again when I start creating special handmade gifts for the holidays. Today it's all about making scented candles from vintage teacups.
This post contains some affiliate links (that means if you make a purchase after clicking a link, there's no additional cost to you, but I will earn a very small commission. )i.e as an Amazon Associate, I earn from qualifying purchases Click here to read my full disclosure policy.
DIY Teacup Candles
Below is a list of the supplies that I used to make my teacup candles. I ended up filling 12 cups and had enough leftover to fill two small (8 oz.) mason jars.
Obviously the teacups themselves were different shapes and sizes. And, depending on how high you fill them the amount of wax will vary. This is why I always have an extra mason jar or two around for the overflow.
If you are unsure how much to purchase you can find a ton of great information on the Candle Science Website.
Supplies
Vintage teacups, mugs, coffee cups, etc.
5 pounds Soy wax
Tabbed wicks
Glue gun and glue sticks
Straws or clothespins to hold the wicks in place
Old pot
Wood skewer or spoon for stirring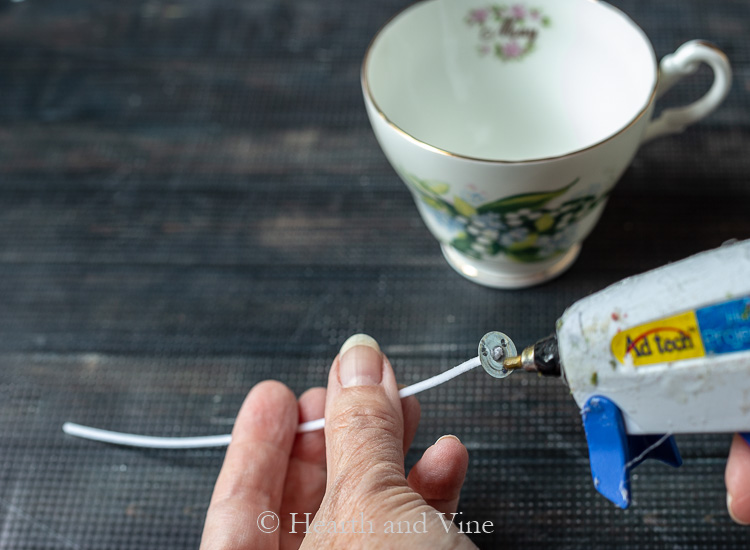 How to Make Teacup Candles
After you have washed and dried your cups start by placing a little hot glue on the bottom of the metal wick tab.
Then press it into the center of the teacup.
Melt the soy wax flakes in the wax pitcher that you have sitting in an old pot of simmering water. Stirring occasionally.
Once the wax has completely melted remove it from the heat and stir in the fragrance oil.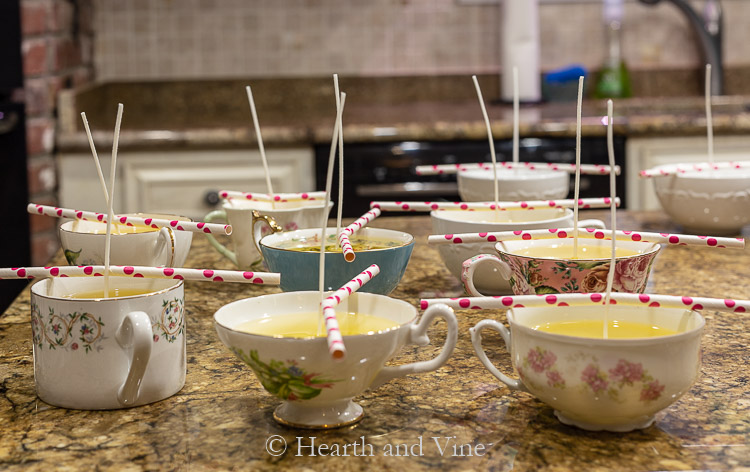 Pour the wax carefully into the teacups and use a straw or a long clothespin to hold the wick in place. I like to cut a slit in the straw for the wick to rest in.
Sometimes it works and other times the wicks pop out of the straw. No worries. Just wait 20 minutes or so when the wax begins to harden and then move it into place.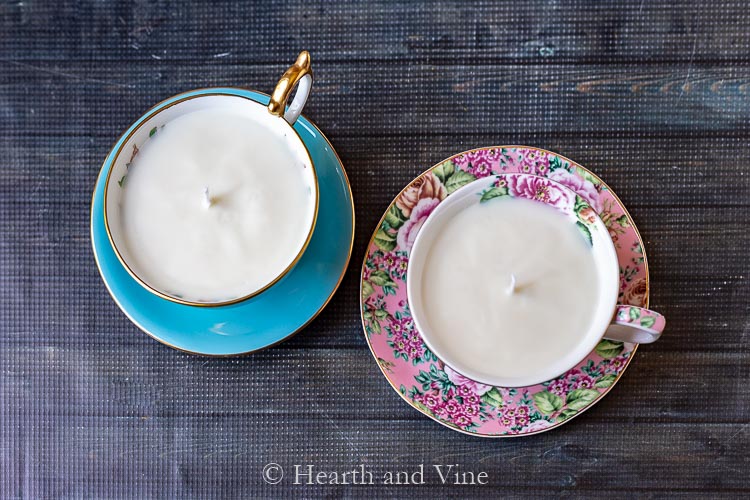 When the wax has fully hardened, a few hours or overnight, cut the wicks to about 1/2 inch.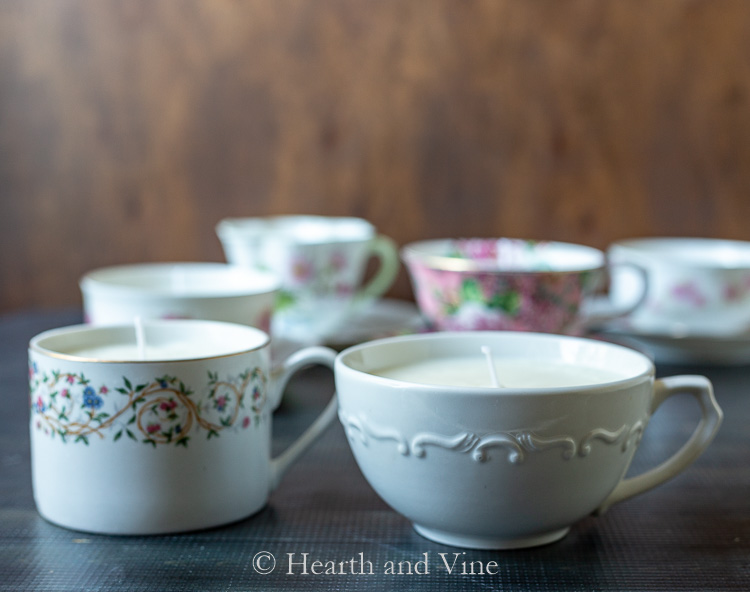 Though most of the candles are made from old teacups I also bought these mugs without saucers from Goodwill.
I especially like the one on the right as the scent I chose for this project is called Christmas Hearth and the plain white cup is nice and deep for a beautiful holiday candle.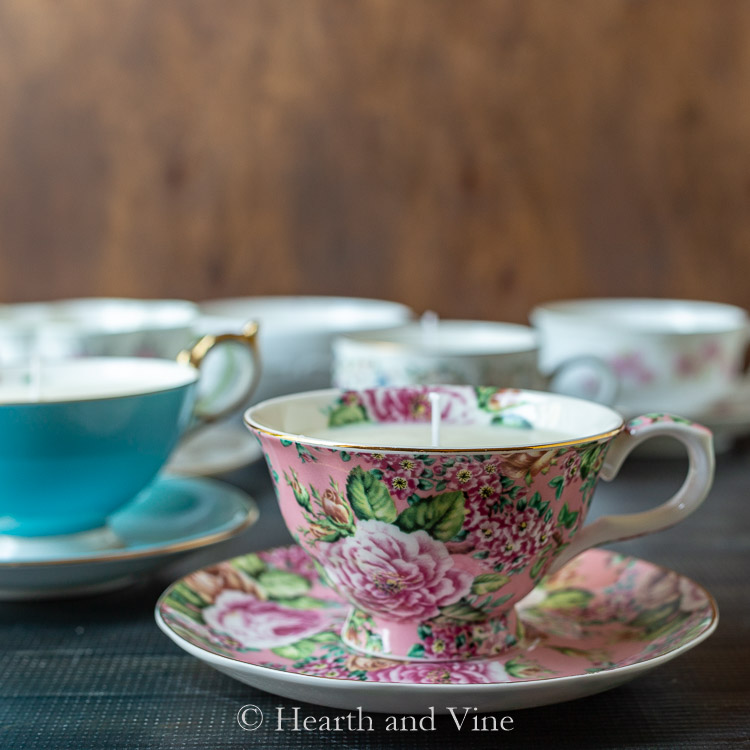 I plan to give these out during the holidays, however, I could certainly see them for party favors. Bridal showers, baby showers even small wedding favors.
After all, who doesn't like a good scented candle?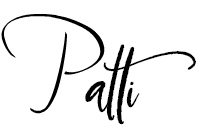 ---
P.S. You can find many candle ideas on my DIY Projects Page. One of the most popular is this DIY Holiday Oil Candle. Another good holiday candle is this Bayberry Candle with a good luck folklore quote.
Click Here to Save to Pinterest!