Bayberry candles were made from real berries in Colonial times and were considered "Good Luck." Learn how to make them and the special good luck saying.
When my sister and I owned the herbal gift shop, selling bayberry candles at Christmas time was a big hit. They smelled really great, and we offered a little "good luck" tag (shown below) to go along with the candle.
The History of Bayberry Candles
History states that the early settlers first made their candles from tallow which was in short supply. Then someone discovered the waxy berries on the Northern Bayberry or Myrica pensylvanica. found all over the coastline.
This post contains some affiliate links (that means if you make a purchase after clicking a link, there's no additional cost to you, but I will earn a very small commission. ) i.e. as an Amazon Associate, I earn from qualifying purchases. Click here to read my full disclosure policy.
This native deciduous shrub was also very fragrant. When boiled in water the berries sink to the bottom and the scented wax floats to the top. The fragrant wax also burned much cleaner than the original tallow based candles.
The only problem was that it took many, many berries, as much as 15 pounds to produce one pound of wax. Therefore, the candles were often saved for special occasions like Christmas and New Years.
You don't see many real bayberry candles on the market, though some foragers and homesteaders still make them. Instead, you can purchase some bayberry fragrance oil and make your own bayberry candles for fun, and "good luck" during the holidays.
How to Make Bayberry Candles
Supplies
Most of the supplies came from amazon and candlescience.com. They have a great FAQ section that really helps you determine how much you need.
All in all, I think I ended up spending around $180 and made 60 candle tins, which comes out to $3 a candle. This also included the cute labels I bought from pipsy.com.
Candle tips:
Use a bit of hot glue to hold the wicks in place in the center of the tin.
Once your wax melts, add the fragrance oil around 185 degrees F before pouring it into tins.
I used straws with a slit cut in the middle to hold up the wicks and keep them straight. Some people also use clothespins.
Once they are completely cool, trim the wicks.
Bayberry Poem
Click the image above for a full page of the bayberry poem that you can print out and attach to the bag or candle so everyone knows what to do.
Spoiler Alert: It's a little hard to burn the tin down to the wick on Christmas Eve as a 4 oz tin should burn for about 20 hours, so start burning it early.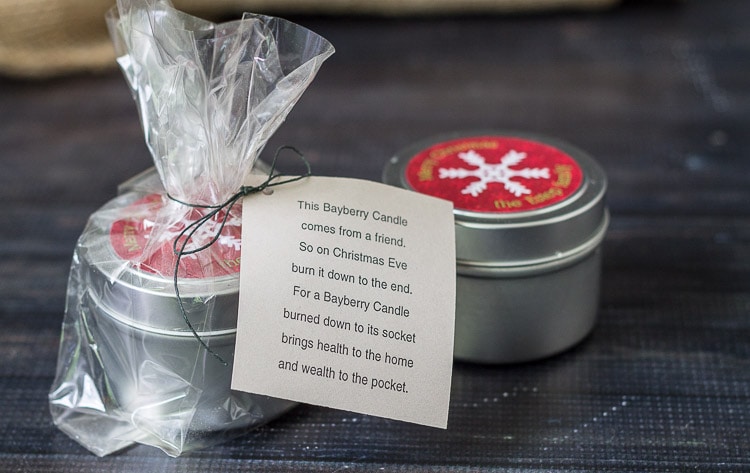 These bayberry candle tins worked so well for this project and made a great fun affordable holiday gift.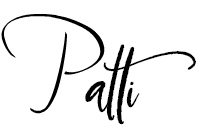 ---
Print
Bayberry Candles
Learn how to make bayberry candles in small tins for "Good Luck" in the new year. A Colonial tradition that's fun for holiday gift giving.
Equipment
candle pitcher or large can

wax thermometer

an old pot
Materials
4

oz

candle tins

candle wicks

bayberry fragrance oil
Instructions
Use a bit of hot glue to hold the wicks in place on the bottom of the center of the tin.

Melt the wax in a wax pitcher or old coffee can in an old pot filled partially with water.

Once your wax melts, remove it from the heat and add the fragrance oil at around 185 degrees F before pouring it into tins.

After you pour the wax into the tin use straws with a slit cut in the middle to

hold up the wicks

and keep them straight. You can also try clothespins.

Once the candles are completely cool, trim the wicks.
Notes
These candle tins will burn for 20-25 hours so if you want it to burn down to the wick you need to start early on Christmas Eve day.