Learn how to make unique custom packing tape labels to create these beautiful homemade candles on the cheap. A great Christmas gift you can make for everyone on your list.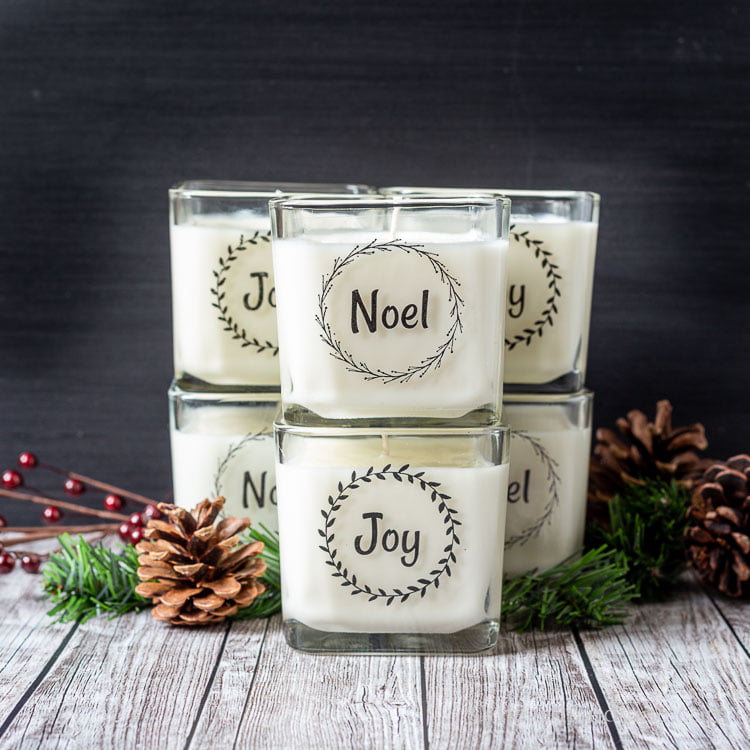 This is a fun hack that I have been dying to try for a long time. You create an image on your computer, print it out and cover it with clear packing tape. Place it in water. Remove the paper and let the tape dry and you are left with a custom label for a variety of uses.
I used this technique to make cute holiday labels for candles that I made with dollar store glass candleholders. I love the way they turned out.
This post contains some affiliate links (that means if you make a purchase after clicking a link, there's no additional cost to you, but I will earn a very small commission. ) i.e. as an Amazon Associate, I earn from qualifying purchases. Click here to read my full disclosure policy.
How to Make a Packing Tape Label
Create a graphic on your computer. (feel free to use my graphics below)
Print it out and cut it down to size. (inkjet printers work but laser printers are better)
Cover the image with heavy-duty clear packing tape.
Use a ruler, credit card or other flat edge all over to press out any bubbles.
Set the label in a bowl of warm water for 10-20 minutes.
Remove the label from the water and start to rub off the paper with your finger. Continue dipping it into the water and gently rubbing off all the paper.
Then set the labels on waxed paper to dry with the original sticky side up.
Once the label is dry the stickiness should be back and you can place it on the candleholder. Use a straight edge to rub out any bubbles or imperfections.
Tips for Making Packing Tape Labels
Use a laser printer or copier. Inkjet printers tended to rub off some with removing the paper.
Use a bold font. It just worked better. I tried a thin font and it just didn't look as good.
Use heavy-duty packing tape. I tried it with old tape we had in the house and it had too many imperfections such as lines and bubbles.
When removing the paper hold the label up to the light so that you can see any additional paper residue that was left behind. If so, set it back in the water for a minute then take it out and remove any excess.
How cute are these!
Free Printable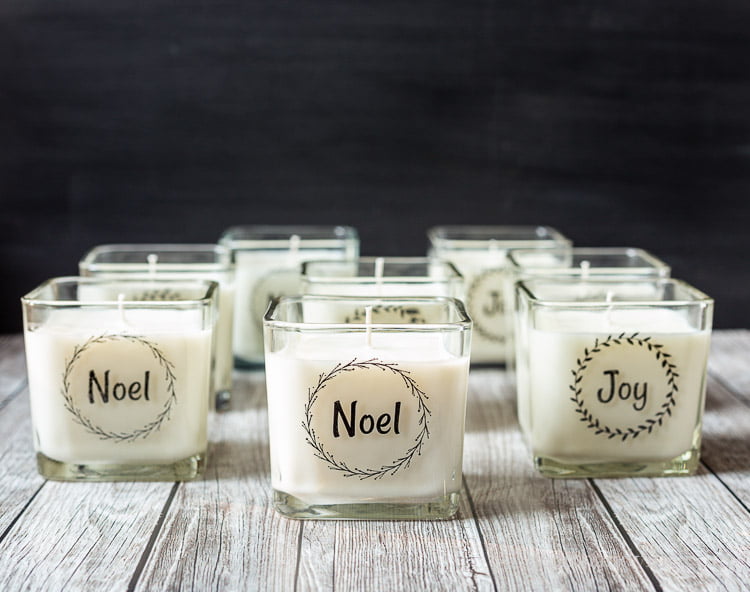 Making Candles
These nice square candleholders were purchased at Dollar Tree. You could simply add votives or small pillars inside but I wanted to make scented candles. I made these candles much like the Antique Teacup candles from last year.
I used 5 pounds of soy wax to fill 8 candleholders. The fragrance oils came from Candle Science. Half of them are the same fragrance I used last year called "Christmas Hearth" and the other half are "Cranberry Apple Marmalade." Both were in 4 oz bottles and made the best smelling candles.
I'm thrilled with the way these candles turned out. Isn't this packing tape a great hack? Of course, you don't need to make candles. You can label drinking glasses or use them for organizing supplies. So many possibilities. However, I have a lot of candle lovers on my list, so for me making candles was a no-brainer.