Learn how to make beautiful mason jar candles with pressed flowers with essential oils of lemon eucalyptus and lavender.
This is the year of the cicadas where I live, and I don't know if it's just me, but it sure seems a little extra buggy outside. I decided to make some pressed flower mason jar candles to deter these pesky insects. Especially after reading an article from the CDC ranking lemon eucalyptus essential oil right up there with DEET, as an effective repellent.
Update: After further reading, it turns out that the CDC is discussing the benefits of a synthesized plant oil derived from lemon eucalyptus, and not the pure essential oil when comparing it with DEET for effective use in repelling insects. Natural oils such as essential oils are exempt from registration from the EPA and although are considered safe their effectiveness is not known.
I noticed that some of my lavender already bloomed, so I needed to get out and harvest what was still in bud, to dry for projects.
Now I can use last season's lavender for the candles.
This post contains some affiliate links (that means if you make a purchase after clicking a link, there's no additional cost to you, but I will earn a very small commission.) Click here to read my full disclosure policy.
Candle Supplies
Pint-sized mason jars
Soy wax (approx. 5 pounds for 12 jars)
Wooden Wicks or Cotton Wicks
Lemon Eucalyptus Essential Oil
Lavender Essential Oil
Pressed flowers
Dried Lavender Flowers
Melt the wax in a clean empty tin can or candle pitcher in a pot of water on the stove.
Using an old paintbrush, coat one side of the flowers with wax.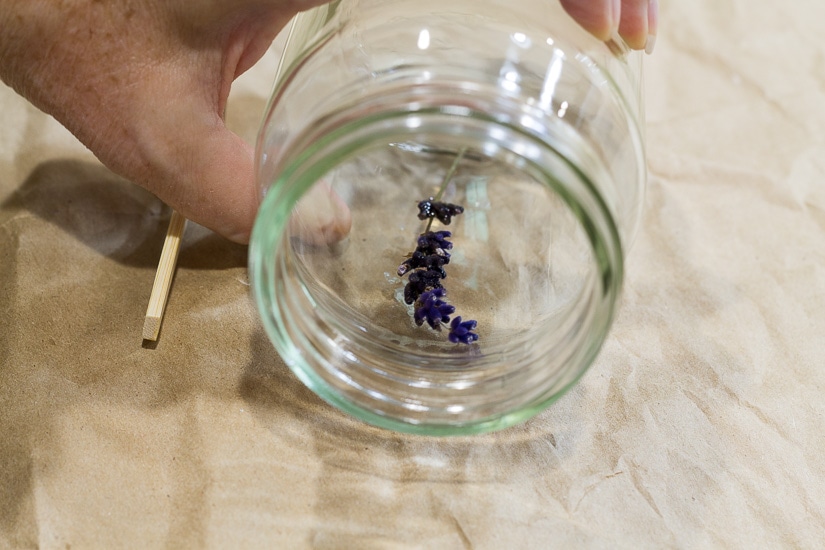 Set the mason jar on its side and slide the flowers into place.
You can use a wooden skewer or pencil to help place the flowers.
Once you have all the flowers in place you can set your wick. I tried using some wax but it did not stay put, so I used a little hot glue. I've used hot glue to secure wicks before with no problems.
This wooden wick is a new item for me and I love the way it looks. It did have some problems staying lit. After googling this problem, I found that it helps to soak the wicks in the wax first. What I did was paint additional wax around the top of the wicks and cut them short and that seemed to help. If you are concerned just use a cotton wick.
When using cotton wicks, after you glue the base, wrap the top of the wick around a pencil, and lay the pencil across the top of the jar to help keep it in place.
Next, you need to go back and add more wax around the flowers, to help them stay in place.
Add the essential oils to the candle pitcher or tin can. I used about 100 drops per candle with 40 lemon-eucalyptus and 60 lavender. You can adjust these to suit your preference. The recommended amount of essential oil is all over the place. Anywhere from 30 drops to as much as 300 drops per 16 oz candle. I decided on 100 because both lavender and lemon-eucalyptus are strong scents. Also, I wanted to make sure they would be strong enough to repel the bugs, but it's really up to you.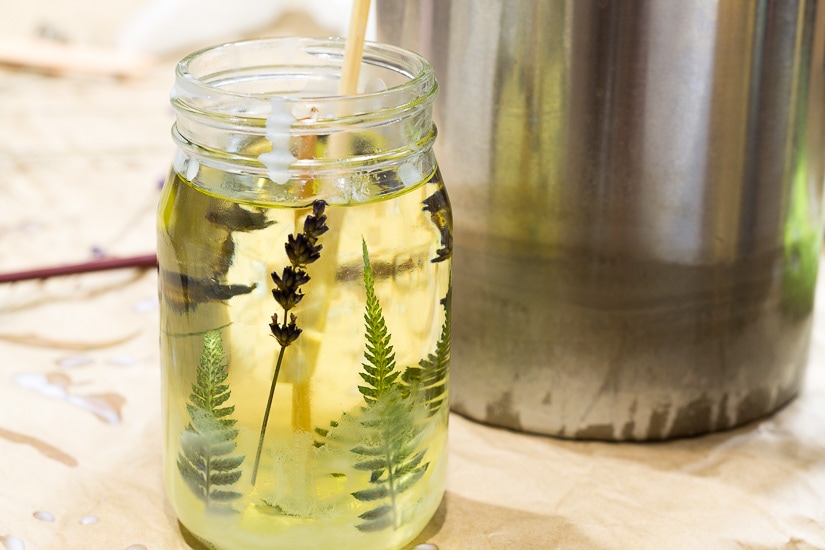 At first I did not add extra wax. And as you can see here, the flowers are starting to float away from the side and up to the top.
Adding the additional wax helped with this problem. By the way, I tried using hot glue to adhere the flowers to the side but it did help.
I wonder if the temperature of the wax would make a difference? I also spray painted the lids with gray spray paint, just because I liked the contrast with the wax.
Pressed Flower Mason Jar Candles
Pressed flower mason jar candles. Wouldn't it make a nice homemade gift?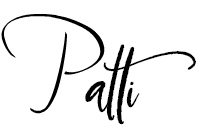 ---
P.S. You may also like this Mason Jar Oil Candle or these Decorated Candles with Pressed Flowers. You can find them and much more on my DIY/Projects Page.
Click Here to Save to Pinterest!