Try this easy DIY room spray project with essential oils to enjoy at home. Use one of the three recipes displayed here or create your own.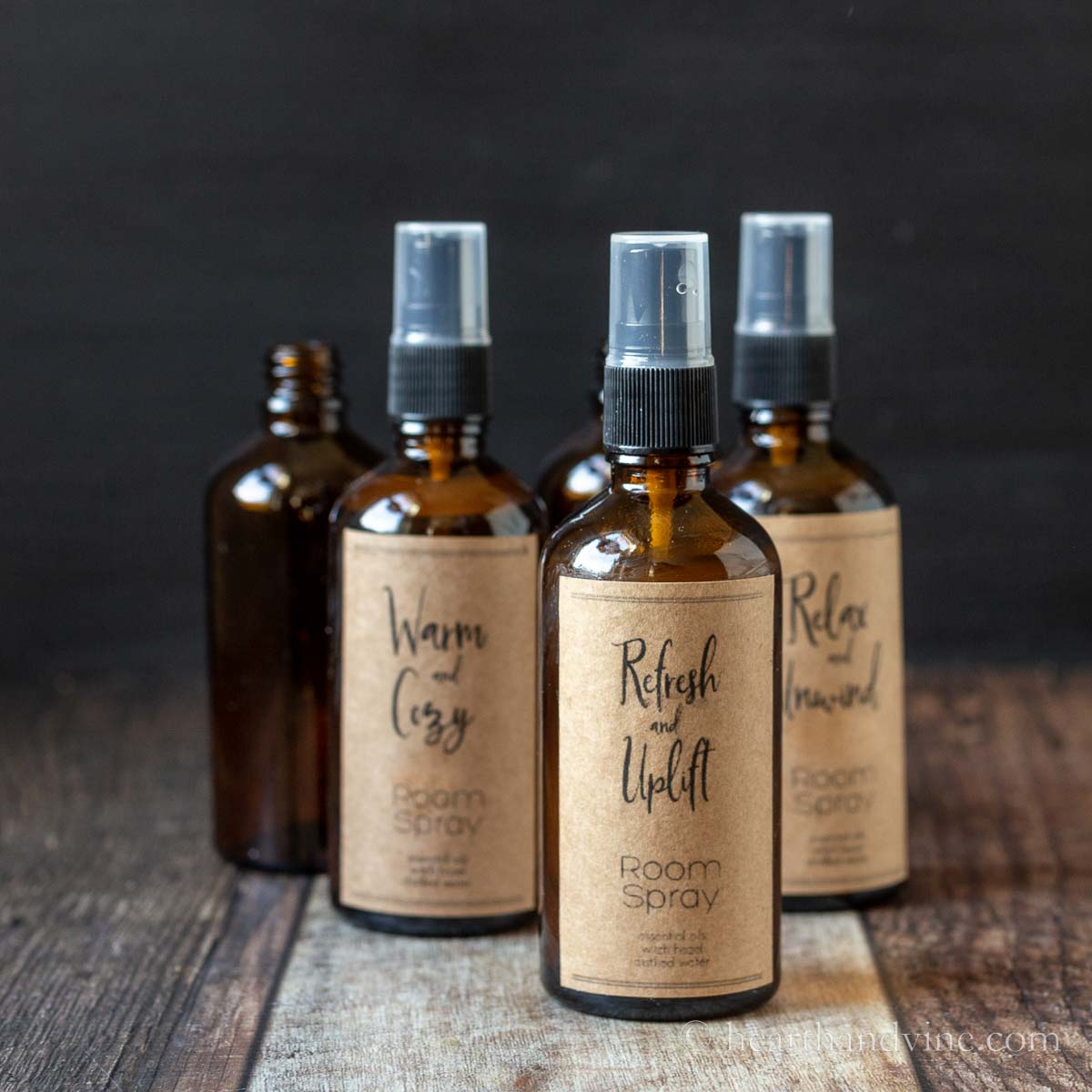 I have lots of projects that utilize the wonderful natural scent of essential oils. In addition to their aromatherapy qualities, they just smell great. Today I'm sharing some nice room spray recipes along with a basic recipe that you can use to create your own. They make great gifts for friends or family or a simple air freshener for your home.
This post contains some affiliate links (that means if you make a purchase after clicking a link, there's no additional cost to you, but I will earn a very small commission. ) i.e. as an Amazon Associate, I earn from qualifying purchases. Click here to read my full disclosure policy.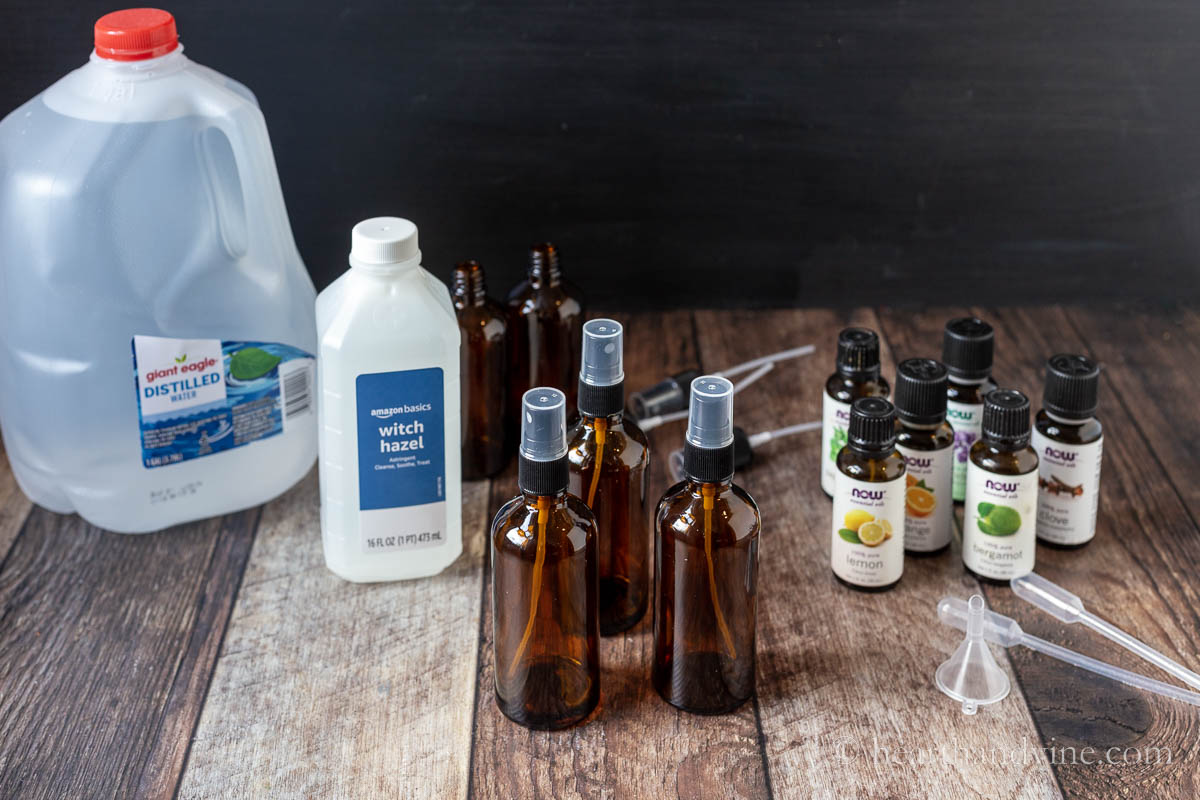 Supplies
8 ounce glass or plastic bottles with a spray top (I prefer dark to help the oils last longer)
Essential Oils - All your favorites or favorite combinations
Witch hazel - This helps the oils mix well with water
Distilled water - just in case your tap water has any scent or unnecessary extras
Mini funnel or bendable plastic cup, essential oil droppers if needed.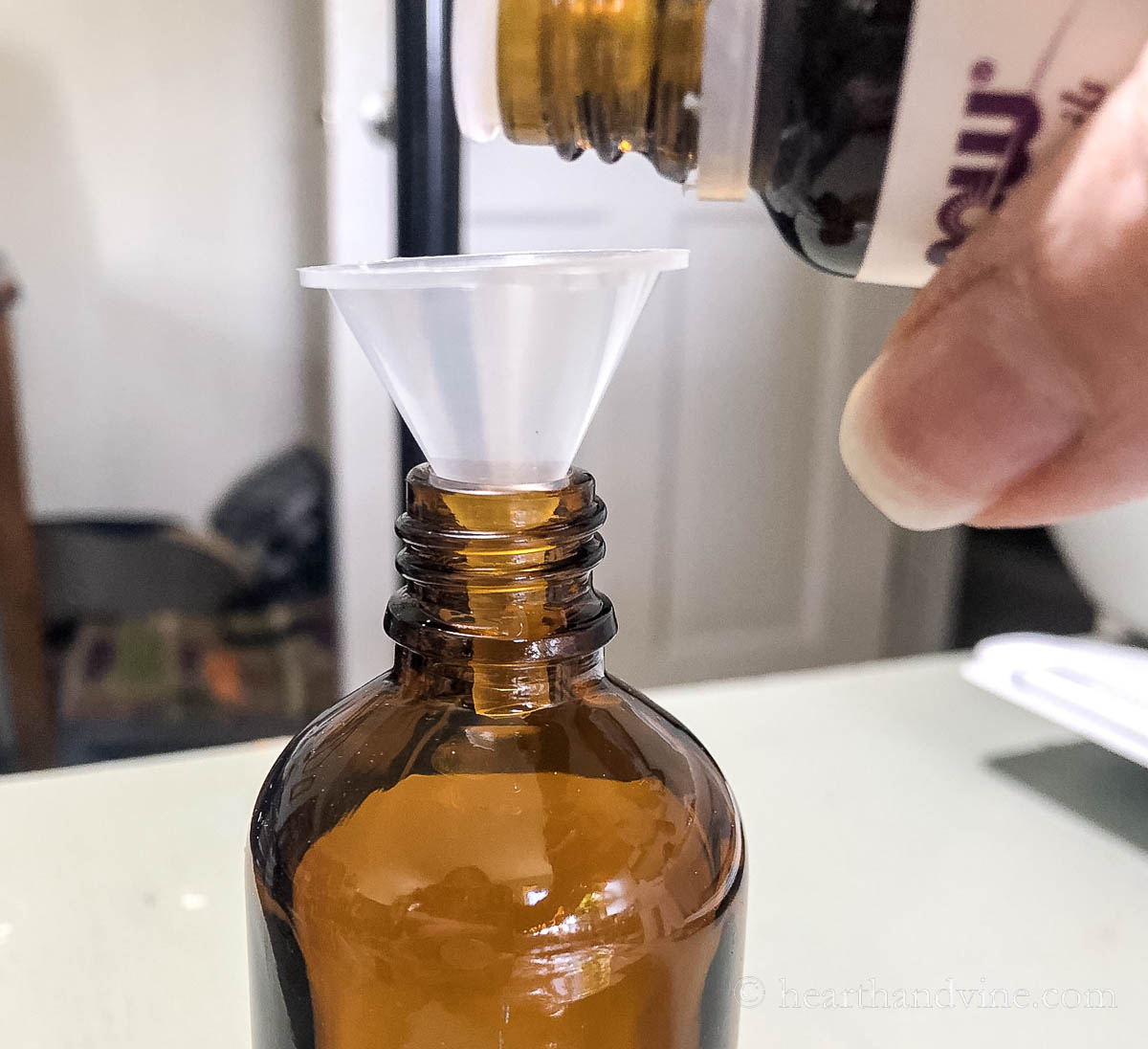 Making DIY Room Spray
These amber glass bottles came with a spray top and this cute little funnel.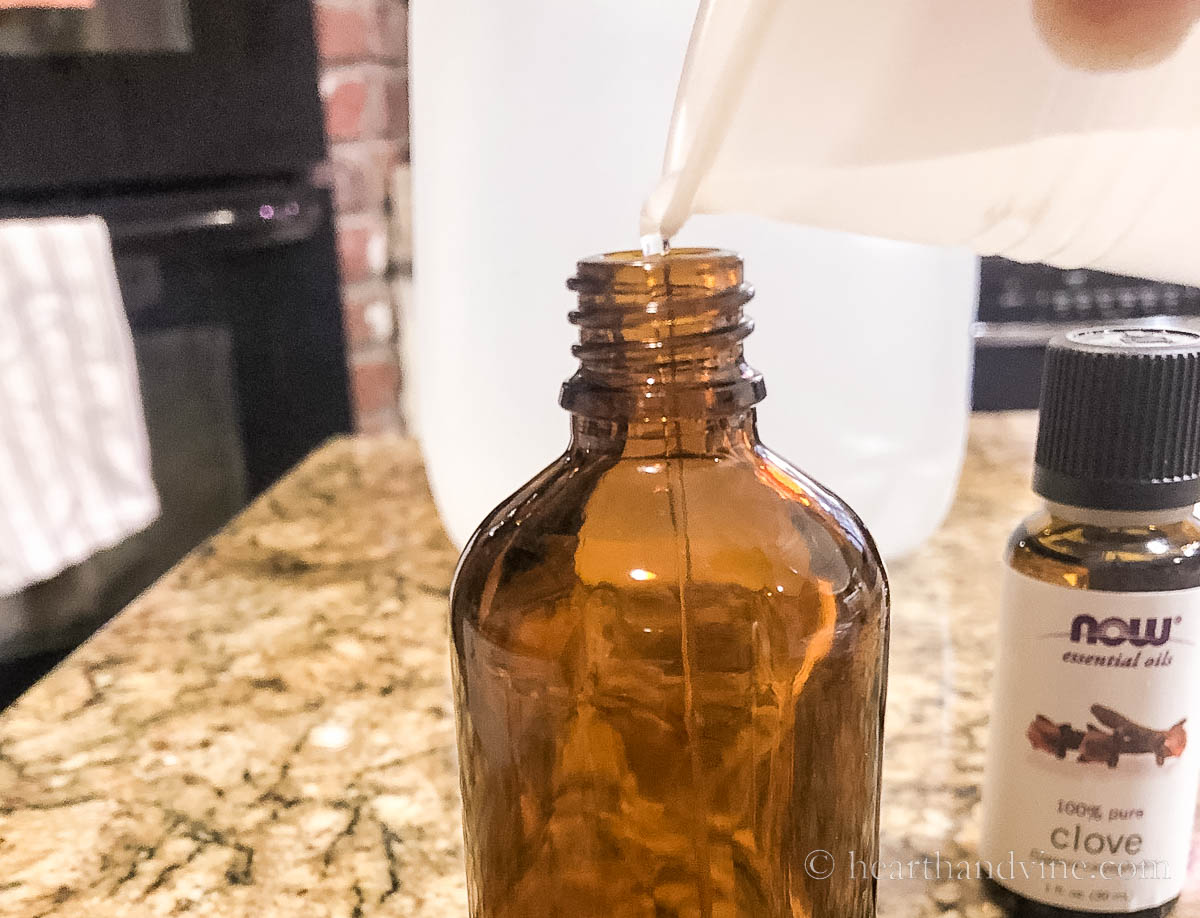 However, if you don't have a little funnel you can use a plastic cup like the one above and pinch it to pour into your bottle.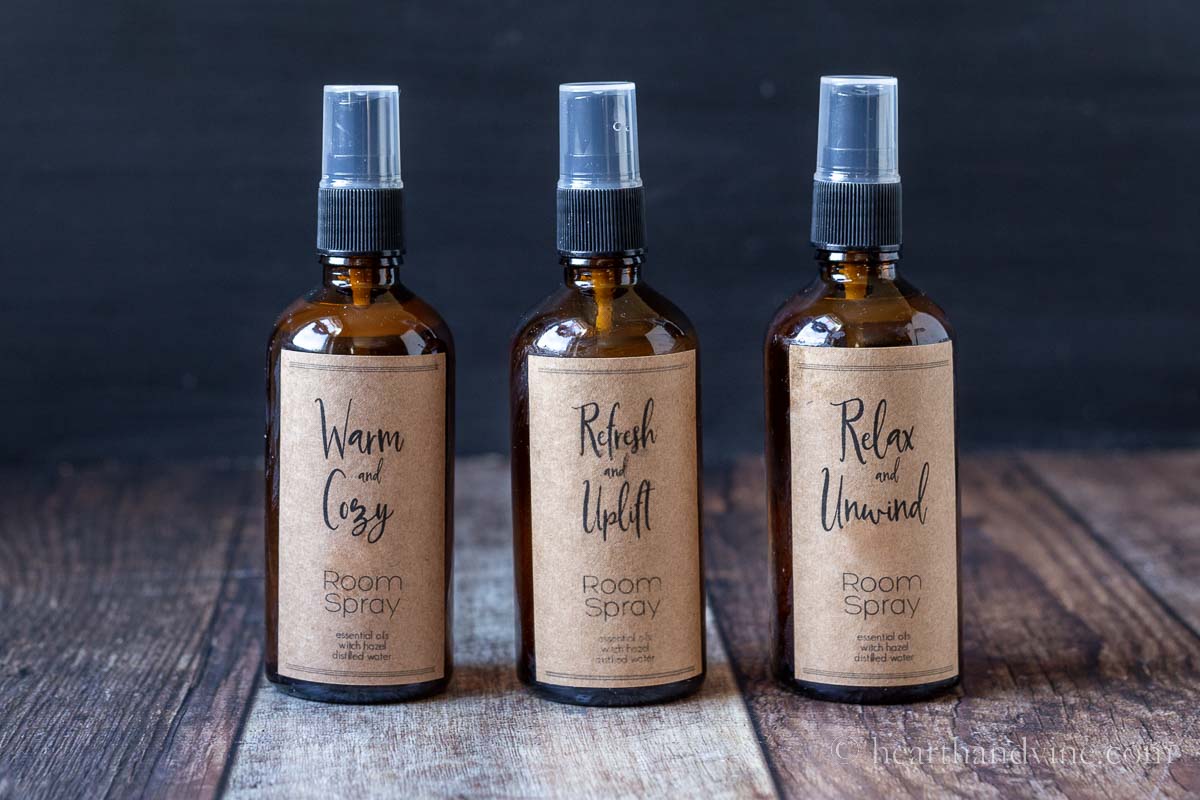 Using dark bottles helps keep the light out from your home or the sun. This will keep them from expiring too soon.
I'm also using witch hazel to combine the oils with distilled water. Some people don't like the smell of witch hazel. You can substitute grain alcohol or a high-quality vodka. However, I think that these alcohols have their own scent so it's a matter of preference.
Distilled water is preferred over tap water because some people have added chemicals or sulfur which may contaminate or change the way the spray smells or works.
Essential Oil Room Spray Recipes
Here are a few general essential oil combinations that I like. Feel free to make your own blend. Note that some essential oils are very strong while others are not strong at all. When creating your own, start with a few drops and continue to add as much as you like until you get the scent you want.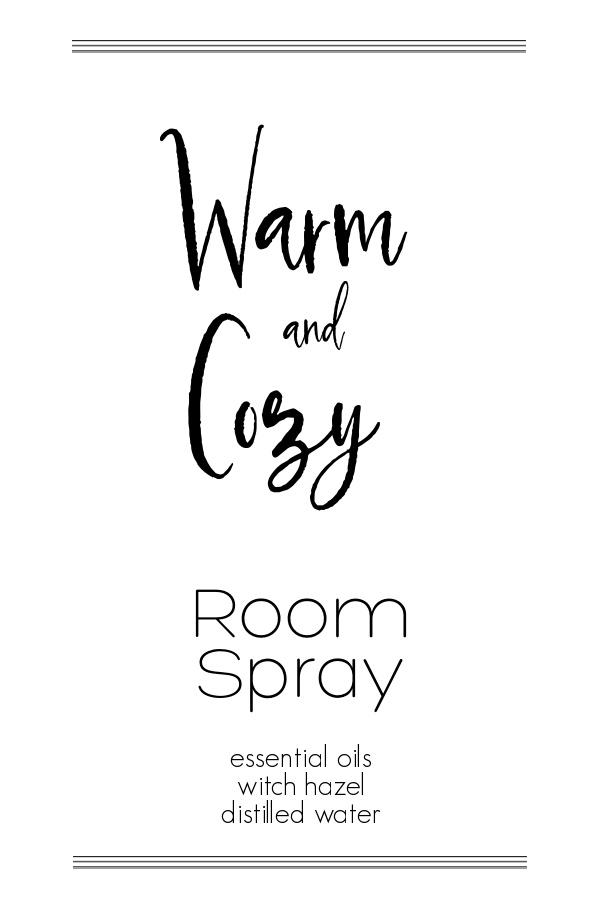 Warm and Cozy Room Spray
to an 8 ounce bottle add:
Sweet Orange Essential oil - 30 drops
Cinnamon Essential Oil - 10 drops
Clove Essential Oil - 5 drops
1/8 cup Witch Hazel
Distilled water
---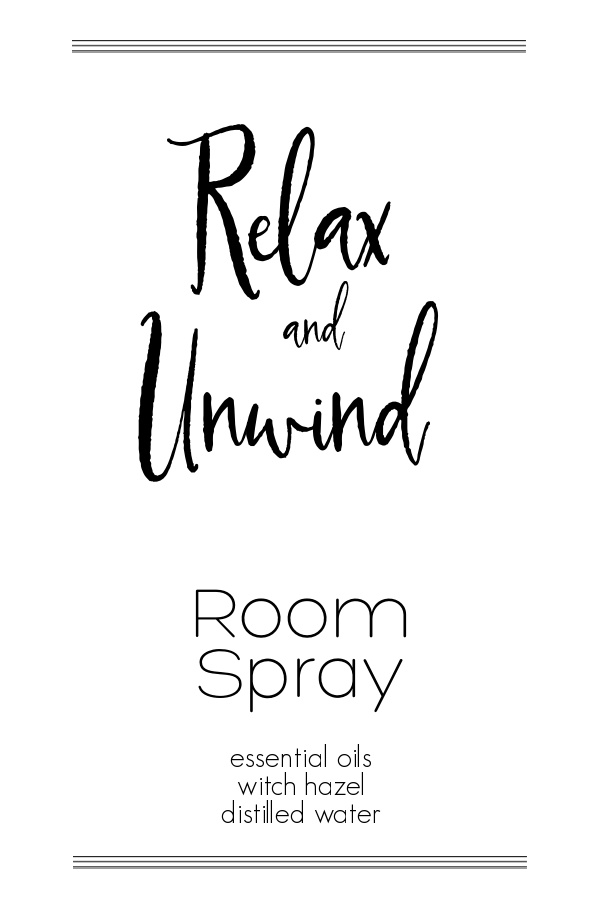 Relax & Unwind Room Spray
to an 8 oz bottle add:
Lavender Essential oil - 20 drops
Bergamot Essential Oil - 15 drops
Geranium Essential Oil - 5 drops
1/8 cup Witch Hazel
Distilled water
---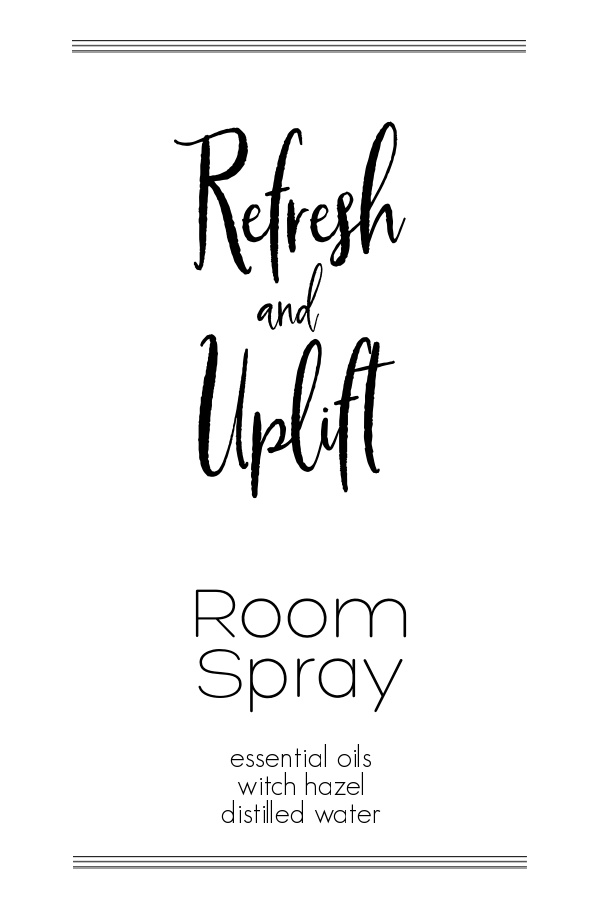 Refresh & Uplift Room Spray
to an 8 ounce bottle add:
Lemon Essential oil - 30 drops
Grapefruit Essential Oil - 15 drops
Rosemary Essential Oil - 5 drops
1/8 cup Witch Hazel
Distilled water
If you like my labels you can click on one and it will take you to a pdf filled with labels that you can print. I used this brown kraft paper and Mod Podge to create and glue my labels to the bottles but regular printer paper and white glue will work just fine.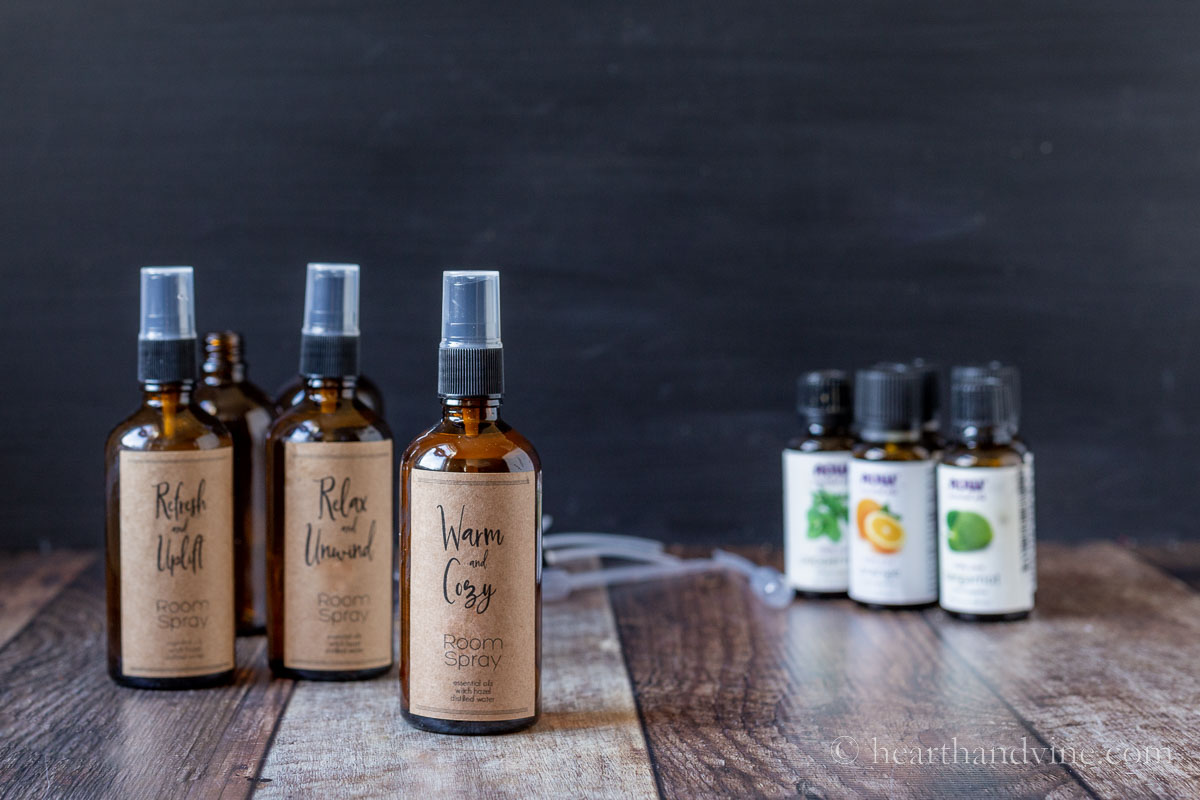 If you already have some essential oils in your craft stash then this is a no-brainer. Using your favorite scent, combo, or blend to make a room spray is perfect for refreshing any room and lifting your mood.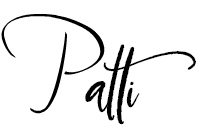 More Essential Oil Projects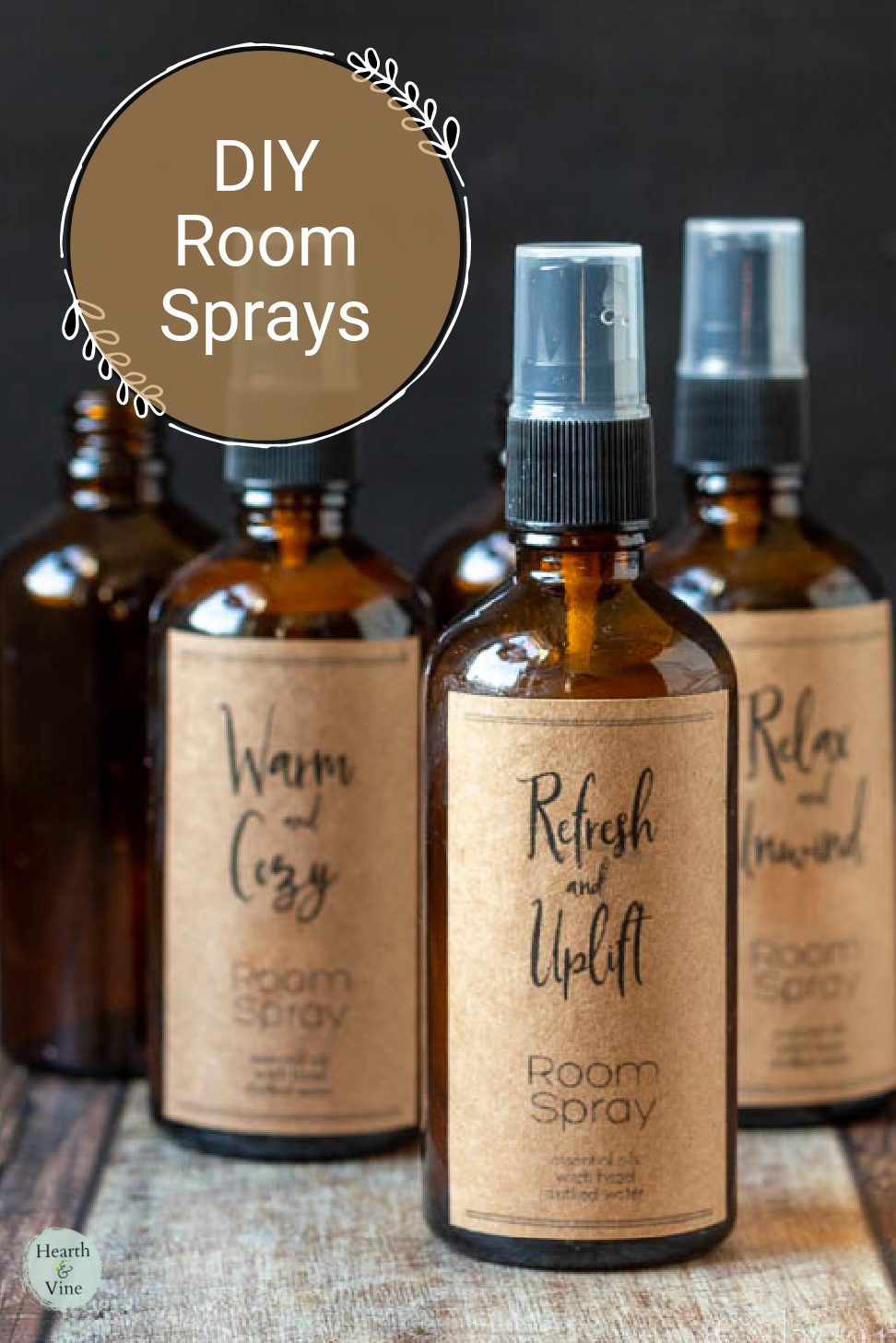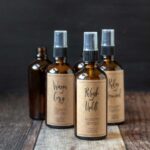 Print
DIY Room Spray Recipe
Learn how to create a homemade room spray with essential oils and a few other ingredients for your home.
Equipment
Essential oil dropper if needed

Plastic cup or funnel

Measuring cups or tablespoon measuring spoon
Materials
8

ounce

dark glass bottles with a spray top

1/3

cup

distilled water

1/8

cup

or 2 tablespoons of Witch Hazel

50

drops of essential oils or an essential oil blend
Instructions
Place 50 drops or combinations of essential oil drops in the bottom of an 8 ounce dark glass spray bottle.

Add 1/8 cup of witch hazel.

Add distilled water to the top approximately 1/3 cup.

Screw on the sprayer top.

Shake and spray wherever you like.
Notes
50 drops of essential oil is a rule of thumb. Some essential oils are very strong so you may not need as much. Conversely, some are not very strong and you may want more. You can experiment by starting with less, then add more until you reach your desired scent.
They make great gifts or a simple air freshener for your home.