Making a fabric covered window cornice is fairly easy and can end up being a very affordable and pretty way to dress up a window in any room.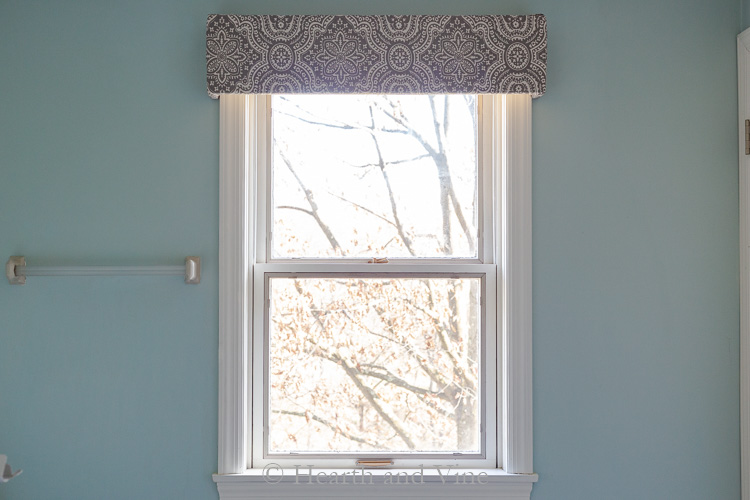 It's week three of the $100 Room Challenge.
If this is your first time here, Welcome! You can catch up by reading the previous posts (or jump ahead) of this bathroom makeover and the $100 room challenge here.
Intro and Before Pics - Week 1
Bathroom Vanity Makeover - Week 2
How to Make a Window Cornice - Week 3
Here's a before picture of the bathroom window. We had old pinch pleat drapes with screwed in hardware that came with the house. At some point, I added the sconces and some bright colored fabric to dress it up.
Here's what the window looks like without the drapes and valance before we removed the drapery hardware.
I found some fabric in my stash that I thought would look great with the new gray vanity. The only problem was I didn't have very much of it. The width only measured 36 inches wide. This would cover the front of the window but not the sides so I had to add a piece of fabric to each side.
My husband made a box from a 1" x 8" x 8' piece of lumber. Just big enough to cover the window.
The face was 35 inches wide and 8 inches long and the sides were 4 inches deep. Another piece to cover the top was nailed to the front and side.
We bought a four-pack of corner braces; 2 for stability and 2 to attach to the window frame.
Then I covered the box with some quilt batting, followed by the fabric using a staple gun.
Here's the top of the box which will not be seen once it is attached to the window.
Here's a view of the corner braces attached to the box and then to the window frame.
I like the way it looks but we still had one problem. No privacy. Most of the time no one is using this bathroom. However, when our girls visit or when we have company they will need some privacy as this window faces the street.
To solve this problem we picked up a paper shade. It works but it's very cheap and I regret this purchase. I paid over $7 for this blind and I know I could have bought a set of white mini-blinds for the same price. Oh well, it will have to do for now.
Project Costs for Fabric Covered Window Cornice:
Lumber - $10.21
Corner Braces - $2.48
Batting - $0.00
Fabric - $0.00
Total -

$12.69

Remaining budget -

$87.31
I still have over $87 to spend on this bathroom. However, I need to purchase a new shower curtain, bath mats, add shelving and decorate. Stop by next week to see the last stage of the makeover before the final reveal.
For now, stop by and see all the other wonderful progress my friends are making to their rooms below.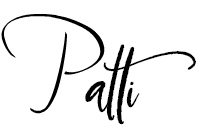 ---
P.S. If you like to read about budget makeovers I have two other $100 makeovers. The first time I participated in this challenge I updated our master bedroom. The second room I tackled was my home office. They both turned out great and still look good today.