This bathroom vanity makeover was completed by using leftover paint and repurposed hardware to create a clean modern look.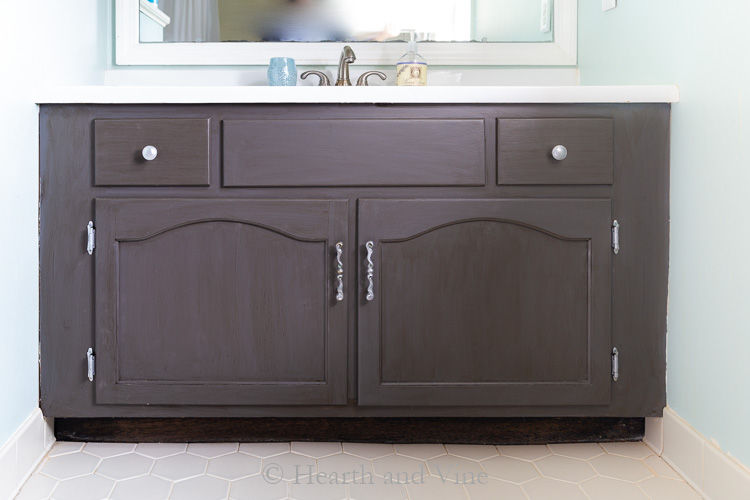 It's week two of the $100 Room Challenge.
If this is your first time here, Welcome!
You can read all about the origin of this bathroom makeover (or jump ahead) and the $100 room challenge here:
Intro and Before Pics - Week 1
Bathroom Vanity Makeover - Week 2
How to Make a Window Cornice - Week 3
Bathroom Vanity Makeover
I couldn't wait to tackle this ugly vanity. To be honest I'm a little embarrassed that I haven't done anything to it before now. But, you know how it is. There's always something. Time, money, and life just gets in the way.
This is precisely why I have joined Erin from Lemons, Lavender, and Laundry each January for the challenge.
It's the perfect way to update a neglected room without having to break the bank.
Create New Hardware
The first thing I did on this bathroom vanity makeover was to remove all the hardware.
Then I used a little silver rub and buff
on the old hardware from my kitchen update, to create shiny new hardware for the vanity. I love this stuff and have used it on many projects. Mostly for mirror frames that were wooden and I wanted a metal look. It comes in several colors and is super easy to use.
I even used it on the hinges.
However, I wasn't completely happy with the old handles from the kitchen. They just didn't seem substantial enough, so I took apart the drawer pulls on the original vanity. Then I used the top part, (coated with more silver rub n buff), as the door handles.
I'm super happy with how they turned out.
Next, we removed outdated wood trim on the sides. I was worried that it would be hard to remove but it was only nailed into the base. We filled in all the holes with wood putty and the next day sanded everything and gave it a coat of primer.
Then I painted the vanity with the same gray floor paint I used for our porch makeover. The can states that this paint can be used for interior as well as exterior, so I went for it.
However, it looked a bit flat so I added some dark glaze that we had in the basement from the old oak cabinet makeover in our family room.
I'm thrilled with how well this bathroom vanity makeover turned out. I know, anything would have been an improvement.
Project Costs:
Hardware - $0
Silver Rub n Buff - $0
Paint and Glaze - $0
So far I haven't spent a dime! Everything I used was already in the house. Next week I plan on tackling the window treatment and that will definitely cost me some funds.
Come back and see what happens next, and don't forget to check out the progress from everyone in the group below.