A few diy projects and a beautiful patio pond are the key to this much needed porch makeover, transforming it from old and outdated to fresh and serene.
You know how they say your home is always a work in progress? That's how I feel about this screened porch makeover. We were able to clean it up quite a bit, and it does look much better, but it still feels like a work in progress.
Screened Porch Makeover Reveal
This is a glimpse of what it looks like now. Light and fresh with coordinating colors and fabrics.
As you may recall from my affordable rug post, this house came with wall to wall outdoor carpet. It's pretty ugly and I'm embarrassed that it took us so long to remove it.
The cement underneath had some major cracks, and lots of glue for us to clean before we painted it.
This is the rug we decided to go buy. It was the most affordable, and I'm thrilled at the way it ties the room together.
The color is more of a gray-brown, taupe(?), and it works well with the green print in my cushions and tan wicker.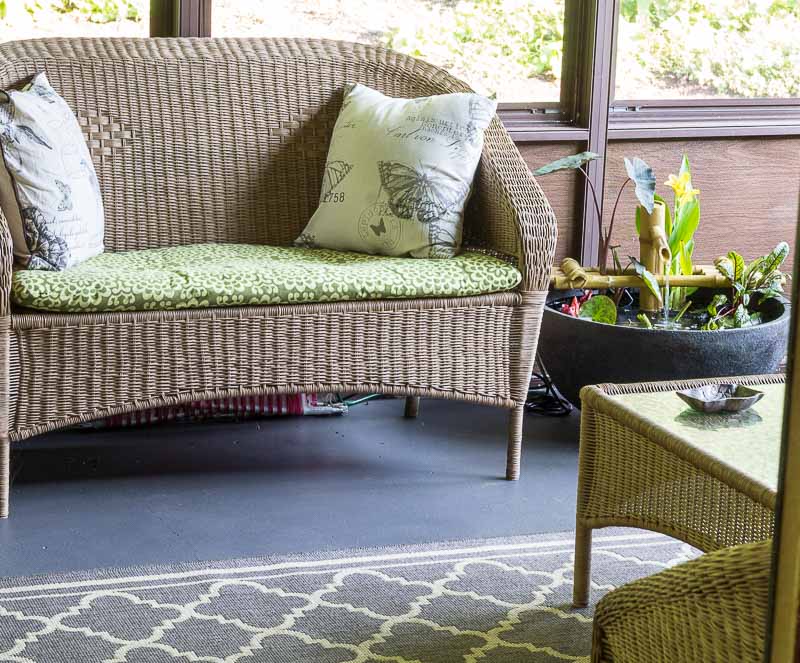 We painted the floor with two coats of Behr patio paint in "Intellectual." It looks a lot darker on the paint chip than it does on the floor. One thing I've noticed when painting. A really dark color tends to look lighter on the wall, or in this case, on the floor. The opposite also seems to be true. A fairly light color actually looks darker when painted on the walls.
This special new patio pond is wonderful for both its beauty and sound, and fits in perfectly next to our loveseat.
Of course I added a few other plants including my over-grown Rex begonia, which could use a little extra sunlight this time of year.
We hang Boston ferns in this room every year. They always add a nice fresh look to the space.
The red couch didn't quite fit in, so I updated it with a more neutral look, by covering the cushions with drop cloth fabric. The pillows were covered too, only I gave them a little personality with a leaf print in varying shades of green, to coordinate with the other cushions.
All in all it looks much better, though I would like to do something with all the brown trim and faux paneling. For now, we'll just sit back, enjoy the space, and invite a few friends over while the weather is nice.