A patio pond can be the perfect solution for those who love the sound and beauty of a water feature but are limited on space.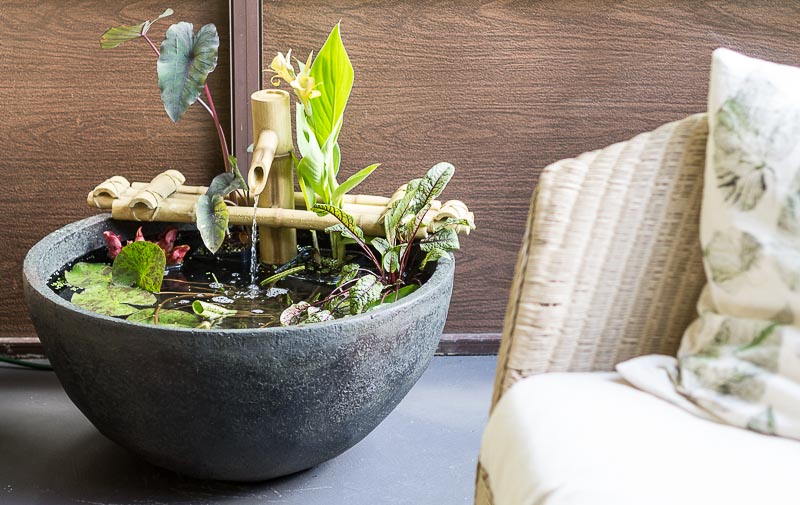 This post is sponsored by Aquascape who also provided me with this wonderful patio pond and bamboo fountain, but the content and opinions are all mine.
What could be more relaxing than the sound of a water fountain on your patio or porch? I've always wanted a pond with water lilies, but never had the space, or energy to build one in the garden. Luckily I found out that there are patio ponds on the market that are perfect for a small space. In fact, I thought this would be the perfect element to complete our screened porch makeover.
A Patio Pond
This patio pond comes with a shelf for marginal plants and holes to thread cords from pumps and filters.
It even has a notched out area at the top edge to hide the electrical cord.
I chose this pretty round green slate option, but they come in 3 different colors and sizes. There's even a square one for a more modern feel.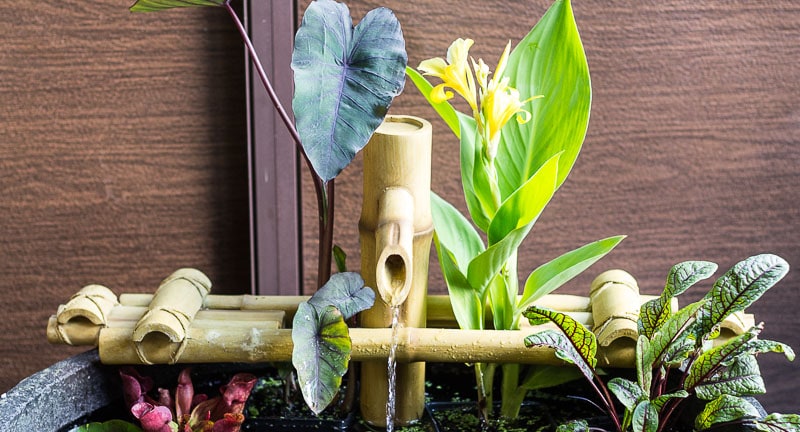 This bamboo pouring fountain makes the most peaceful sound. It also provides the added benefit of constantly moving the water, to keep the insects at bay.
I didn't add fish because my cat, Sweetie, would probably destroy the whole pond trying to get at the little creatures. Oh, but you can have fish in the pond. Aquascape sells the proper filters and just about anything you would need to create the perfect pond for fish and plant life.
Pond Plants
Buying water plants for the first time was so much fun. There was a really nice lady at the nursery that helped me pick out the right plants.
The beautiful dark elephant ear and a yellow canna are in the back. On one side I added a pitcher plant that should grow a bit taller, and will lure any insects into its pretty trap. The other side has a complementary, beautiful red water dock that reminds me of swiss chard.
Of course I just had to have a water lily. This is a yellow one with pretty mottled leaves, and has one bud that is just about to open. The lady at the nursery said that they are not hardy in this area, but that I could place it in a cooler full of wet sand over the winter.
Now I have a great place to sit and relax, listen to the water, and enjoy a good book or a nice glass of wine with some great company.
Come on over and join me!