This recipe for grilled corn avocado salad is perfect to take to your next gathering. Use as a great side dish or add some protein for a complete meal.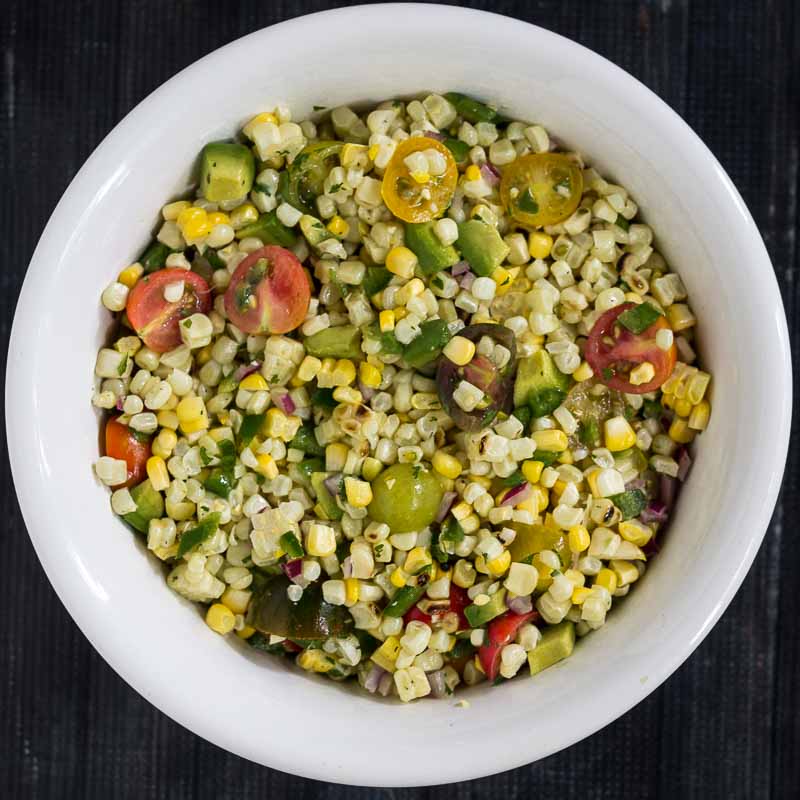 This grilled corn avocado salad recipe is a snap to throw together. It's perfect during the summer when fresh corn on the cob is readily available, fresh from the farm. However, today's supermarkets are carrying corn on the cob in the freezer section, making this dish an option all year long.
Like so many of my recipes, this salad can be adapted to suit your taste preferences. You could add a little protein such as grilled chicken, fish or keep it vegetarian with black beans to make a complete meal.
In this case, I am using it as a side dish. In fact, I recently brought this one to a party that my brother and sister-in-law were throwing. It was well received and I love being able to contribute something to the party, as any good guest would.
For this recipe I included avocados and baby heirloom tomatoes. I really like the way the sweetness of the corn, combines with the creaminess of the avocados, and the bright acidic flavor of the tomatoes.
The key to salad is grilling the corn so that it gets a nice smoky flavor.
For extra spice and color, I added diced fresh jalapeno peppers and red onion.
The dressing was a simple vinaigrette made from fresh lime juice, extra virgin olive oil, fresh garlic and chopped cilantro.
Some many flavors and textures that combine well together, make this grilled corn avocado salad a feast for the eyes as well as the palate.
Yield: 8 -10
Grilled Corn Avocado Salad Recipe
Ingredients
6-8 ears of corn
2 large avocados chopped in bite sized pieces
2-3 fresh jalapeno peppers finely diced
1 1/2 cups baby heirloom tomatoes sliced in 1/2
1/2 c red onion, finely dicedDressing
2 tablespoons of extra virgin olive oil
Juice of 3 limes
2 cloves of garlic crushed
2 tablespoons of chopped cilantro
Instructions
Husk and clean corn.
Grill on medium to high heat for about 2-3 minutes on all sides
Cut kernels from cob and place in a large bowl
Add avocado, peppers, tomatoes and onion.
Whisk together lime juice, olive oil, garlic and cilantro.
Pour over corn mixture and serve.
You May Also Like:
California New Potato Salad Recipe
Summery Lemon & Dill Red Potato Salad
Quinoa Salad Recipe with Black Beans and Lime Vinaigrette