Today is the day of the home office makeover reveal, showing the complete room, a recap of the tips and ideas, as well as the final budget.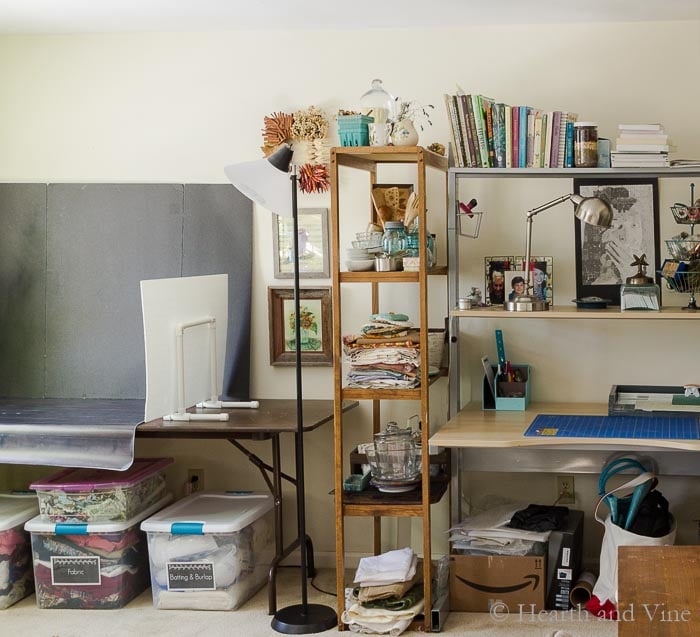 This is it! My home office makeover reveal happens today along with all the other amazing makeovers from the participants in the $100 Room Makeover Challenge.
If you are coming here for the first time you can find all the weekly updates here:
Home Office Makeover Reveal
Week 1 Week 2 Week 3 Week 4 Week 5
This makeover was all about organization. It's not as dramatic as some of the other fabulous makeovers, but I can't begin to tell you just how nice it is to have my workspace, which I spend more than 40 hours a week in, become a beautiful, organized, and efficient place to run my business.
Main Takeaways:
Declutter by removing those items which you don't need or don't belong in this space.
Organize like items and making those which you use frequently more accessible and those that you don't pack away.
Measure everything so you know what you are working with.
Add Value by playing to your senses, which will, in turn, uplift your spirit and make you more creative and productive.
Save money by shopping your home (or maybe your mom's) and re-purpose items with everyday paper and paint for a more cohesive look.
You don't have to spend a lot of money to create a welcoming space to work in. As you will see below, I refrained from buying any more plants and came in under budget. I suspect many people could spend even less money to organize and refresh their space.
Final Cost Breakdown
4 fabric boxes from Dollar Tree .........................5.30
file box and shelves from Amazon....................32.48
4 large storage bins from Home Depot...........28.28
4 wooden dowels from Home Depot...............6.76
plastic pipe and caps from Ace Hardware.......13.50
Cyclamen plant from Trader Joes........................4.99
Grand Total $91.31 .... $8.69 under budget!