$100 challenge to makeover the room of your choice. See how this home office/craft room goes from chaotic to organized in one month on a tight budget.

Last January I participated in the the $100 Room Challenge hosted by Erin Meyers of Lemons Lavender and Laundry. I tackled my bedroom. In case you missed it, you can find all the details here. This year I'm doing it again. It's the perfect activity for me to get back into work after a few weeks of holiday indulgence. My $100 challenge will involve tackling my office/craft room. It really needs some major attention, and since I spend so much time here, I want it to be a place I feel energized and productive.
If you are coming here for the first time you can find all the weekly updates here:
$100 Challenge - Office/Craft Room Makeover
Week 1
Week 2
Week 3
Week 4
Week 5
Here's my work desk. It's full of clutter and though I created this nice large desk from cabinets with plenty of space, it's not organized at all. One of my main goals is to create a place for important documents that are easily accessible, while storing other extra office supplies away.
This is one of the places I take photos for the blog. It also doubles as a spare bed. However, with 4 bedrooms and two adult children, we rarely need this extra bed so I'm considering replacing the bed with a table. The soft bed sometimes creates a weird angle in photos. A table will provide more storage space below. I also need to create a space for organized props instead of the mishmash you see here.
Here's one of three shelving units in the room. All cluttered and unorganized.
The other two are located in the bedroom closet. We did remove the doors a long time ago to make it easier to get to. Still, I find that I don't know what I already have, and even if I think I may have a particular material, I often can't find it and end up buying new. Very wasteful.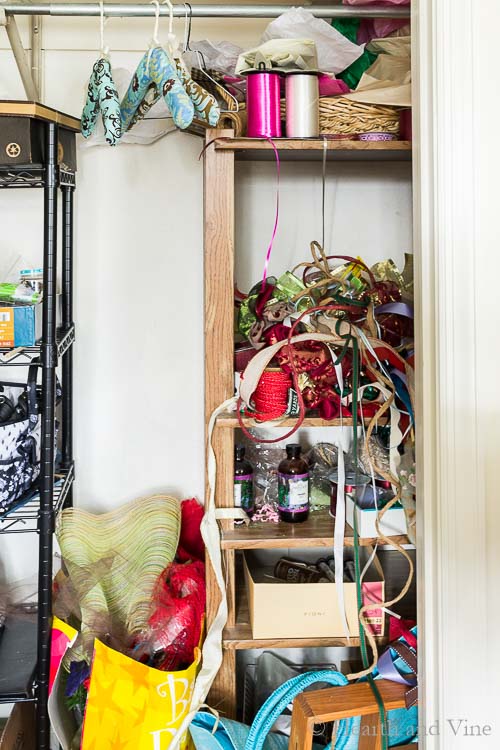 This pile of ribbons is an embarrassing mess. I have a plan that will hopefully keep this area neat and tidy.
Lastly, there is this sewing area. Not too bad expect for the huge pile of fabric and pillows that I've hidden behind the door.
I really have a good deal of work to do.
However, I'm actually kind of excited, because I can already tell how great it will feel, and how much more productive I will be when this project is complete.