Playing to your five senses is a great way to increase creativity and become more productive in your work environment.
This is the fourth week of the $100 Room Challenge. Usually this is final makeover day, but since this January has five weeks, you'll have to wait until next week for the big reveal. Instead today I want to share some ideas for engaging your five senses, that will in turn help increase creativity and productivity in your work space.
If you are coming here for the first time you can find all the weekly updates here:
Increase Creativity in the Workplace
Week 1 Week 2 Week 3 Week 4 Week 5
This post contains some affiliate links (that means if you make a purchase after clicking a link, there's no additional cost to you, but I will earn a very small commission. ) Click here to read my full disclosure policy.
Sight
Obviously a neat room with everything in it's place helps our concentration, and keeps us from being distracted. For this makeover I've done the cleaning and organizing which has been a huge improvement, but a couple of other things that will help me in the future is the overall aesthetic of the room.
Using cohesion when decorating a space is a good way to unite the room together. One way I've accomplished this is by creating labels in the same color and font for all of my boxes. I also covered some of the boxes with brown craft paper, and tried to keep a neutral color scheme overall. (Brown paper bags from the store turned inside out work too).
Also, there are several pieces of wall art in the room. While I was cleaning I found this really nice friendship wall hanging. Unfortunately the red frame does not work well with the other art which are black, gold and wood. The easy fix is using rub n buff
wax to turn the frame gold.
One last note about sight. Having good lighting is important for productivity in the workplace. Task lighting, for creating and writing, and natural light is a must for photos and overall wellness.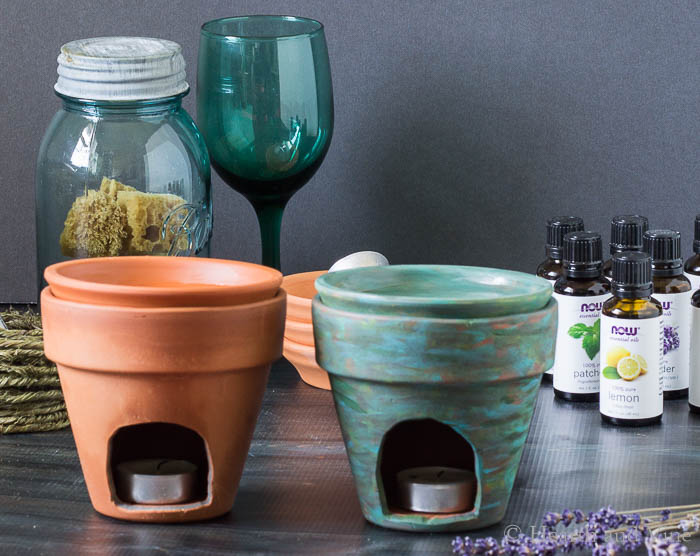 Smell
Aromatherapy is alive and well, and is no longer considered a pseudo-science. Having an essential oil diffuser in your office is a good way to boost your energy and mood. There are many affordable electric diffusers
on the market today, or you can make your own diffuser from a clay pot and saucer. My favorite scent is bergamot. It's the same fragrance that you smell in Earl Grey tea, and is known for its ability to boost creativity. Citrus scents tend to be good work environment scents, because they are energizing and refreshing. Rosemary is said to help with concentration and memory; another good one for work.
Sound
Listening to music can make the time fly by. You can use a simple wireless speaker
to play tunes from your phone, or access free music on the web with sites like Pandora. There's even a site that will play background noise from a coffee shop. This type of ambient noise has been studied and found to increase creativity, especially at moderate levels.
Touch
Keeping a comfortable temperature in your office is key to a good work environment. Having a fan when it's hot, or a little space heater on cold days, will keep you feeling good and you won't look for excuses to leave the office. Another idea, and this one is especially true for me, is having living plants in your work area. Not only do they provide texture and beauty, they clean the air of pollutants to help keep you healthy.
Taste
Lastly, is our sense of taste. Having healthy snacks nearby and keeping hydrated, will help you stay focused on the task at hand. Flavored seltzer water and raw almonds are my favorites to have around while I'm working. What are your go-to treats?
Budget Update:
New Cyclamen plant (I couldn't resist) ....... $4.99
Add $86.32 from week 3 ......New Total = $91.31
............ leaving $8.69 left for another plant. 😎