This recipe for Thai bean dip has all the bold flavors of Thai cuisine and tastes great with veggies for a tasty yet healthy appetizer you can feel good about.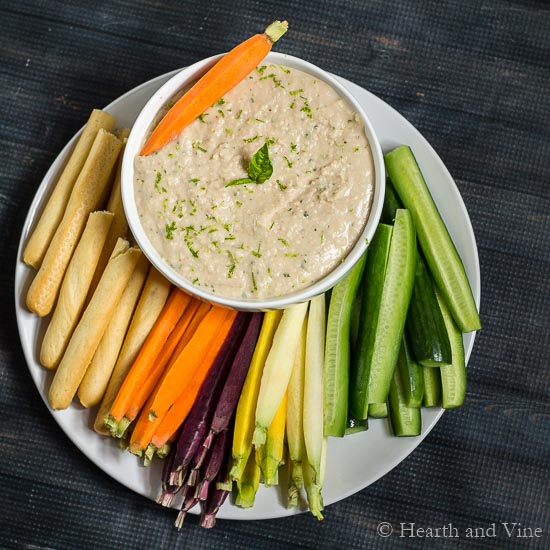 White beans are the main ingredient in this tasty Thai bean dip. They make a great base for a veggie dip, because they are full of fiber and protein, and they rank low on the glycemic index. That means they are digested more slowly, and cause a slower rise in your blood sugar. This makes them a "Good Carb." So, if you're going to a party, but also trying to watch your waistline, why not bring something healthy that you can enjoy along with everyone else?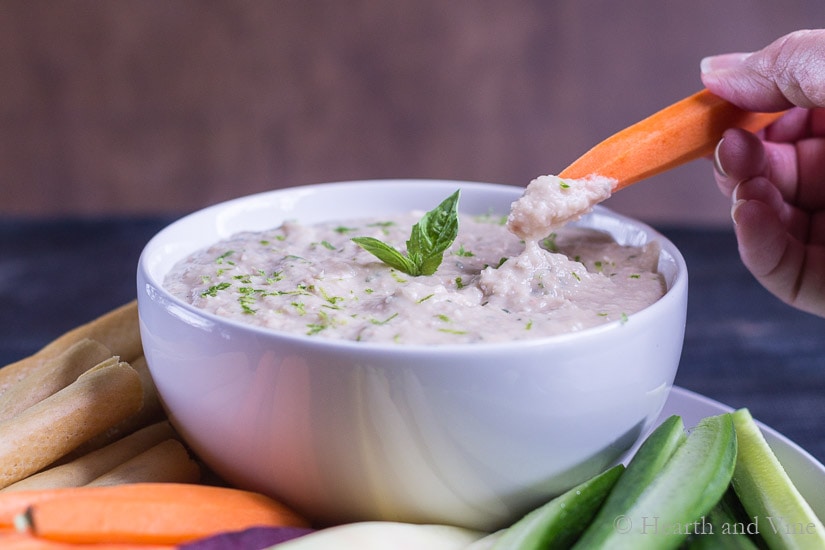 Since white beans have a very mild flavor, you can doctor them up with seasonings and add-ins to create a delicious and healthy snack.
Thai Bean Dip
Like my Thai Burrito Bowl, this dip has lots of ginger, spicy peanut sauce and lime. It's super adaptable, so you can have fun experimenting with your favorite herbs, spices and flavor combinations. But, if you like the taste of Thai, you will definitely want to try this one first.
Served with fresh veggies and breadsticks so you can feel good about eating more than a few bites.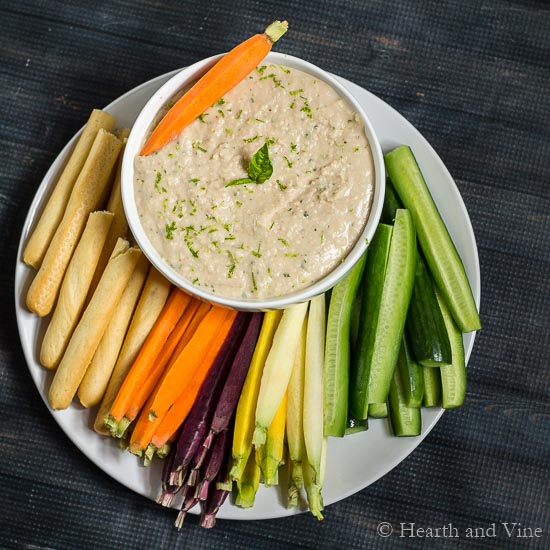 Thai Bean Dip
Ingredients
2 cans white bean (cannellini or great northern)
2 teaspoons grated ginger
1 teaspoon grated garlic
1 tablespoon Thai peanut sauce
1-2 limes, juice and zest
1 teaspoon sriracha sauce
1/2 teaspoon ground corriander
1 tablespoon chopped fresh basil
Instructions
Drain beans and place in food processor
Process well.
Add all other ingredients, saving a little lime zest for garnish.
Process well. Pour into a serving dish
Serve with fresh veggies and breadsticks.
You May Also Like:
Chipotle Aioli Dip Recipe - Your Next Obsession
Authentic Hummus Recipe You'll Love Making Every Time