This authentic hummus recipe comes from my Egyptian born aunt and has become a popular request at parties.
My Aunt Mimi was born and raised in Egypt. She is my father's first cousin, but I call her Aunt, because she is married to my mother's brother. Extremely loving and sweet, this lady may be best known as a great cook. I was fortunate enough to get her authentic hummus recipe. It's a traditional hummus found in many restaurants and markets all over the world. Many of my friends love this recipe, and though I think it's pretty good, somehow it just doesn't hold up to the same level as the original made by Aunt Mimi.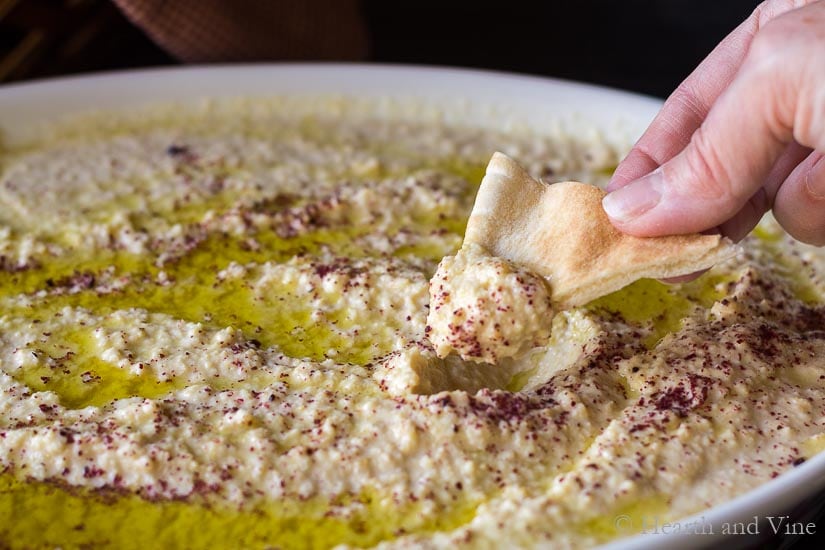 The ingredients are simple, but I think that's what makes it so good. However, Aunt Mimi does have a few secret tips that make this hummus a winner.
For one thing you must use fresh lemon. Reconstituted lemon juice that comes from a plastic lemon will not work.

The garlic must also be fresh. And, if it has a green stem growing in the clove, don't use it.

Serve it with fresh pita bread, but make sure to warm the bread in the oven first.
Authentic Hummus Recipe
Fresh ingredients and a little extra love makes this heirloom family recipe so special, and one I will cherish and make for a long time.
Now, I need to learn how to make her stuffed grape leaves.
Authentic Hummus
Ingredients
2 cans (15 oz) chick peas aka garbanzo beans
1 or more large clove(s) fresh garlic finely diced, pressed, or grated
2 tablespoons Tahini (sesame paste)
1/2 cup fresh squeezed lemon juice
1/2 teaspoon salt
1 tablespoon olive oil
Instructions
Drain chickpeas, saving the liquid.
Place chickpeas and garlic in a food processor.
Add Tahini, lemon juice and salt. Process well.
Add chickpea liquid until the mixture is as thin as you like. It may even set up a bit so I normally make it on the thin side at this stage.
Pour into a serving dish. Drizzle with olive oil and sprinkle with sumac or paprika.
Serve with warm pita wedges.
You May Also Like
Fattoush - Middle Eastern Bread Salad
Middle Eastern Stuffed Zucchini