The 2018 plants of the year are out. Chosen for the easy of growth and versatility, these plants are perfect choices for success in the garden.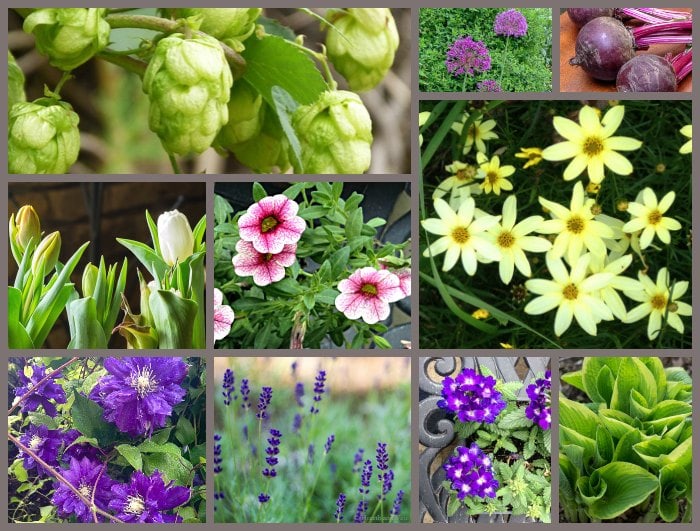 I love following plant choices picked annually by growers and plant societies. Maybe its because I'm kind of a collector at heart. I'm curious about what these experts chose as the best variety or plant type but also I've found them to do well in the garden. So today I'm sharing some of the 2018 plants of the year in case you're looking for something new or just want to add to your own collection.
2018 Plants of the Year
Perennial Plant of the Year - Allium 'Millenium'
The Perennial Plant Association chooses a plant every year. I love allium because they are hardy and the deer and other rodents don't touch them. My allium blooms in the spring but this variety is a summer bloomer. One to add to my shopping list this year. The pretty plant also works great in arrangements and the seed heads are pretty too.
Herb of the Year - Hops Humulus ssp
The International Herb Association choice this year is hops. Calling all you beer lovers, hops is often one of the key ingredients for this popular new hobby of crafting your own beer. Hops are also said to help you sleep. You can buy dried hops and make a little sachet to put under your pillow at night.
NGB - Plants of the Year
The National Garden Bureau chooses four different plants of the year, They choose a bulb, annual, edible and perennial every year. They state that "Plants are chosen because they are popular, easy-to-grow, widely adaptable, genetically diverse, and versatile." Above are some of my own plants that fit these categories. I don't grow tulips because we have too many deer and the beets were from the farmer's market, but I can attest to the calibrachoa and the coreopsis as great plants which are easy to grow and come in number of varieties. In fact, Coreopsis 'Moonbeam' is listed as one of my favorite long blooming plants list.
2018 Hosta of the Year - Hosta 'World Cup'
American Hosta Growers Association chooses a variety for their Hosta of the Year. World Cup is a large textured golden hosta with purple blooms in the summer. I don't own one of these yet, but it looks beautiful, and would add a nice bright light to a shady garden. Click here to see good photos of Hosta World Cup.
Pantone Color of the Year - Ultra Violet
Finally, I always like to check out the Pantone Color of the Year,. to see what's trending in the art world. This year's Ultra Violet is a popular one for flowers. Here are just a few of my own flowers which fit into this category.
If you're looking for new ideas for your garden this year, choosing one that is among the 2018 plants of the year is a good bet.