These organization hacks are perfect for this office office/craft room budget makeover, and may be just the things you need in your own home.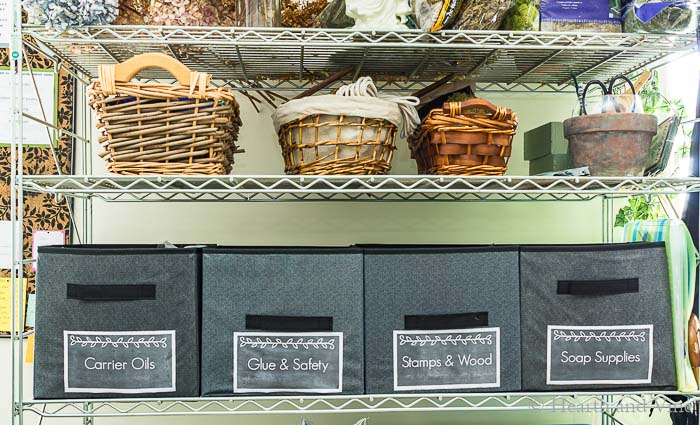 This is the third week of the $100 Room Challenge, and I'm finally making major headway. Today I want to share a few organization hacks or tips that I've used to whip this room into shape.
If you are coming here for the first time you can find all the weekly updates here:
Organization Hacks - Budget Home Office Makeover Week 3
Week 1 Week 2 Week 3 Week 4 Week 5
Visually Accessible
One of my favorite projects was this dowel rod ribbon organizer. This is an old stereo cabinet I have had since college. The top space was originally designed to be big enough to open a turn-table. I wonder how many of you even know what a turn-table is? I hear vinyl is making a comeback, and turn-tables are back in style, but for now it's working great to display my ribbon stash. Maybe you've seen this dowel rod hack before. My friend Karen, from To Work With My Hands, made something similar. However, hers hangs on the wall, and looks like a pretty piece of art. You can see her ribbon rack HERE.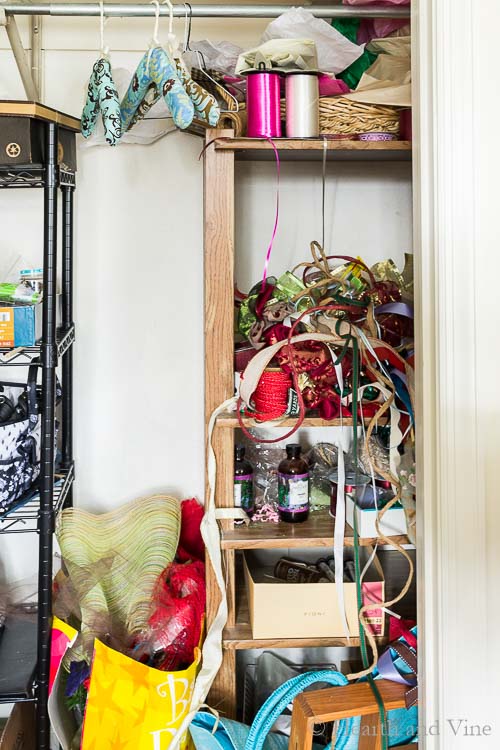 Remember what a mess this was in the before picture. Uggh. How embarrassing.
I also took several nice ribbons that did not have a spool and wrapped them neatly on a sturdy cardboard tube and slid it on one of the dowel rods.
Another simple, but helpful tip, is color coding all my craft paints. Some of them did not have a colored sticker on the top so I made one by painting a circle of copy paper, painting, and gluing it on top.
Contain with Containers
One of my besties gave me this beauty from Magnolia Farms for my birthday a while back. Prior to this project I threw all kinds of things in it. Receipts, photos, magazines whatever.
Now it's on the right side of my computer, (I'm right handed) and it holds all my office supplies and tools that I use most often. In the back I used an old tissue container to hold sharpies on the right. I found that a mason jar lid placed upside down makes a perfect lid. The left one houses scissors and rulers.
There's a mug in the mix, but the rest of the containers are some of the wine bottle glasses I made last year. They're perfect for this purpose. I've also seen people use toilet paper or paper towel cardboard rolls to hold supplies in this fashion.
Go Vertical
Going vertical is always a great way to save space. I've been thinking about buying some lucite or plastic display risers for my plants. However, it turns out that they are pretty pricey, so when I spied these locker shelves in our basement, I thought, "These would work great!"
Use Unconventional Materials
Lastly, not so much an organizational hack, but something that was needed in my office, was a stand for my poster board which I use to reflect light when taking photos. My husband made this dandy apparatus out of plastic pipe and connectors. I can even adjust the caps on the front to give me more or less space to set the board on.
Come back next week where I will be sharing ideas on adding value to help increase productivity and creativity in your home office.
Budget Update:
4 fabric boxes from Dollar Tree .....$5.30
4 wooden dowel rods from Home Depot .....$6.76
plastic pipe and connectors for reflector stand .....$13.50
..... Total = $25.56
Add $60.76 from week 2 ......New Total = $86.32
............. leaving $13.68 left in the budget