This burrito bowl recipe has wonderful thai flavors that you can easily make at home, with chicken, cilantro and fresh lime, for a tasty dish.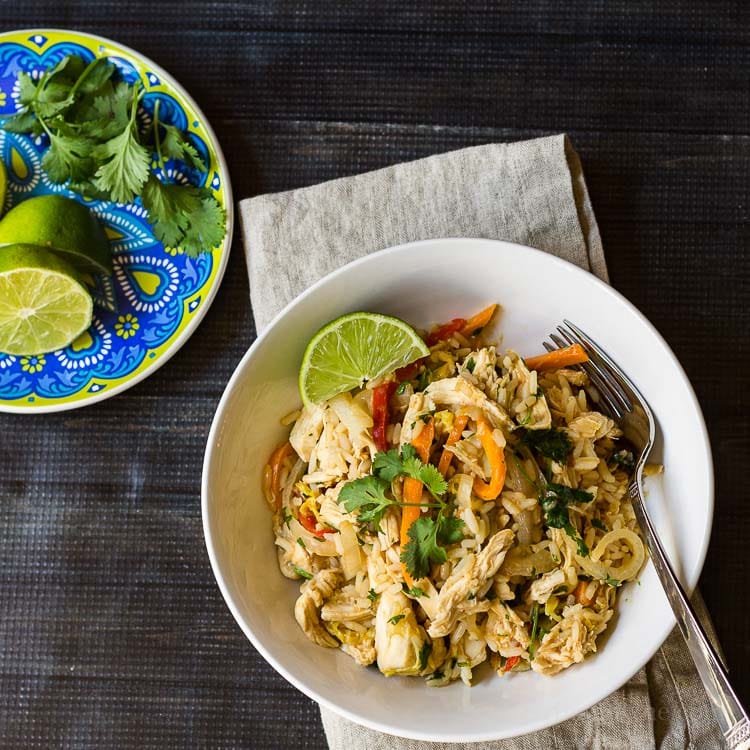 While I was visiting an old college friend in Atlanta, we went to a local Mexican restaurant called Elmyriachi. My friend suggested that we order their Thai burrito bowl. I don't know if it was the yummy Margarita, or if I was just hungry, but that was one of the best things I ever tasted. So of course I tried to recreate it at home. The menu listed some of the ingredients, one of them was mung bean sprouts, which can be hard to find, so I used Napa cabbage.
The combination of cilantro and lime is a favorite of mine. You may recall I made a cilantro lime vinaigrette a while back. This flavor profile was definitely present in the burrito bowl. I think the other key ingredient is traditional Thai peanut sauce which adds a spicy kick.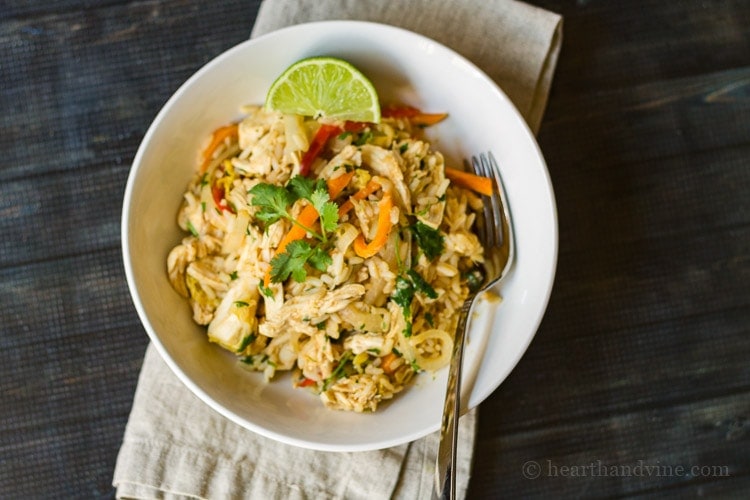 Normally the burrito is served in a tortilla. However, when my friend suggested we order the bowl, I was all for it. Less carbs, with all the goodness still in place.
This Thai Burrito Bowl is a great change from your ordinary burrito.
Not a bowl person? Serve it in a tortilla. I guarantee you will love it.
Thai Burrito Bowl
Thai Burrito Bowl
Ingredients
2 cooked chicken breasts shredded
2 cups cooked rice
1 carrot sliced very thin (julienned)
1/2 sweet pepper sliced very thin
1/2 medium onion sliced thin
1 cup napa cabbage sliced thin
2 tablespoons vegetable oil
1/2 cup chopped cilantro
1/2 cup thai peanut sauce
2 tablespoon fresh ginger
1/2 cup fresh lime juice (about 2 juicey limes)
Instructions
Saute carrots, peppers, and onion in oil on medium heat until slightly wilted.
Add ginger and peanut sauce.
Add cabbage, chicken and rice, stir well
Remove from heat and add lime juice and cilantro.
Serve in a bowl or burrito shell.