Learn about hens and chicks plants. Easy to grow cold hardy succulents for the garden that come back again and again.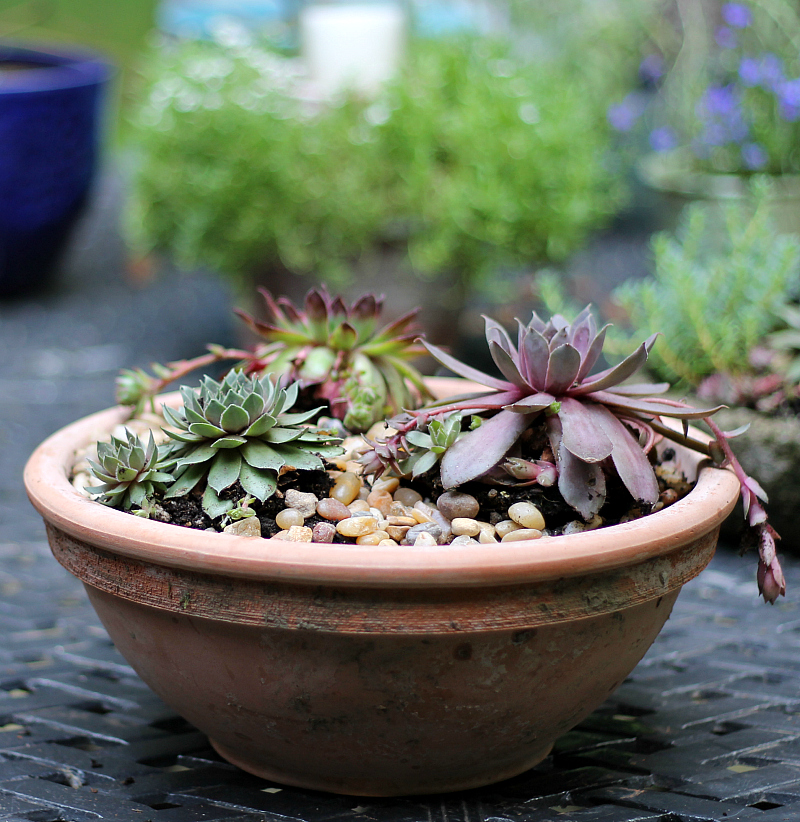 If you live anywhere north of the deep south, you may have noticed that your succulents don't make it through the winter. You can try to bring them inside in the fall, but you will still need a strong sun source.
It seems that many places generically label "succulents" when they can vary greatly in their ability to withstand cold and heat. If you're shopping online, some websites will have a section for "hardy" succulents and one for "tender" ones. So if you live in a northern climate, stick to those labeled hardy, unless you have a great bright sunroom in your home to house the tender succulents.
Sempervivum Succulents
The reality of this hit me when I planted some really pretty succulents and they died over the winter. Some that I planted indoors with supplemental light died too. So I researched this problem and came across something that I never connected. Hens & chicks, the nickname for Sempervivum succulents, have been growing outside in my area forever.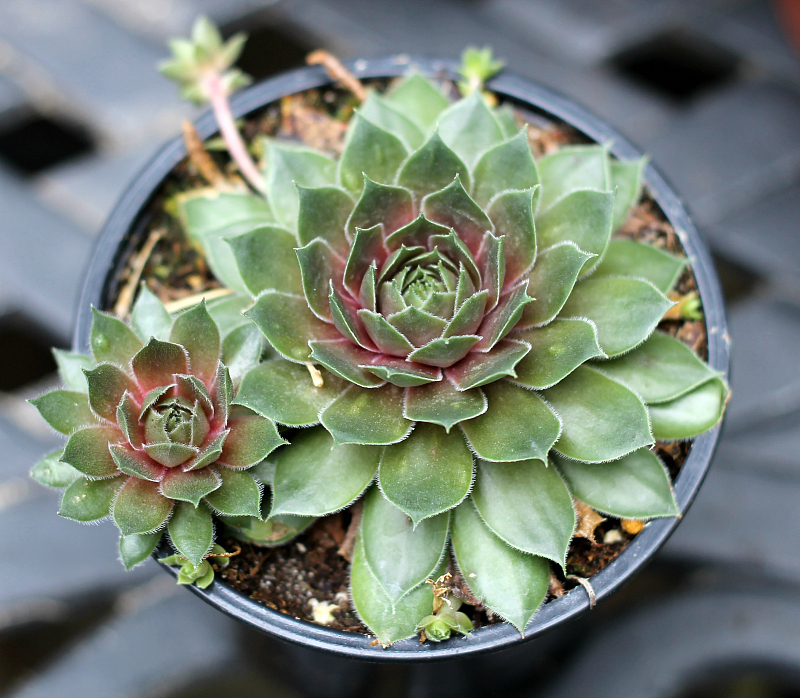 You know the pretty large rosettes that produce little offsets (chicks) from the main plant or mother plant (hens). Also known as a house leek.
They kind of seemed old-fashioned and not very interesting, but when I realized that these are the same plants I see planted in so many beautiful creations, I had a light bulb moment. Since they are actually alpine plants, often grown in rock gardens, they can withstand harsh winters. Not only that, but they also stay small and are available in a nice variety of colors.
Hens and Chicks Stats
Botanical Name: Sempervivum tectorum
Sun: Full Sun - in hotter climates partial shade.
Water: Low
Zone: 3 - 8
Deer tolerant, drought tolerant, poor soil tolerant
Growing Hens and Chicks in a Planter
After this realization, I went out and purchased a few hens & chicks succulents to plant in a new planter. Another thing I learned was that these plants' biggest enemy was over watering so I chose a terra-cotta for their container.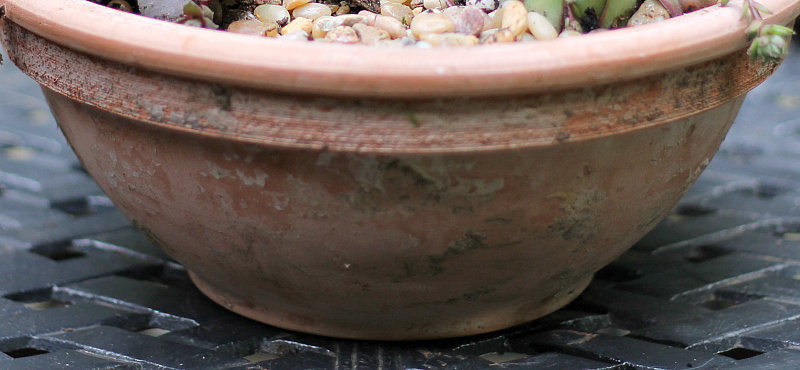 It was a little too new for my taste so I tried the yogurt and moss trick to age the pot. Unfortunately, it proceeded to rain here for days and now it just looks like a dirty pot. Hopefully, once we have a few nice sunny days it will gain some patina.
For good drainage to prevent root rot, I filled the bottom with some gravel and planted the three plants using a cactus mix with a slow-release fertilizer.
You could also add some garden sand and/or perlite to regular potting mix to create well-draining soil.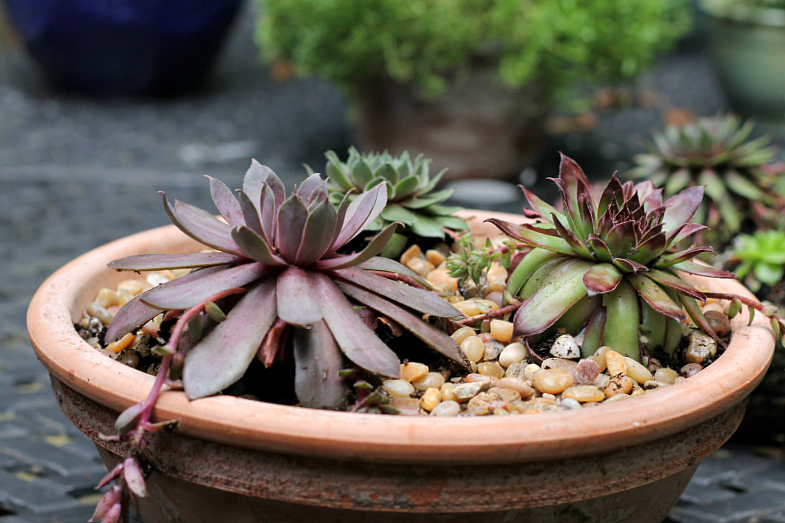 Then I topped it off with a little fancy rock mix to help keep the leaves from sitting on the wet soil sort of like a mulch. You could simply use fine gravel for the same results.
The foliage is so pretty in shades of green and burgundy.
Here's an old hypertufa planter that had a few dead plants in it. A little while back I added a Sempervivum, this hen has lots of chicks, and a Sedum ground cover.
Sedums are also great hardy succulent plants, but most grow very large or are ground covers.
I just love the rosette look of the Hens and Chicks. Sadly, the finger-like succulent in the background appears to be a tender succulent so I may lose it. I don't plan on bringing these indoors come fall but will move them onto our screened-in porch for the winter.
You can bring them indoors. Just make sure that they do not get too hot, and barely water them.
If you haven't tried sempervivum yet, they may be just what you are looking for.